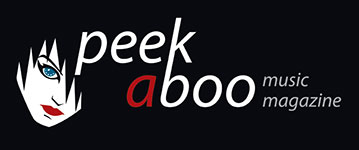 like this interview
---
LEAETHER STRIP
Music is as important for me as food. It's my therapy, my comfort and soul. Every song I wrote has a special meaning for me and it's an ongoing and never ending learning process for me...
23/02/2016, Britta Tabrit
photos: © Marquis(pi)X
---
Almost everyone in the electro scene knows Leaether Strip from Denmark and mastermind Claus Larsen. Britta Pirkko talked with Claus.

Hello Claus. So how did 2016 start for Leaether Strip?
Always! You've always been very kind to us, so we're very happy that you actually care about us old timers, unlike many of the others. We ended the year with 3 amazing gigs in Waregem, Belgium at Dark X-mas, Oberhausen/Kulttempel and Dresden/Bunker, Germany. We got so much support and had loads of fun, and it was great to share the Christmas and New Year week with our friends and supporters. Took us a week or so to get over all the driving and late nights, but it sure was worth it, as it usually is. We love to play shows.
You've already announced quite some live dates, also a Zoth Ommog Tour in the US. Tell me, what can the fans expect from your shows this year? Anything special planned?
Yes. It's going to be a very busy concert year, dedicated to the old days. The first show this year will be in Helsinki (Finland) on Feb. 26th, and since it's our first gig in that city, we do an old school set, as we usually do when we play a city for the first time. After 92, I really never got to play any shows because of my bad back, so It's always been a dream of mine to do some shows with the 90's Leæther Strip material. The USA never got to hear us live back then, so I will do a massive 5 week tour there starting March 11th. It will be a very high octane Zoth Ommog ear set. Our concerts always are focused on energy, and not so much on theatrical performances and make-up. I sweat too much for make-up anyway. I'm not acting on stage, it's me 100%.
How do you stay fit for your gigs? Any secrets?
Good question. I ask myself that question each time we perform a 2 hours show, singing my head off, combined with the stage setup and packing down and driving. We do everything ourselves and it's very hard work. Only exercise we do is walk the dogs, so I guess most of the power comes from the love of actually doing it and getting fit doing the shows. Our record was a 3 hour concert in Mexico City. On stage I feel 26 again, and I can't get enough of it.
Leaether Strip recently covered a couple of famous bands such as Depeche Mode, Soft Cell, Front 242 and Talk Talk. How did this idea arise and how do you chose the songs you cover?
Doing cover versions of my favorite artists and songs has been a hobby of mine for quite a while. I do them out of love and respect and never because "I can do this better than the original", which some people sadly think no matter how many times I try to explain it to them. I learn a lot doing covers as you have to listen to the songs from a songwriters point of view, and it's like picking their brain. I only do covers of songs that are very close to my heart.
So tell our readers, are you working on new Leaether Strip stuff? A new album maybe?
Yes, I am. I never really stopped writing songs, so I am always onto something new. The next album will be titled Spæctator and all the songs have been composed and recorded, right now, I'm just trying to figure out how to actually release it. I am not signed to any label at the moment, so I'm in a bit of a limbo trying to decide if I should self-release or see if I can find a label to work with. But it's rough times for the labels too, so I don't have them standing in line.
You have a side project called Am Tierpark with John R. Mirland. Whose idea was it to name it Am Tierpark and why did you give the project that German name?
Yes, and we're really happy that this came to life. Kurt and I, we were doing a show with John's other band Holm/Mirland in Berlin last April, and John and I went for a walk at the Berlin Tierpark (The former East Berlin Zoo), and started to talk about the good old 80s and how we both loved that fresh approach of songwriting and producing. I started out in the synth pop scene back in 82, so it's in my blood and I always love to explore that side of me again. John had been doing synth pop/Italo inspired stuff for years, so we then both got the idea to do a few cover versions together to see if we clicked, and we really did. John does all the music and I do all the lyrics and melodies. We really felt that the world was missing this kind of music. The reason for the band name is that the whole idea for this band was created Am Tierpark, even the hotel we stayed at was named Hotel Am Tierpark, so that's why. Our debut album is titled Uncaged, as in "uncage your true feelings", and it's on Distortion Productions now and it's doing really well.
Then please, describe Am Tierpark in a few sentences and will we be able to see you live on stage this year?
Straight from the heart, melodic, honest, spontaneous and not overproduced. John and I are a match made in heaven. No matter what he has sent me, I got immediately inspired and the words and melody just came to me really fast. We have enough songs for the next album, and the plan is to try and get some concerts, so we hope there will be some interest from the promoters. This is a band and not a side project.
Music seems to be a very important part of your life. When you look back to the beginning of Leaether Strip, which are the most significant and outstanding changes/developments that took place over the years when it comes to your own music and style?
Yes, after Kurt, my family and the dogs, music is as important to me as food. It's my therapy, my comfort and soul. Every song I wrote has a special meaning for me and it's an ongoing and never ending learning process for me. I need it to exist and to be a loving husband and friend. My "Solitary Confinement" had the biggest impact on my life and as a songwriter. That album is also why I still get jobs, and why I'm not forgotten, and no, I am not sad about that, I am very proud. This album gave me the confidence to want to keep doing this until I drop dead. I recorded this album without any help from others, on a 4 track tape recorder in my tiny one room apartment and at a very difficult and suicidal time of my life. It saved my life and that's significant, I think. It just shows how important music is and why we all should support the artists we love and care about.
If you had to choose one of these countries, where would you prefer to live and why? USA, Germany, Japan, Brazil or Australia
In my youth, I had a dream to try to live in another country, but then I met Kurt and I also could not imagine leaving my parents. But if I was forced to pick one, I think I just might want to pick Australia. We did a tour there 2 years ago for a week, and I was blown away by the Aussie kindness and hospitality, but most of all the nature and the amazing animals. Such a beautiful place and so much diversity. But then again, I could live anywhere as long as Kurt and the dogs are with me.
Imagine it's the year 2026. Is Leaether Strip still touring the clubs around the world?
If my health allows it and if there is demand, I'm sure I will. Oh, how I wish I could!
If you could give your fans one good advice what would it be?
I want to give them all a huge hug for still supporting my work and for coming to the shows, I'm still here because they are here for us. Being a good and honest person does not make you weak, it makes you stronger than steel, especially when you surround yourself with people who love and support you.
Thank you so much for answering my questions Claus and see you in Helsinki for Kalle's sauna party!
Britta Tabrit
23/02/2016
---
Bijna iedereen in de elektroscène kent Leaether Strip uit Denemarken en natuurlijk het brein Claus Larsen.
Britta Pirkko sprak met Claus.
Hallo Claus. Hoe was de start van 2016 voor Leaether Strip? Jullie zijn altijd aardig voor ons, dus we zijn erg blij dat jullie je bekommeren om de oudgedienden en dat in tegenstelling tot veel anderen. We sloten het jaar af met 3 fantastische optredens in Waregem op Dark X-mas, in Oberhausen in Kulttempel en de Bunker in Dresden. We kregen veel steun en we hadden veel plezier en het was geweldig om de week van kerst en nieuwjaar met onze vrienden en fans door te kunnen brengen. Het waren wel lange nachten, maar het was zeker de moeite waard, zoals meestal. We houden ervan om op te treden.

Jullie spelen in Amerika ook een Zoth Ommog Tour. Vertel ons, wat kunnen de fans van jullie shows verwachten? Ja. Het wordt een ​​zeer druk concertjaar. Dit jaar wordt aan de oude dagen opgedragen. De eerste show is dit jaar in Helsinki (Finland) op 26 februari en omdat het ons eerste optreden in die stad is, hebben we gekozen voor een oldschoolset, zoals we gewoonlijk doen als we voor de eerste keer in een bepaalde stad spelen. Sinds 92 sukkel ik met mijn rug en het is altijd al een droom van mij geweest om een ​​aantal shows te doen met Leæther Strip-materiaal uit de jaren 90. De Verenigde Staten kregen nooit de kans om dat te horen en vanaf 11 maart gaan we er 5 weken toeren. Het zal wel voor een groot deel uit Zoth Ommog-materiaal bestaan. Onze concerten zijn altijd gericht op energie, make-up dragen we niet. Ik zweet toch te veel. Ik ben mezelf op het podium, de volle 100%.

Hoe blijf je fit voor je optredens? Geheimen?
Goede vraag. Ik stel me die vraag elke keer als we twee uur optreden. Ik ga volledig uit de bol en dat in combinatie met het opzetten van het podium en de lange afstanden. Wij doen alles zelf en het is heel hard werken. De enige sport die we beoefenen is wandelen met de honden, dus ik denk dat de meeste kracht uit de liefde komt. Ons record is een 3 uur durend concert in Mexico City. Op het podium voel ik me 26 en ik kan er niet genoeg van krijgen.

Leaether Strip coverde onlangs tracks van Depeche Mode, Soft Cell, Front 242 en Talk Talk. Hoe ontstaat dit idee ​​en op welke basis kies je de songs?
Covers maken van mijn favoriete artiesten is al een tijdje een hobby van mij. Ik doe dat uit liefde en respect en nooit met de bedoeling dat ik het beter dan het origineel kan doen. Helaas moet ik dat aan sommige mensen vaak uitleggen. Ik leer veel door die covers, omdat je verplicht bent om de tracks vanuit het oogpunt van de artiest te bekijken, net alsof je in zijn hersens kruipt. Ik doe alleen maar covers van songs die zeer nauw aan mijn hart liggen.

Werken jullie aan een nieuw album van Leaether Strip?
Jawel hoor. Ik ben nooit gestopt met het schrijven van liedjes, dus ik ben altijd wel met iets nieuws bezig. Het volgende album zal de titel Spæctator krijgen en alle songs zijn reeds gecomponeerd en opgenomen, nu ben ik op zoek hoe ik het allemaal moet uitbrengen. Ik heb momenteel geen label en ik twijfel of ik een platenmaatschappij moet zoeken of het zelf releasen. Maar het zijn ook moeilijke tijden voor labels, dus die staan niet echt te wachten.
Je hebt ook het project Am Tierpark met John R. Mirland. Wiens idee was het om het zo te noemen en waarom heb je dat project een Duitse naam gegeven?
Ja, we zijn erg blij dat het er kwam. Kurt en ik waren in Berlijn, en John en ik maakten een wandeling in de voormalige Oost-Berlijnse zoo en raakten aan de praat over de goede oude jaren 80 en hoe wij beiden vonden hoe fris de aanpak van toen wel was. Ik ben zelf muziek begonnen te maken in 1982, dat was toen de synthpop opkwam. Het zit in mijn bloed en ik wilde altijd graag die kant verkennen. John is ook geïnspireerd door synthpop en Italo Disco, dus kregen allebei het idee om samen een ​​paar covers te doen en te kijken of het klikte. John doet al de muziek en ik alle teksten en melodieën. We voelden echt dat de wereld nood had aan dit soort muziek. De reden voor de naam is gewoon omdat het hele idee in de dierentuin is ontstaan, zelfs het hotel waar we verbleven heette Hotel Am Tierpark. Ons debuut heet Uncaged, zoals in "je ware gevoelens vrijgeven".
Kan je Am Tierpark in een paar zinnen omschrijven en zullen jullie er dit jaar mee op een podium staan?
Recht uit het hart, melodisch, eerlijk, spontaan en niet overgeproduceerd. John en ik zijn gewoon voor elkaar geboren. Ongeacht wat hij me stuurde, kreeg ik meteen inspiratie en vond snel de woorden en de melodie. We hebben al genoeg nummers voor het volgende album en het plan is inderdaad om een aantal concerten te spelen, dus we hopen we dat er enige interesse zal zijn. Dit is een band, geen zijproject.
Muziek speelt een zeer belangrijke rol in je leven. Als je terugkijkt naar het begin van Leaether Strip, wat zijn de belangrijkste en meest opmerkelijke veranderingen/ontwikkelingen als het om je eigen muziek en de stijl gaat?
Ja, na Kurt, mijn familie en de honden, is muziek net zo belangrijk als voedsel voor mij. Het is mijn therapie, mijn troost en ziel. Elke song die ik schrijf heeft een speciale betekenis voor mij en het is een leerproces dat nooit stopt. Ik heb het nodig om te leven, net als ​​een liefhebbende echtgenoot en vriend. Solitary Confinement had de grootste impact op mijn leven als songwriter. Dat album is ook de reden waarom ik nog steeds aan de slag ben en het is ook de reden waarom men mij niet heeft vergeten, en neen, ik ben daar niet verdrietig om, wel trots. Dit album gaf me het vertrouwen om te blijven doen wat ik wil doen totdat ik doodval. Ik nam dit album zonder enige hulp van anderen op, op een viertracktaperecorder in mijn kleine eenpersoonskamer en in een zeer moeilijke suïcidale tijd in mijn leven. Het album heeft mijn leven gered en dat is belangrijk, denk ik. Het laat zien hoe belangrijk muziek wel is en waarom we alle kunstenaars met liefde moeten omarmen.

Tijd voor een leuk vraagje. In welke van deze landen zou je het liefst leven en waarom? De VS, Duitsland, Japan, Brazilië of Australië.
In mijn jeugd had ik een droom om in een ander land te gaan wonen, maar toen ontmoette ik Kurt en ik kon me ook niet voorstellen dat ik mijn ouders moest verlaten. Maar als je mij zou dwingen om er eentje ​​te kiezen, dan zou Australië het halen. We waren er 2 jaar geleden voor een week en ik werd gewoon weggeblazen, de mensen zijn daar zo vriendelijk en gastvrij, maar bovenal is er de natuur en de prachtige dieren. Zo'n prachtige plek en zoveel diversiteit. Maar nogmaals, ik kan alleen maar daar leven waar Kurt en de honden zijn.

Stel je voor: het is 2026. Zal Leaether Strip nog steeds over de hele wereld spelen?
Als mijn gezondheid dat toelaat en er vraag naar is, weet ik zeker dat ik dat wil. Ik wilde dat het kon!

Heb je een goed advies voor de fans?
Ik wil ze allemaal knuffels geven omdat ze nog steeds om mijn werk geven en naar de shows komen kijken, ik ben er nog steeds, en dat is dankzij jullie. Een goede en eerlijke persoon zijn, maakt je niet zwak. Het maakt je sterker dan staal, vooral als je jezelf omringt met mensen die van je houden en die je steunen.
Dank je wel voor het beantwoorden van mijn vragen Claus en tot ziens in Helsinki voor Kalle's saunaparty!
Britta Tabrit
23/02/2016
---