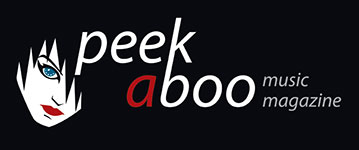 like this interview
---
LEAETHER STRIP
'MY BIGGEST HERO IS ALAN WILDER'
04/06/2018, Stef COLDHEART
---
Leæther Strip is without a shadow of a doubt one of the most famous dark-electro artists from the scene. He became one of the leading formations from the 90s Zoth Ommog label but is still today one of the absolute leaders from this scene. Among his endless discography Claus Larsen also released multiple cover versions. He last year released the album "Æppreciation II" on Cleopatra Records, which features cover songs from some of his personal favourite songs and bands. It gave me the idea to arrange an interview with Claus about cover versions and 80s music.
Claus, you've released an impressive number of mainly 80s covers so what makes it so exciting to you?
Yes it's quite a few over the years, more than 200, lots of them haven't been released. I mainly do them as a hobby and to give myself a break between composing. Back in the 90s I was asked to do some for US tribute releases and they became very popular especially in North America. My covers of The Cure's "Lullaby", Pink Floyd's "Learning To Fly" and Skinny Puppy's "Testure" really made my fan base grow word-wide. I even got positive response from Robert Smith and David Gilmour. I also learn a lot doing them. I have no 'formal' training, everything I can do is self-taught and I want to become a better musician and a composer, which is a never ending process for me.
I have tons of songs to write and doing covers is maybe the best way to get inspired for me. I can highly recommend it to composers if they are running low on ideas. Covering your favourite songs is a big challenge because you already love the songs as they are and giving yourself challenges makes you better at your art.
All covers have been made from songs and especially artists you admire so I'm glad to see 'an idol can still have and praise his own idols'! Do you belief in 'idolatry' and tell us a bit more about your own idols?
Yes, I have many idols but since I don't know most of them personally I don't put them on a pedestal because of their person, but because of their skills as a songwriter, producer, singer or musician and so on. I have been fascinated by music from a very early age and my childhood was filled with music and all sorts of different styles were played in the house I grew up in, so I love any style of music if it has heart and passion in it.
My biggest hero is Alan Wilder by far, mainly for his production and mixing skills but also for his songwriting skills, the few songs he wrote for Depeche Mode are among my all-time favourites and his work with Recoil is just mind-blowing. I wish he'd change his mind and come back from his retirement. On top of his skills he is a wonderful and humble person who takes the time to answer if you ask him a question. After I released the "Fool's – A Tribute to Alan Wilder"-EP, Alan wrote some things to me that really changed my life and gave me the strength to keep on composing.
I already mentioned most of the songs you're covering are 80s tracks. Why are the 80s so special and what has been the impact of this music decade on your own music?
It was the decade where I started to learn how to compose and produce and a decade where bands were extremely productive. Mainstream composers and bands back then were very much focused on the melody and they were more playful in their production styles. Bands would change sound from one album to the next and they dared to try new things out and that made it much more adventurous than it is today. The lyrics back then told a story and you could relate to them. In the 80s it was cool to be different, creative and experiment. These days mainstream music industry is controlled by publishers and advertising agencies. That's one of the main reasons people should support independent artists because you still find that 80s mentality there. Composing should be spontaneous. Great songs can be composed in a few hours. Over thinking and over producing can kill a great song.
The 80s definitely stand for the real breakthrough of electronic music although most of the electronic music genres (except commercial songs) got censored by most of the media. That sounds simply unbelievable today, but what's your perception about this phenomenon and how did you see electronic (underground) music evolving?
I think all electronic bands back then got the 'that is not real music' comment. I did too but plenty of radio stations did play the new stuff. I was listening to Fad Gadget and Depeche Mode in 80-81 on Radio Luxemburg before I knew who they were. I mean artists like Tangerine Dream, Kraftwerk and Jarre were already highly respected in the music world but then the Punks who got tired of the dying Punk scene in 78-79 bought the new cheap synths that became available and Numan had a number 1 hit with "Cars".
Things just exploded, you suddenly had crazy art-school kids form bands like Soft Cell, Depeche Mode, OMD, Human League and so on, getting massive chart hits. It really was a revolution and covering those songs that mean so much to me, just keeps them alive. I am not trying to make them better or to get attention or piss people off by doing them. I love these songs and covering them gives me a chance to explore the songs a bit further then to just listen to them. I hear things in the songs I never took notice of before too.
The 80s were quite revolutionary when it comes to music and the music business generally speaking. I think MTV had a real great impact on the music industry but what's your perception about this item and the evolution towards internet sites such as Youtube?
Yeah, technology in music just exploded in that decade and so much amazing music came out because of all these new toys composers got to experiment with. As I see it, the internet was one of the worst things to happen to underground music but also one of the best things because the filthy music business got their asses kicked because of their ignorance and shitty treatment of their artists and the buyers. They were thieves and they got what they deserved. Problem is today that there is just too much of everything, people have no attention span anymore, a new album is old a week after it's released and financially it's just a dead zone. So you have all this talent not bothering to make new music because they can't even break even and after a while that just gets too much. I've seen so many amazing talents just quit music all together because you can't get people's attention anymore.
Music is not art to so many people anymore, it's become chewing gum, chew on it for a few hours, spit it out and forget about it, and pop the next one in. No one cherishes albums anymore like my generation does, it fucking sucks and I hope things will change for the next generation of musicians and composers. If Youtube protected the right-holders and paid some of the HUGE amount of money they make to artists and the same goes for the streaming services then maybe things could change but they are sitting on the power so I highly doubt that they want to share the loot. That's one reason I mainly use Bandcamp.
I noticed you're actually in search of German songs to cover! Where does this idea come from and what songs might we expect?
I am doing a tribute album to the 'Neue Deutsche Welle'-era at the moment. I'm covering 10 songs for a coming album. I asked the fans if they had any tips and I discovered so many amazing songs I'd never heard of from that time. It's great fun and I'm about 50% done. I'm doing a duet with Rummelsnuff next week for one of the tracks.
Two bands you like to cover are Depeche Mode and Soft Cell. I personally consider "Personal Jesus" covered by Johnny Cash and "Tainted Love" covered by Marilyn Manson as two of the best covers ever made in history. Your opinion here and what are your favorite covers?
I love the Cash cover too. Most people think it's his song and I even think that Trent feels the same. My two favourite covers at the moment are Röyksopp "Ice Machine" (Depeche cover) and Marc Almond "Jacky" (Jacques Brel cover). As for Manson, I like his Numan cover of "Down In The Park" better than his "Tainted love".
Are there some songs you'll never cover or simply can't cover? And what's the importance for you as a recognised artist to make covers?
No, the bigger that challenge the more I learn from it. Music is supposed to be played and interpreted, not just listened to. Nothing is sacred when it comes to music, you play it, it lives, you don't, it dies and is it's forgotten. I find that paying tribute to what inspired and inspires me and molded me into what I am today a duty. I owe these artists so much and yes I know most of them don't give a shit if I cover them but I do.
www.leaether-strip.com
www.facebook.com/LeaetherStrip

Leæther Strip will perorm @ BIMFEST 2018 on Saturday December 16th 2018.
More info: www.bimfest.be / Facebook event
Stef COLDHEART
04/06/2018
---