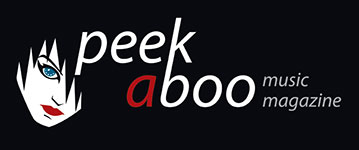 like this interview
---
BYSENSES
We are Just 'People', Not A Superrace
17/04/2018, Henk VEREECKEN
---
Wool-E Discs just released a new album in the Belgian NeuMusik series. 'Chapter 6'. The man behind this project, BySenses, is Ghentian Didier Dewachtere, whom we already knew from his collaboration in The Tower Tree project with that other Ghentian Johan De Paepe aka 'Owann'. "People", that is the name of the release, became a kind of concept album and is the second physical album from BySenses after the 2014 release of "Frigments-Fragments". The album "People" became an extremely strong album that feels like a real journey through time with its combination of sounds that can spontaneously be associated with the synthesizer music of the seventies ('Berlin school', cosmic music, electronic krautrock, say Tangerine Dream and Kraftwerk), synthpop of the eighties (here I thought of the more experimental synth pop of Art Of Noise) and finally also dark ambient and electro of the nineties. Time to put the creator of this beauty to the test...

Tell us a bit more about the concept behind "People" and about how the artwork came about. What is the correct concept and what is the idea behind the "People" title and the artwork? 'We are all ordinary people'? Is there a political thought behind it?

Didier Dewachtere: The concept is mainly, as the title says, about people, people of all kinds of thoughts, race or skin colour... and indeed, there is a little political thought behind it. I absolutely do not care for populist thoughts. Left or right I don't care... but we are all human. We are all made in the same way, we all die... The fact that we are the same between birth and death. On the album you hear different types of people, from "Sensitivity" (a display of a very difficult personal love affair) to "Nightdancer", people of the night... so people of all kinds.

Nice and you succeeded because yes, that's what it is about! The people who are on the digipack with their portrait photo, how did you reach them? Are they all people from your circle of acquaintances? Or via?
They are all people that I know personally. My intention was to get as many people as possible with different facial expressions in the picture. Sarah Joos, a personal friend, hobby photographer, has done a very good job. I am also a holiday animator at the coast, so I know a lot of people. Everyone was therefore very willing to work on the concept.

Yes, you can see that it are professional photos and no passport photos on an ID card or something like that, where you can not even smile or your photo is refused.

As natural as possible. Sarah took the photos and Alain Kinet edited them for the cover... exactly the way I wanted it. Small squares on the cover with the magnificent character head of one of my mates on the front. I wanted as much variety as possible, both on the cover and in the music, but still there was a link somewhere: the 'being' of people; we are just people, not a super race...

Yes, that message really radiates. I have a question about the 'Remix CD' that comes with the album "People": the first three tracks on it are remixing songs on the original album. But the last track "Live Post X Sessions" what is that all about?

"Live Post X Sessions" Thomas and I played live in Post X in Merelbeke. Actually, we had not prepared anything, just, ho...synth, melody improvised and see where we end up. I just enjoyed it. Personally, I found the melody appealing but I will not rework it. It was a one-off, playful and I let Thomas do his thing. Experimental, so pure improvisation of the moment. We both did not know where we would end up and I just wanted to have the result, because it is totally different. Yes I know.

Thomas (Betsens) is the singer on the long vocal songs "People" and "Sensitivity"? How did that person come into your life?

Yes, Thomas plays on both songs as well. Well, I went live with The Tower Tree, my other project with Johan De Paepe (Owann) , that was on 'En Route' an art project that went on in Drongen (near Ghent). Maybe two or three years ago. Thomas was there too and he did his own thing and I really wanted to work with him. I think he has a very special voice, I like his timbre and such. I also wanted to do something with a voice and vocals, so I asked Thomas. How the songs came about is even more fun. I had already finished the music and sent it to Thomas. Thomas was able to do his own thing in this and be able to improvise his text himself at the moment. I like to work with other musicians, and usually I send out pieces to which they can improvise themselves. That is how drummer Frank De Coster worked. "Frakke" could do his own thing both on "Nightdancer" and on "OGF" (on the CD "Frigments Fragments").

And Thomas Betsens also added electronics?
Yes, he has his own instruments, very fascinating, he also gives workshops and has his own 'cosmic noise and space drone ensemble': Engerling Ensemble.

Can you introduce yourself? Maybe tell something about your musical career before "People". How did you come to the BySenses project and where does the name come from?

Actually I have been working on music since I was 10 years old but without instruments. What everyone noticed was that I easily learned to play an instrument. I also imagined a lot of my own music but I did not have the money to buy instruments and so I did not have home support. My first synth was the Korg MS 20 and the Sq 10. bought at my twentieth. I still have the MS 20. By the way, my actual career started after my trip to Afghanistan. Not really a journey, well... it was for my work. I am military. Since I did not have the money to buy synths, that helped me.

I did not immediately link you to that job...

No, I can imagine. And then, after years of playing in my head, I finally started my project BySenses. That was not in my head yet. My stage name was originally Reidid, the reverse of Didier but I found it didn't fit. And since I am a huge Klaus Schulze fan, I am crazy about the piece "Sense" on his live album... I came to BySenses.

The name Klaus Schulze is 'coincidentally' in my review of the album...

Yes, I can imagine that you linked to him. He's responsible for pulling me out of the new wave scene long time ago. I went out in reasonable heavy new wave discotheques in Ghent but when I saw the cover of "X" (Klaus Schulze album from 1978 with purple cover, hv) and I took the music home... was ehm... ok yes that was my lift off.

I saw him live in Brussels with Lisa Gerrard for an audience of several generations and subcultures.
I have seen him in Paris, in Amsterdam, Brussels and in Ghent (2x) I can not help it but he touches me with his music. Yes, I am also open to a lot of music, I took part in the opera of Ghent. As an extra. Fantastic experience.

Can you tell us something about the title track "People" and how it came about? Fantastic piece by the way.

Yes, "People" was originally different... well, the rhythmic piece actually came before the experimental part. It's Thomas who told me I had to turn it around. Start with the experimental and then switch to the musical. Thomas did his own thing and added voice and instruments but the basis has remained the same.

The same question for "Sensitivity". Those are the two most important pieces of the album with "Before Birth" as a third.

"Sensitivity" is a song that was made after a broken relationship, a very difficult relationship... she was highly sensitive (high sensitive = HSP = high sensible personality, hv). That's why. And I really wanted to turn this relationship into music. The push and pull again, the very violent sexuality in that relationship, being down, resurrecting, so diverse... to the sweetness that you notice more towards the end... reasonably accessible at the end but personally I think it is a fantastic piece. When Thomas heard it he translated that into vocals and I was immediately sold. Even though Thomas found it a very difficult song to do. I do not know if he would still do that in this way.

Could you perhaps tell us something about the track "Before Birth"?

"Before Birth" is the representation of what happens before birth... the greatest miracle happens naturally. "Before Birth" was made for my grandchild that was not born yet... so now... "Why Hurry @ Midnight" is about life after death... so many contradictions.

Lift a tip of the veil about the other songs.

"Short Memo" is about people with a loss of short memory, "Long Memo" is the opposite. Although "Long Memo" is also just an extension of "Short Memo". "Whispering" is about people who like to whisper, gossip... unfortunately they are there too.

Yes, I can relate. Do you have your favourites?

I do have my favourite pieces, I think that's normal. "Sensitivity" is very nice for me, especially with Thomas, I think it's the best song for me but I think I have to be very close to it and listen to it very well.

I like "People" and "Sensitivity" with a preference for "People". And "Before Birth" with the female voice is also very special.

Yes, maybe they are also the most Schulze-like songs I think. Got to tell you that for "Before Birth" I had originally other samples in my head for that voice but I know Greet Laebens (whose voice can be heard on the song, hv) for a while. She is also a hobbyist singer. I had a text in my head and she sang it and that smile came from her. Witty!

Tell us something about your musical heroes if you want. By whom (bands, artists, musical styles) do you feel influenced?

As a 53-year-old man, my musical past is to a large extent situated in the 80s. The new wave scene at the time appealed to me the most. Entertaiment district 'Little Turkey' will sound like music to many Ghentians. That was a revelation for me as I was raised in a fairly Catholic way. Reasonably confrontational too; for the first time men see flattery to each other. And women. That adaptation period went reasonably fast, my first love I met while dancing to Section 25, Simple Minds, U2, Front 242, The Cure, in short the fun part of the scene of people wearing make up and black clothes. They were my heroes then, a completely different world opened up.
When I was 15, I heard "Equinoxe 5" for the first time , an introtune of a program, Music De La France. At the same time I got to know New Order as an introtune. "Your Silent Face" on the radio presented by Jacky. Studio Brussel then also came into my view. Rock started to be part of my life. In search of "Equinoxe 5" I came to Jean Michel Jarre but the new wave was still a fixture. It is only later when I first saw a purple cover with a man behind a wall of synthesizers (Did I know what a synthesizer was) that I was sold on electronic music. Klaus Schulze made his appearance. That man really had me, and the new wave went in the background, even though I have not really left it until today. The variety in "X", that purple album of classical music (I took part in the opera in the past) and the more aggressiveness on that LP really gave me the will to learn more about that kind of music. That way I came for the first time in contact with the fantastic Korg MS 20 (which I still have today). Songs such as "Heinrich Von Kleist" and "Frank Herbert", LPs like "Dune" (1979), "Mirage" (1977), "Timewind" (1975), "Moondawn" (1976) etc.. I still follow him, up to today. My LP rack filled up more and more with Tangeringe Dream, Vangelis, Jean Michel Jarre, Roedelius and so on. My two greatest heroes: Klaus Schulze and Simple Minds to take one of each musical genre.

How does a BySenses composition come about? What is first, the music where you then search for an appropriate title or an idea / title around which you compose, or can it go both ways?

Gosh, I have to think about that... I usually start with a basic title, or it stays the same, I do not know yet. Now, for example, I got in my head that the next project would be called "Animals". So I start from a basic idea. The idea of ​​how the CD should sound is already in my head. Now that has to be realised and that is something else. I'm looking for melodies, playing on the keyboard, purely on gut feeling, because I did not do a music school. Every rhythm, every note every attack is purely on feeling. When I am in 'The Zone' something develops as you hear in "Nightdancer". The solo I played in one night, not digitally, on my Oberheim OB 12, audio recorded, so I could not improve the notes any more, in the background the sequencers, the polymorph and Rave 309. It happens very rarely that I work more than a week on a song construction. Dries De Vreeze is the one who masters and regularly puts me back withmy feet on the ground. Sometimes that is very difficult, because he is really more perfectionist than me, but he is a big help too. Do not ask me to reproduce "Nightdancer" exactly the same live, because I just can not do it. With The Tower Tree Johan is also the most perfectionist. I think I'm a sloppy fox but I try to give my music its own 'touch'. I certainly do not want to copy, I do not like it that music is reproduced purely, make it your own creation, do something with what is in your head. I always say: everyone composes every day again, just by walking whistling across the street. Unfortunately, I do not have a tape recorder that can register my brain when another melody swirls through my head like that.
Finally, tell us something about BySenses live. What can the public expect of a performance and are there also live performances planned in the near future?

I was asked if I wanted to perform live on B-Wave. I did not do that under the name BySenses but then asked Johan (Owann) if he wanted to participate and that is how the Tower Tree actually came into existence. Pure self performance under the name BySenses I have only done once with Thomas Betsens ("Live Post X") where we played the last song, but also the title track "People". So I have virtually no experience with live performances. I've also been working on my music for 5 years... I did not have the money. When I see other groups at work, I take my hat off. Fair is fair.
We take our hat off for the album "People" by BySenses. Thanks for the interview!
Henk VEREECKEN
17/04/2018
---
U kan de Nederlandse versie van dit interview lezen bij onze collega's van Dark Entries Magazine
Henk VEREECKEN
17/04/2018
---