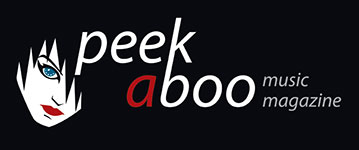 like this interview
---
ELEKTROSTAUB
'I think it will be almost impossible to combine all the artists into one single concept.'
29/01/2018, Masha KASHA
---
The German one man synthpop project Elektrostaub is conquering the synthpop charts all around the world - due to the professional arrangments of Patrick Knoch and collaboration with acclaimed vocalists and synthpop legends. In February 2018 the new EP will see the world, so we asked Patrick to share with us his musical stories and future plans.
Hi Patrick. Can you introduce us to Electrostaub for Peek-a-Boo readers?
Hello everybody. I am very happy about the interview with Peek-a-Boo.
So Elektrostaub is a solo project from the northern Ruhr area and stands for modern, catchy and melodic electronic pop music with influences of trance & dance, EBM and electro & future pop. Since I do not sing myself, the project is supported by numerous guest singers. So I collaborate with! distain, Henrik Iversen, The Eternal Afflict, Contrast and other guest vocalists.
Did you make music earlier?
I have undergone a very classical musical education in a music school and I have been trained on the electronic organ for years. From the moment I joined a band from the music school, that is where I got my first experience with synthesizers and drum computers. That experience has captivated me and did not let go. So I founded my own band which made some local hits first and some songs were played in clubs. Unfortunately, we had different interests, ideas… so that at some point I decided to try a solo project to implement my own concepts.
Why is your project called Elektrostaub (ger. "electric dust")?
The name is made up of "electro" and "dust". "Electro" stands for the music I prefer and produce. The "dust" stands for something that keeps coming back. In addition, you can find dust everywhere, whether you want it or not, ;-)
You've been working a lot with !Distain... How come?
It all started with a remix of !Distain's "Confession". We had the idea to make a common song somehow... but that worked out so well between !Distain and me, that we've expanded the collaboration to my album so now there are 5 songs in total. New songs will surely be available in this combination soon ;-) Also, over the past years Manfred Thomaser and Alex Braun from !Distain have not become my fellow musicians, but really good friends.
You also work with many other musicians: what would be the concept that unites everything?
I think it will be almost impossible to combine all the artists into one single concept. It is merely the fact that all the artists are represented together at the Elektrostaub album.
How do you compose your music? What comes first - the music or the voice?
Normally I produce the instrumental version of the song and I specify the arrangement. Sometimes, like in the songs "Birthday and Death" and "Funeral of Love", I give my own melody and the lyrics.
Otherwise I usually leave the lyrics to the lyricists and vocals to the vocalists, such that they can fully contribute to the project and make use of their own creative flow and style.
When music, lyrics and melody come together, then it is to be mutually decided how the song should sound, what should be changed, etc.
Is there a band / vocalist whom you would like to work with?
Ohhh, there are certainly a lot of good singers with whom I would like to work.
So I already have some candidates for my second album;-)
Whom I would like to work with? Well - maybe soon that artists will get a message from me ;-)
What can you tell us about your new EP?
The new EP will be released on 16.02.2018. It is derived from the debut album "Birthday and Death" "Funeral of Love" (feat. Ruined Conflict). Here Xavier Morales from Ruined Conflict gave me a vocal support and famously interpreted the song.
I already have the first remixes for the EP for example from Nórdika, C-Lekktor, Reflection and People Theater.
As in recent months Elektrostaub has been able to attract many new listeners from South America, so Alex from Nórdika and me came up with the idea to ​​releasing "Funeral of Love" in Spanish for the EP. Alex has sang and translated the song.
Furthermore, there will be a B-side provided. The ballad "2806" (feat. !Distain & Seyhan) will be remixed by !Distain.
Can you leave a message for Peek-a-Boo readers?
Hello dear people, I hope you all are well and you have come well into the new year.
I wish you much love, happiness and, above all, health for the upcoming 2018.
Masha KASHA
29/01/2018
---