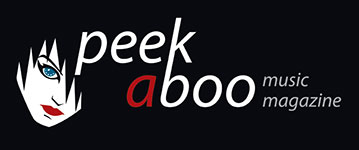 like this interview
---
DIE FORM
I would like to be optimistic and positive, but the world seems to move inexorably/blindly towards a sombre future, towards chaos.
26/01/2018, Dimi BRANDS
---
2017 was almost like the year of Die Form: not only did this French couple release a brand new album, Baroque Equinox, they also celebrated their 40th anniversary of this musical project that still, after all these years manages to speak to our imagination. So, it was a great honour for the undersigned to be able to get his idols to talk.
Why did you use the album title 'Baroque Equinox'?

As always, there's a part of chance and/or intuition in the choice of the titles. The album was built gradually around images and first ideas which were developped over time. I work with associations of ideas and assemblages, a bit like the Surrealists. Then suddenly the title hit me, during the composition and colour treatment of the cover picture. It represents the excessive and abundant aspect of baroque and certain visions at the time of the equinox, when day and night are equal length, perfect symmetry and duality.

Three years ago, Rayon X was an album that showed Die Form where back on track, after a 5 year hiatus. Die Form followed quite quickly with Baroque Equinox, are those all new songs, or still some songs that were already written in the period of absence before Rayon X?

All the tracks were especially composed for this project except a few passages coming from "Musique Concrète", a Die Form side-project and laboratory for new ideas.
Although different, "Baroque Equinox" follows on from "Rayon X", "Psychic Poison" is the transition point

Thematically and musically, Baroque Equinox offers what we can expect from Die Form. Sound, lyrics, concept are always going hand in hand, is it still satisfying after 40 years to keep doing this, and is the inspiration in that case inexhaustible?

It is always the question : imagine what may happen and will follow as a next project.
There's always the desire, then doubts, obstacles and challenges, as well as the opportunity and interest in continuing to create, produce…
And this idea to go beyond our own limits, not to redo the same thing, to explore other spheres, to dig deeper. All this being connected to our life.

In opener and single Psychic Poison, Eliane sings 'you don't need a God', and on Rayon X we found a track called 'Politik', are those songs Die Form attempts to criticise matters as politics and religion?
Subjects that are very discussable these days, watching the news. How do you see the future for the world where we live today?

This album was more inflenced by political and society subjects than the previous ones, even though these matters have already been broached in "Diktat", "Nature Destruction", "Inferno/Europa", "Tote Kinder"… Undoubtedly because it's hard to remain indifferent to the terrible and anxiogenic news. I would like to be optimistic and positive, but the world seems to move inexorably/blindly towards a sombre future, towards chaos.

'L'Origine du Monde' is a track that immediately catches the eye, not only because it's good, but also for the title, which I inevitably connect with the painting from Gustave Courbet, which shows a close up of a vagina. A painting that suits the thought of Die Form in my opinion. Did you have that painting in mind, while writing this song, or what's the story behind this song?

Yes, of course. I already knew this small hidden Courbet's painting but I hadn't yet had the opportunity/chance to admire the original work. It was during an exhibition in Ornans (Courbet's native village) around "L'Origine du Monde", showing works from ancient times to our days representing the woman's sexual anatomy, "that obscure object of desire". Among others, works from Bellmer, Duchamp, Rodin, Masson, Magritte… were exhibited.
Obviously, I was fascinated by this picture which belonged to Lacan and was kept hidden behind a curtain for years because of its taboo subject and its subversive potential.
Beyond the subject matter, this painting is very modern, through its photographic framing : it's reduced to the essential, never been seen at that time.
What makes it neither erotic nor pornographic, is the absence of face, of gaze… It is an anatomical beauty, at the same time hyperrealist and strange, almost mystical.

Talking about art, the artwork Die Form uses is always top notch, you are a photographer yourself, and your eye for detail is wonderful. Haven't you thought to bundle together all your photowork for a book or exposition?

Yes, the next project on which I currently work will be a retrospective-book gathering unseen/unpublished images or reworked from the original negatives, some of which had disappeared from my memory. It will be accompanied by music on CD or vinyl.
As a photographer, which photographer or artist is an inspiration for you?

Hans Bellmer, Man Ray, J.P. Witkin at a certain period, the Surrealists, Paul Delvaux, Max Ernst, David Lynch, cinema, anatomical boards, erotic magazines…

Not only visually but also in the music of Die Form, there's a really high sexual attraction. Many bands have tried to bring that kind of sexual energy in their music, but most of them failed to bring something as exclusive as Die Form. Are there bands that in your opinion manage to bring something alike, or do you see yourself as 'the one-eyed man in the kingdom of the blind' in that matter?

Beyond the shock and appearances, one of the points which distinguishes our projects from others is a certain aesthetic and poetic representation of desire and pleasure.

Sexual energy is the energy of life, that's a fact. But besides that, in which way is sexuality an influence, not only for your music, but in ordinary life?

My work has always been linked to my life, and my life to my creations. I've never separated both.

Die Form always showed a broad interest in the dark BDSM world, is this purely an artistic interest, or is it something you also practise or a way of life?

No comment!

Die Form doesn't perfom live often, I was lucky to see you a few years ago at BIMFest in Antwerp. Now with the release of Baroque Equinox, are there some future shows to promote the new album?

Not for the moment. It's a very different work to perform before an audience, and to manage to present an achieved show that we can be fully satisfied with. There are too many constraints and difficulties…

2017 is not only the year of the release of the new album, but it's also the highlight of the 40th birthday of Die Form. That's quite a lot, how do you look back at those years, and how do you see the future?

To be precise, the 40th birthday is between 2017 and 2020, depending on what is considered as the "first" production.
I don't like to look back, it often depresses me. I prefer (to try) to live in the present!
The future is closely linked to our life, our experiences, we live from day to day.

Songs as 'Silent Order', 'Masochist', 'Slavesex' are instant classics at dark dancefloors, and also are songs that pass every week in Belgium at a party. I guess it's an impossible question, but which song makes you extra proud? Or to make it even more complex: name one song that people could see as the Die Form keytrack, one that sums up the whole idea of the project in one song. Could you explain why?

I'm very pleased that our music and projects are still appreciated, in spite of the time elapsed, because I never expected this. I've always worked on the fringes of systems, beyond time, beyond fashion trends…
It's quite difficult, because Die Form is a kaleidoscopic multifaceted/multidimensional project of which cells divide continuously.
I would hesitate between "Silent Order" and "Bite of God", "L'Origine du Monde", "Automatic Death", "Masochist"… but also "Cantique", "Experiment with Tears", "Martyrium/Memorial to Hiroshima" in another register, and certain experimental and industrial tracks like "Unreal Cinema", "Disabled Landscape", "HURT", "Tote Kinder"…
Each track being linked to an album, a period, some performances, some images…

Die Form started with industrial music, mixed with some minimal influences, to evolve in a more electro orientated style, but also with classical references. A broadminded musical point of view, so I'm asking myself which music you like listening to yourself? Some (new) artists you really want to recommend?

In fact I listen to very (too) little music, but there's a lot of exciting things to discover.
Dimi BRANDS
26/01/2018
---
U kan de Nederlastalige versie van dit interview lezen bij onze collega's van Dark Entries Magazine!
Dimi BRANDS
26/01/2018
---