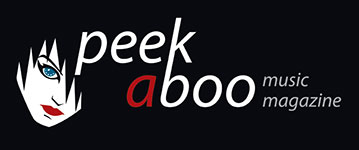 like this interview
---
SCANNER
'FAILURE IS ALSO AN ESSENTIAL PART OF ANY SUCCESS'
21/12/2017, Stef COLDHEART
---
We had the opportunity to conduct an interview with Robin Rimbaud. This London born artist has released a countless number of productions under different monikers. However, he gained world-wide recognition since the 90s as Scanner. Quite recently he released the full length "The Great Crater" on the Italian label Glacial Movements Records, which give me the idea of this interview with one of the most visionary- and simply greatest artists in electro-experimental music.
You recently released the album "The Great Crater", which is inspired by strange circles on Antarctica, right? How the hell do you start collecting sounds and noises to compose an album around such a theme?
Robin: How to begin anything is the biggest challenge but I maintain a good discipline towards work, beginning every day in the studio, Monday to Friday, early in the morning and working until 18.00. I simply begin with sounds, which sometimes work, and sometimes don't, but failure is also an essential part of any success. I have a substantial archive of sounds which I can draw on at these times and had various records of ice flows, melting ice and so on which I could use as an accompaniment to more electronic sounds. I had the focus of time, which always helps, having decided to write the entire album within one week, so kept to my own deadline (laugh).
"The Great Crater" came together in such an easy, fluid way. I imagined it as scoring a film, beginning with a massive explosion of ice, quite literally the earth opening up, then moved through a variety of moods, until the end when it offers a sense of optimism, yet still tinged with melancholy and concern. I had this picture in my head as I wrote the album so that helped make the theme constantly connect to the music.
A conceptual release often reminds me of 'visual' artists who mainly use colours and images to express their ideas while a musician only has his instruments and equipment to create an atmosphere. Can we compare a colour to a noise, maybe a picture or painting to a song, images to sequences? What does it evoke to you and what kind of artist are you today?
I frequently use painterly terms to describe my work, speaking in terms of texture and surfaces, so though the tools may be different I believe we share very similar approaches to composition. A canvas or sculpture is not so far removed from a piece of music of a certain length, and we can consider the frame of a piece of artwork not dissimilar to the timescale of music, containing it.
In actuality I visit far more visual art shows than live music and find them continually inspiring. When travelling for work a key focus is also to consider what exhibitions I can visit whilst overseas too!
I noticed you announced a new studio album for the end of 2017 entitled "Fibolae". You say it will be one of your most personal albums to date. Is it more personal because of the inspiration/concept behind and/or is it also because of a more personal sound approach? Can you give us more details about it?
To date I've released a ridiculous amount of commercial recordings, perhaps around 75 albums, but a significant proportion of these are commissions, responses to invitations, or soundtracks to contemporary dance or films. The idea of simply recording music for myself for release has been the furthest thought from my head for many years and it's only once every few years that I consider such an adventure.
This time it was prompted by a series of truly horrendous losses, with my entire family passing away in a very short frame of time, one in an especially brutal and unforgiving manner, and trying to deal with such losses whilst maintaining a public persona in terms of performances and so on. At the same time I choose to leave the comfort of a familiar city, London, to move to a gigantic former textile factory in the UK, and a combination of these forces acted as the impetus for "Fibolae".
It's 'personal' as it was made out of a very mixed set of feelings, from shock, anger through to melancholy and confusion, and even uses recordings of their voices within the framework of the album. It's very much a direct response to significant life changes in a very short time.
You released a split work (cf. "Astral Dreams/Vein") together with Laurent Garnier. That's not exactly the kind of artist I should link to Scanner, but on the other side it also brings different music horizons together. What does this record means to you and what's your perception of labeling artists in different genres?
What is the value in speaking the same audience your entire life? I'm interested in new audiences, surprises, challenges, opening out possibilities. The very idea of collaboration and connection is key to my practice and approach to life and work. Sharing work if only on the other side of a piece of vinyl is a way of moving forwards in an unexpected manner.
I've been -and still am a huge admirer of Test Department, which remains to me one of the most creative and referential bands when it comes to industrial music. You've been invited to rework "Total State Machine" from Test Department so how did it happen and how did you accomplish this work?
I was fortunate to see the band in their earliest incarnation back in the 1980s when they were playing underneath railway arches and all manner of strange and wonderful locations. I was a huge admirer of their work and over the years our paths crossed a number of times. A book was commissioned about their work and I was then invited to contribute an essay to this, exploring my memories and drawing on my personal archives of flyers and posters that I'm kept since those days.
I was invited to then speak at the book launch in London and in addition to DJ afterwards, so rather than simply spin out music of other people I decided to make my very own direct approach to some classic Test Dept tunes and rework them, all of which are available to listen and freely download online still.
https://soundcloud.com/scanner/sets/test-dept-reconstructions

Robin, you've now been into music for nearly 30 years so what does music and especially Scanner mean to you? Did you became a different artist and what's your perception of contemporary music?
I would like to feel that change is a key component in any life and that my work and ideas have developed over this time, as well as myself of course! Over this time my enthusiasm for new music has never ceased and to this day I both treasure my earliest record and tape purchases, as well as all new vinyl and CDs that I continue to buy today. If I'm not actively creating work myself, then I'm constantly listening to the music of others. It inspires, comforts, accompanies, entertains and bewilders me in equally positive measure!
Stef COLDHEART
21/12/2017
---