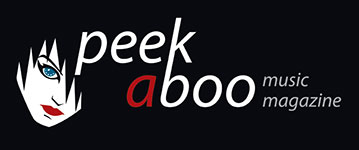 like this interview
---
THE VIOLENT YOUTH
'When you see that some chords that you have composed become a song, it's a very special feeling.'
19/10/2017, Masha KASHA
---
The 80s are in fashion and not only in Western Europe. Eastern Europe is also offering some nice musical surprises, where new retro wave and sovietwave coexist side by side. You have all surely already heard about Tesla Boy. Our guest today is Arthur from a Belorussian Band the Violent Youth, who will play in Belgium on the 4th of November. The Violent Youth will give only one free private home concert in Brussels. Email Masha Kasha for the details mashakasha1210@gmail.com.
Hi Arthur, could you introduce your band?
Sure;) We are The Violent Youth - an international synthpop duo based in Germany and Russia. Earlier it was based in Belarus and Russia, but since September 2017 I have been living in Augsburg, Germany. Egor - the synth player - lives in Moscow.
How come you are so interested in the music of the 80s?
I think it all comes from my mother. She said that I was raised with this music. Madonna, Depeche Mode and others. I just like the sound, vibes, atmosphere of that time. But also I like listening to many modern bands, not only from the 80s.
Which 80s bands have influenced you?
I am a huge Depeche Mode fan, since my childhood until today. Also I can mention Tears For Fears, The Human League, Yazoo, early Madonna records.
Maybe you can also mention some inspiring new retro wave bands?
Sure. New bands, which inspire me are Hurts (I like them a lot and I'm very honoured that lead singer Theo Hutchcraft has a copy of our single Through The Night, which I gave him in 2016), these guys have inspired me since 2010 when their first album came out and I can say for sure that they are my favourite modern band. Also I like CHVRCHES, the Russian synthpop band called Tesla Boy. But these are only the bands which play synth. My music taste is various. From David Bowie to Metallica:)
Can you say more about recording your album "Discotheque"?
Our previous album was released in 2014 and I wanted to make something new. With the sound, the atmosphere. Something more serious, more personal, because the lyrics of Loud is simply about love. What about the sound: I wanted to get it deeper and stronger. It was a very good time. I like working in the studio. I can't describe it but when you see that some chords that you have composed become a song, it's a very special feeling. Many songs have had 3-5 versions before they were finally recorded, like the title track Discotheque, which was the most difficult for me to compose and program but with the help of our sound producer Ars Nikonov we got it. I was composing and programming the songs at home in the evening after work and then in the studio together with Ars we were looking for the matching sounds, samples etc. Every song is a little story. The cover picture was taken in Paris in April 2015. I was just walking around the streets of the city and saw this door. I think it is a local Disco Club but it seems to me that it was closed a long time ago. I didn't know that it would be my album cover but I decided that I must take this photo and do something with it later.
Which songs from the album are special for you and why?
I don't know. Maybe Universe and Rainman. It was January 2015 I was sitting in the kitchen with my synth and playing some stuff. Just jamming and then I realised that I was playing a nice melody. So that evening Universe was born. And it is still my favourite TVY song and lots of our listeners like it a lot. Rainman. I have watched the film "Rain Man" with Tom Cruise and Dustin Hoffman and was inspired by the soundtrack. It is amazing.
What can you tell us about your last single?
Fade Away was an experiment. Experiment with sound. It was written in 2016 but I didn;t do anything with this song until the Spring of 2017. I can't say that this is one of my favourite songs in our playlist. We had some problems with the copyright of the cover photo after we had released this song. My friend works as a model in the USA and had given me this picture like a present before releasing the single. And when "Fade Away" came out, th owner of the photo wrote to me that we will have problems and he wants his money. Haha. But this problem was solved. I hope that he isn't angry anymore. I have already composed lots of new stuff and I;m looking forward to record it.
Are you excited about coming to Belgium?
Sure! We both are very excited because it's our first gig in Europe and I hope not the last! We are looking forward to play there and in other countries. We hope that we will spend a very good time here in Brussels and come back again!
Can you leave a little message for the "Peek-a-Boo" readers?
With pleasure. So, guys. Listen to good music and support your local underground scene (and also not local!) It is very important for us because we make our music for you. I hope that we meet in Brussels on the 4th of November. I'm looking forward to see you all.
Masha KASHA
19/10/2017
---