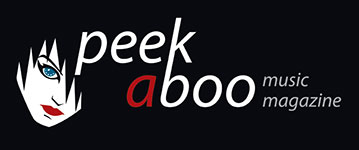 like this interview
---
DER HIMMEL UBER BERLIN
'EVERYTHING IS FASCINATING IN DARKNESS'
23/12/2017, Stef COLDHEART
---
The new full length album "Amnesia" by Italian combo Der Himmel Über Berlin has been recently released on the French label Unknown Pleasures Records. I had a crush on this album revealing an extremely dark atmosphere reminiscent of legendary bands such as Bauhaus, Joy Division etc. The band has already been active for a couple of years now and gained a serious live reputation. "Amnesia" is for sure one of the most accomplished albums in the genre for 2017. It was the perfect opportunity to know a bit more about this band, so singer Teeno Vesper answered a few questions.
Can you briefly tell us the way you set up Der Himmel Über Berlin and chose that for the band name, which is inspired by a famous movie by Wim Wenders?
Teeno: Davide Simeon who's the founder and guitarist of the band also came up with the band name. The concept has been influenced by European, in particular Austro-Hungarian culture and visuals. This way, he chose to 'steal' the name from the famous movie, fascinated by the wonderful black and white atmospheres used by Wenders and the soundtrack, which is dark, elegant and romantic at the same time. The purpose was to replicate that atmosphere in his band. The band is actually completed by co-founder Stefano Bradaschia (bass player), Riccardo Zamolo (who replaced the first drummer) and myself, Teeno Vesper (singer and keyboard player) joining in after having been involved with other bands.
Your music instantly reminds me of the 80s cold-wave movement and more especially to Bauhaus. What does this type of music represent to you and what are the sound elements you especially like?
We're glad to hear that, because especially at the beginning, we've been only related to Joy Division. I think that 80s is our natural cultural environment but we are also attracted by the 'sexual' power of 70s music, and some 90s bands such as Alice in Chains, Smashing Pumpkins etc... We don't want limits in the band's vision but it comes up naturally as a mixture of genres and influences. The typical goth-rock elements that we especially like are: reverberation and delay used EVERYWHERE and of course, a heavy and tribal use of the rhythm section, which was that typical in time.
What is your new album "Amnesia" all about and what have been the main aspects of the production you tried to accentuate and maybe improve (compared to previous work)?
We think that "Amnesia" is a natural development of our style, maintaining a goth-rock background, but adding some electronic atmospheres without going in some new-wave or cold-wave direction.
"Amnesia" is a very dark work so I'm always wondering what is that fascinating in 'darkness' and in what way does it stand for your perception of the world we're living in?
Everything is fascinating in darkness (laugh)!
Our lyrics mostly are about wicked love relationships, Kafka-like atmospheres and a general sense of disillusion and detachment from the daily life. Painters, writers and musicians often express them at their best when the world outside is setting on fire by disasters, wars and crisis. We think that we're living in a very, very bad time again, and that explains how many goth-rock, dark and metal bands are alive and kicking right now. We simply represent our time.
I noticed you already did numerous live performances in different countries all over Europe. How do you see yourself as a live band and what kind of show might we expect from Der Himmel Über Berlin?
Yes we did and of course it's a pleasure and a honour for us. We basically see Der Himmel Über Berlin as a rock band, with a classic live set up (drums, bass, guitar and voice); no backing tracks, but using dark and moody visuals to balance our live attitude, sometimes almost punk. What CAN'T you expect? A cold, electronic, boring live set up!
How do you see yourself evolving as band and musicians and what are the further plans?
To conquer the world, of course (laugh)!
Stef COLDHEART
23/12/2017
---