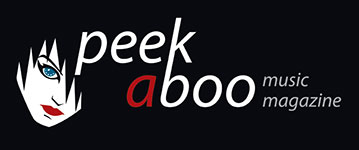 like this interview
---
MILDREDA
'It's is very nice feeling to let dark bombastic music hit an audience'
26/12/2017, Xavier KRUTH
---
Mildreda is a musical project founded by Jan Dewulf in the 90s that re-emerged after a long hibernation in 2016 with a fantastic album called 'Coward Philosophy'. Although Jan kept himself busy as his alter ego John Wolf and with his goth-rock project Your Life On Hold, he also promises new work by Mildreda. A conversation...

Mildreda saw the light of day in 1994 and if I remember well, you recorded the first demo on borrowed material that year. Can you tell us something about that start?
At that time my impatience was greater than there were real ideas. There was this incredible urge that I felt growing inside me. There was no plan yet but I knew I wanted to be creative. Music was at that time a fun pastime for my peers. For me it was much more than that. It crept into every fibre of my body and rewrote my DNA: I had to make music! And because I could not wait, I borrowed the keyboard of my mate Tim (later known mainly under the name Foochow) and made the first sketches under the name Mildreda. Trust me: those first two demos were unobtrusive. (laughs)

'Coward Philosophy' - the record you released in 2016 - refers to your third cassette in the 90s: 'De Laffe Denker' (The Coward Thinker). The cassette was even included as a bonus with the digital version of 'Coward Philosophy'. Why did you go back to this cassette?
It felt a bit like unfinished business. At the time, I did not manage to find a label, but Mildreda stayed as a secret tip and the demo was given a special status. The title 'Coward Philosophy' is indeed a conscious nod to the unfinished first chapter. The exercise was redone, as it were, but with new courage and new material. It seemed like a nice idea to give the original demo with it as bonus.
In 2009 you were invited to play with Mildreda at a birthday party. Why did you go into that?
At that moment I did this purely for the fun of it. But then, I really felt it for the first time again: It's a very nice feeling to let dark bombastic music hit an audience. I played in the attic of De Klinke, the legendary backyard café of Chesko (Der Klinke) who almost lives around my corner. Dirk Ivens was there as a guest DJ. Everything was just so right that night so that the decision to bring new life into the project came spontaneously. That evening I still played the original versions from '96. After, I started working on new Mildreda material again.

'Coward Philosophy' was announced as being recordings from that birthday party in 2010, but that was not exactly true, was it? Explain…
Indeed that is not true. I didn't even hear of such an announcement until now. Perhaps a number of rumours were being mixed up here. That night, Mildreda was fired up again, but it was only a start. It was only after that night that I starting to invest time and new material took shape. It came, with trial and error, but eventually became the digital release of 'Coward philosophy'.
If I remember correctly, you would have announced a new CD by the end of 2017. However, it is not there yet. Are you still working on this project or has this been postponed?
Yeah, sorry for that, I promised too much too early I guess (laughs). Actually, the 'Your Life On Hold' story demanded all my attention lately, so I had to put Mildreda aside again for some time. But no panic, however! New material is in the making and is being worked on. In 2018, Mildreda will definitely have a new album ready, which immediately will become the first physical release.

Mildreda slowly turned into Diskonnekted, but we have not heard about it for a while. Do you have plans with Diskonnekted?
No, Diskonnekted is a closed chapter. Even more, when I finally decided to pull the plug, it felt very liberating. There was this sudden inspiration and sense to make music again, something I had lost a bit by the years. Actually, with Diskonnekted I went through many different phases that were needed to become a better producer and songwriter. Once I felt that I could effectively raise the level, I decided to do so in a completely new chapter. And I especially because I wanted to do something else.
The project that you are most occupied with right now is Your Life On Hold. Is there the possibility this - in our eyes fantastic - gothic rock project will push Mildreda to the background?
That seems to be the destiny of Mildreda indeed (laughs). Your Life On Hold became the main project, leaving Mildreda somewhat in to the margin. But it does not mean there is no enthusiasm and inspiration left to pursue this project of course. You can witness this on 8th December at the Kinky Star in Ghent (B). Anyway, I am very happy to hear you like Your Life On Hold also so much!
Your last performances - especially your opening for Skinny Puppy - have received favourable reviews. Are you happy with this feedback? What do you think makes a good Mildreda performance?
Yes, that was fun. We had made some physical EP's especially for that evening. The EP sold like candies! That was a nice confirmation of our ability. A good Mildreda performance is firm and dark, as where the atmosphere is as important as the music itself. A bit like a horror movie perhaps where it is fun to shudder, we want to take the audience on a dark trip. On 8th December we play as the main act, so we can make our set a bit longer. I'm looking forward of performing the really dark songs too and putting down a really nice show. It will be fun!
Dark Entries Night XXI: Mildreda and Euforic Existence (Friday 8 December 2017)
Xavier KRUTH
26/12/2017
---
U kan de Nederlandse versie van dit interview hier lezen bij onze collega's van Dark Entries Magazine!
Xavier KRUTH
26/12/2017
---