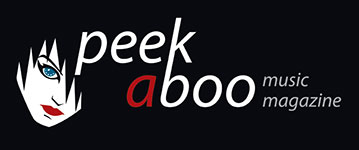 like this interview
---
GEORGIO 'THE DOVE' VALENTINO
'Everything I've learned I know from records... (though I often misheard the words)'
19/12/2017, Jan DENOLET
---
Ever since reviewing The Sorrows of Young George by Georgio 'the Dove' Valentino, way back in 2011, we believed in this artist. The release of 2014's double album Mille Plateaux was reason for a first lenthy interview in Dark Entries and from that moment on we had a story going on covering this talented man, being it as frontman of his Societé des Mélancholiques or as secundant for Tuxedomoon's Blaine L Reininger during his soloconcerts… 2017 sees the birth of one last album, The Future Lasts A Long Time, and a farewell-tour to give friends and supporters a last goodbye and others the chance to hook up with the work and stage-présence of this outstanding and simultanously somehow neglected artist, almost formerly know as the Dove… Time to take this last opportunity to have an interview with the Dove, in order to spread the final Word…
"How would you, as a music journalist, explain my music to other people…?"
"Classy… It has various things in it and refers to post punk, rock 'n roll, ballroom rhythms, avantgarde experiments… but it would always be covered using the word 'Classy'…"
It was 3 years ago since we had our first encounter. In the meantime a lot has changed… Firstly: you relocated to Luxembourg… How do you look back on your time in Brussels…?
Dove: I enjoyed my 8 years in Brussels. A profound, complex city. A convenient European beachhead. The perfect place to disappear for a while. But it felt like time to move on. In any case, I had never been much of a fixture on the local scene(s). I found the theatre much more interesting than any music venues.
I've seen your set evolving from a 3-piece, to a 2-piece, to a quartet and then another quartet. Can you reflect on the shifts, the challenges…?
Most of those changes were dictated by necessity. Different spaces, changing interpersonal relationships, travel logistics and shoestring budgets have all contributed to the evolution of the group at different stages. As has curiosity. New collaborations, new formats, new sounds are invigorating.
You are about to start your next mini-tour. Since your doing very different locations, I suspect that this will demand some flexibillity… What are your prospects?
This next tour is a prime example of shifting line-ups: a brand new trio in France; the classic trio in the UK, Flanders and Florida; a quartet in Germany and Hungary; and a full five-piece in Athens. It's all in keeping with the album itself, which was recorded with over a dozen partners in 4 or 5 different locations around the world.
You did your 7" Satyros Ironykos with personal hero David McClymont and a bunch of collected all-stars. How did this come to be…?
We had met Malcolm Ross on our first tour of Scotland in 2012 and he would eventually introduce us to his old Orange Juice bandmate David McClymont, who's been living in Australia for decades now. David and I first collaborated 'via satellite' on an archive/concept situation called It's a Funny Religion When You Pray 'Hey, Mr. Tambourine Man, Play a Song for Me.'
[ http://georgiothedovevalentino.com/funnyreligion.html ]
After that we started throwing musical ideas around. He invited us to Melbourne to flesh them out. He recruited his mates Mick Harvey, Clare Moore and Dave Graney. And 'Satyros Ironykos' was born.
David McClymont, Dave Graney, Blaine L Reininger and other Tuxedo's, the people at the Château H, …, are people who felt immediatly connected to your music… Meanwhile, the 'public' and the music industry (like greater organisers and other players on the market) were pretending ignorance, forcing you to handle a very DIY-approach on releasing material… How does it come to be that you receive recognition from your peers but meanwhile have to fight for recognition…?
My career, such as it is, gives me as much satisfaction as Waylon's semi-unrequited love: just enough to keep me hangin' on. The support of a small circle of intimates, mentors and peers has sustained me through some fairly lean years. One oughtn't blame the public, though. I find most audiences refreshingly receptive, even enthusiastic... if and when I find them. That's the real trick. Access is hoarded by institutional middlemen of all stripes. In the folly of youth, one dreamt of a viable DIY alternative. And maybe such a thing once existed. Or perhaps it was precisely the experience of 'actually existing' DIY which unwittingly begat the aggressive entrepreneurialism of today's culture worker. I dunno. And I no longer care. Schopenhauer said it best: "Resignation is like inheriting a fortune; you never have to worry again."
Your new album, The Future Lasts A Long Time, reads (in some places) as a sharp comment on the music industry, the advantanges and disapointments in your career and some kind of roadmap of the last… Even some kind of testament… Can you reflect on this…?
It's a bit of a memoir really. The first time I've ever really written about myself—and I didn't even write most of it! Self-expression has never interested me. I don't do confessional mode. So I used bricolage as a back door. The Future Lasts a Long Time is a record about a life lived through records about other people's lives. Aye, disappointment is part of the story. I maintain that sour grapes are part of a balanced diet. But there's more than that.
At least a little bit more than that. Possibly.
Looking for links connected with the album title, I did find out that The Future Is A Long Time (l'Avenir Dure Longtemps) is the posthumeous autobiography by the French philosopher Louis Althusser, as well as a movie… In the movie the 2 main protagonists dream of an adventurous life and Bonnie & Clyde-fame, but they end up in disillusionment and in a difficult situation; a story of youthful naïveté and scattered dreams… Was one of the two (or maybe both) an inspiration for the title…?
If there was any inspiration into finding an album title, that would've been rather Althusser. First time I heard about that movie…
You do a cover of the Grey Lotus song 'Song for Syd Barrett'. In the middle section Joost and Judith are performing a slice of 'Eight Miles High' from The Byrds, smuggling a cover inside a cover… How did this come around…?
Sometime last year I had to improvise a semi-acoustic solo set at a wine bar in rural New South Wales and ended up playing a lot of covers. Somehow those two tunes got mashed together. And somehow it made sense, months later, to record it in split stereo with Surf Me Up Scotty backing me in one channel whilst Grey Lotus sang the Byrds in the other channel. Neither band knew what I had in mind at the time. I didn't want egg on my face if the concept didn't work out.
The album contains a very different adaption of the single Satyros Ironykos…
The 7" version was very much David's baby. It was refreshing to be able to focus on lyrics and vocal performance while someone I trusted handled arrangements and organization. I didn't even touch a guitar in that studio! The tune took on a life of its own once we started playing it live. Lots more guitars—the final version boasts 3 guitarists: Dave Graney in the left channel, me in the right channel and Eric Becker (Rome, Surf Me Up Scotty, The Barcodes) down the middle. It seemed fitting enough to revisit it in another Melbourne studio almost exactly a year after the original session. Will Hindmarsh of Go-Go Sapien guests on organ. He also sat in with us for a Melbourne show. Top bloke. There's a Leonard Cohen citation somewhere in there, sung with the help of Clare Moore and Melbourne roots musician Matt Walker. I introduced it originally as an homage to Leonard Cohen during a live performance in Lautrec on the very day he died.
You are working with a new band and simultaneously working with different musicians on various locations… Who are they and where you did find them…?
Bassist Patrizia F (also Surf Me Up Scotty) and fiddler Blaine L. Reininger from Tuxedomoon have been Société stalwarts since 2011. Blaine's Tuxedomoon bandmate Steven Brown makes a guest appearance on this record too—a sublime saxophone solo on "Sobborghi." Pianist Todor Stefanov joined up in 2012. We saw him noodling away one afternoon at a Brussels café and recruited him on the spot. Dave Graney and Clare Moore entered our lives during the Satyros Ironykos session and have never left. We've toured Australia and Europe together. They are a remarkable unit. Their Coral Snakes bandmate Robin Casinader contributes mellotron on "The Stranger." He brought his violin along and sat in with us in Canberra. The two of us bonded over our mutual love of vintage art rock. He had been a closet Genesis fan for ages and credits me with helping him come out to Dave and Clare. It's always a pleasure to bring people together. Guitarist Eric Becker has been joining us on stage where possible since last year. He also plays in Patrizia F's surf-punk band Surf Me Up Scotty, who all appear on our record as well. We met Los Angeles-based drummer Phillip Haut on his home turf a couple of years ago. He has toured the West Coast and Europe with us. Indeed, he's flying over to do the bulk of this farewell tour with us. Another drummer, Alexandre Alquier, has been part of our circle of friends down in the Toulouse area since our first show there in 2013. Haarlem post-folk collective Grey Lotus have a long history with us too. We shared a bill in Helmond NL back in 2012 and stayed in each others' business ever since. They were very present on Face 3 of our double LP Mille Plateaux. We shared a bill with Barclau's band 13 Dead Trees in Metz years ago and invited him to play lap steel guitar on a few tracks. Greek guitarist and engineer George Scordilis has also been a frequent collaborator over the years. We did a session at his Athens studio Sound Machine and he played a bit of E-Bow.
You played both the Audioplant and the Kinky Star before. What are you looking forward to…?
We're looking forward to seeing our friends around Europe, the UK and the US. That's what this particular exercise is all about, breaking bread one last time with folks we've met on the road over the years. We'll pass through a few new places in the bargain too. First time in Budapest, for example. And we've been invited to play a kinky winter market on the Reeperbahn in Hamburg. Should be interesting.
I don't think that you will have a dull time… Good luck and break-a-leg…! ;-)
Georgio 'the Dove' Valentino will be playing the Kinky Star (Ghent) on 30/11... Last chance to see The Dove & La Société des Mélancholiques...!!
Published with kind permission of Dark Entries Magazine
Jan DENOLET
19/12/2017
---