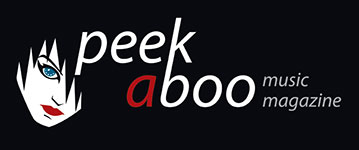 like this interview
---
ADAM USI
You know, art, music and visuals are the package, they are one big thing, they belong to each other. I try to find the jigsaw pieces to paint a all in all picture.
20/04/2018, Masha KASHA
photos: © Michael Oswald
---
Adam Usi is a dark pop/ coldwave project from Augsburg, Germany. Electronic synths, clear persistant voice and deep lyrics are very characteristic for his kind of music. We had a chance to ask Adam some questions about his art, his musical identity as well as his latest LP.
Hi Adam, although it is not the first time your name is mentioned in PAB, could you introduce yourself and your band to the Peek-a-Boo readers?
Hey there, my name is Adam Usi, I´m from Augsburg, Germany. I'm in my 20 somethings now and my band is a one man project, although I always bring a friend to the gig venues for psychological treatment.
How can you describe your style?
I only use synthesizers and drum computers in my music. I think I adore Post Punk, New Wave, Cold Wave...but also really poppy tunes. In my music my voice is the most important thing, as I try to do very deep, very screamy, very poppy, very high vocals....I just like to get to my individual borders with my lyrics and my singing style. I think my style changed a bit from rather dark to rather romantic in a way, but its still dystopian, dreamy, dark, selfharming, depressive and queer.
Are there any prominent bands that influenced you?
I did like a lot of different musical styles back in the day, so I think at least a lot of singers did. Jonny Pierce (the Drums), Damon Albarn (Gorillaz / Blur /eg), Casper Clausen (Efterklang / Liima), Thomas Dolby, Michael Jackson.. The acoustic parts of my work are definitely influenced by artists such as Gary Numan, Thomas Dolby, Visage, Erasure, Keluar and loads and loads of Wave bands in particular.
You often issue your tracks on… tapes. Why have you chosen that media type?
We use tapes for single releases, so whenever we have a good single and want to promote a LP, we used that format. It also has a really nostalgic vibe to it and I am a nostalgic person. The FACES tape included polaroids which we (Micha and I) shot while on tour last year, 66 different pictures for 66 tapes. It was really fun doing that. I think a tape is a nice format as you have tons of options to make it look cool, it transports my musical ideas pretty well. I also only release full length albums on vinyl, as it is my go to format. It is just so nice to have something physical in your hands...but of course all my releases include a download code.
Since you have a lot of pics and videos, who is actually making a part of your visual identity?
I´m trying to do my videos myself but for my releases Micha, a good friend, always has good ideas (and obviously skills). He´s also the one doing light shows at my gigs and taking pictures whenever there's a good opportunity, he also did my first Album "Vakuum Mirage". My newest album "In Plastique Bloom" was visually made by Mika Ledies, she is a make up artist and part of our lovely Young and Cold records label, too. Fans and friends often ask me whether they can do any form of visual art. Bernardino Costantino designed my new tote bags, of which I am very proud. I´m glad there are a lot of cool and individual artists in our small scene.
Can you tell about more about the relationship of art and music in your visuals?
It´s difficult for me to talk about that. You know, art, music and visuals are the package, they are one big thing, they belong to each other. If I feel a connection in something that inspired me, may it be a movie, a book, music, you name it. I try to find the jigsaw pieces to paint it all in all picture.
Apparently you play a lot with the synthesizers. What are your favourite sounds/effects/models to deal with?
I still havent discovered all of them, actually not even a bit I think. There are so many sounds in this world, especially when you work with synthesizers… and I think that's the main reason why I love them so much, because there´s always a lot to discover. As I am a poor musician, my favourite synths are microbrute and microkorg so far, I also use a lot of effects such as reverb, distortion, delay. I love to hang out in the studio as much as playing live, so theres a lot to do still.
How do you deal with a process of composing your songs?
Usually I have an idea that comes out of the blue. I record some vox on my phone or go for a walk and there it is.. Its hard to explain. Most of the time it is about something that bothers me, may it be a personal, a political or a societal issue, that transforms into some sort of melody or lyric fragment. Then I build my sounds at my studio, after my singing ideas. The last thing I add are lyrics. When I am done practicing with my little setup, I visit my friend and producer Daniel Hallhuber (Nachtanalyse / Möbius Mondstaub eg) at his big ass studio. He has tons of cool instruments and effects, also he is good in helping me to find sounds, record and mix the tracks. That's it, basically.
What can you tell us about your last LP "In plastique bloom"?
The A side of the album is dedicated to the gloomy, dystopian soundscape, the B side to the poppy and more personal bandwidth of my music. Lyrically, the time of the shoah, the danger of nuclear energy, the prevailing consumer society and my private grievances were treated. Cheesy stringsynths, poppy sequences and musical bonds from the New Wave scene of the 80s are among the audible influences of my second album. Sociologists / Philosophers like Hannah Arendt and Erich Fromm are also a huge impact to my work currently. Months and months of practicing at home, preparing different synthesizer sounds in Daniels studio, collecting ideas, writing, blood, sweat and tears went into this release. It took some time writing it and for me, it was not always easy to continue, as I still struggle from depression. Writing music helps but in the beginning the dark feelings still kick in. I want to apologise to my loved ones that had to get along with me, as I was not always easy to handle while writing this LP and who cheered me up when I felt like shit. I'm glad that the album is selling well at the moment, and doing some promo I invite you, the readers, to check it out at youngandcold.de, just type in In Plastique Bloom and you will find the album.
You often go on tour. What are your touring plans and which bands will you/ would you love to perform with?
I am often going to places on the weekends, and I am really very very grateful that I had the opportunity to play so many cool cities such as Antwerp, Glasgow, London, Amsterdam, Paris, Vienna and of course all the German cities like my hometown Augsburg. I played with so many big bands so far, I hope I don't forget anything. Probably the biggest bands so far were A Frozen Autumn, Psyche, She Past Away, Holygram.. Sadly in Paris Martial Canterel couldn´t do his show, I would have loved to join the stage with him. I have some more shows with Psyche this year, also Luminance in Cologne and some other festivals and gigs. I´d love to perform again with my pals from Nine Circles, Soft Riot and Nachtanalyse. JJD (Soft Riot) got me to the UK, we had a very good time and I really wanna do that again. Otherwise when I think about the future, I´d like to just continue seeing different places and playing with different bands I adore, it's just the coolest thing ever to be able to play, see people, see places and getting paid for it. I'm not expensive and very humble, if any promoters read that ;)
What do you like most about live performances?
Having the opportunity to express yourself in front of an audience is just overwhelming. The connection you get with the audience, the talking after a show, the stage fright before and the big relief after performing, sweating, dancing.. I feel all the emotions there are while performing but on a 100 times higher level. I can't really describe it. I also gotta admit, that people are often very surprised about my singing and performance skills, I often hear my live shows are very good. I hope that doesn´t sound to conceited, I don´t mean it that way. To be honest, in fact, I always literally die while performing, and I'm still not satisfied with my live performances. But yeah, that's a good thing I suppose because if you stop getting better you´ll just get worse as an artist.
Can you leave a short cheer up message for the Peek-a-Boo readers?
I´m not very good at cheering people up but that little thought always makes me grin. As the world and the world problems are getting worse these days, you can be sure that art will get potentially better, reflecting that. You just gotta open your eyes for the good stuff.
Masha KASHA
20/04/2018
---