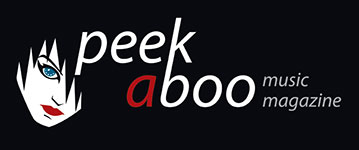 like this interview
---
SHEDIR
'I Always Think I'm Gonna Die Tomorrow'
21/04/2018, Stef COLDHEART
---
Behind Shedir is hiding the solo-project of Martina Betti. Her official debut album "Falling Time" has been released on Cyclic Law. It definitely is a consecration for this female artist who has achieved a refined and sensitive dark-ambient production. The work moves in between reverie and anguishing passages. This interview will give you a bit more information about Shedir.
Shedir is a new name active at the wider fields of dark-ambient music so can you introduce yourself by revealing some information about your music background and how did you come in touch with this kind of music?
First of all because of the sounds; sounds come before music. The sonic map I always carry with me is made of all the sounds that belong to the place where I lived, Sardinia. The bleak, constant noise of my town's huge petroleum plant, the threatening sound of the siren breaking the silence at night and the sound of flames of both torches towering in the middle of the factory. And then the incessant wind. And the traditional chants and old prayers connecting me to my home island's magical and historical roots.
I am interested in composers devoting themselves to the fiercest experimentations: Giacinto Scelsi, Bernard Parmegiani, Jean-Claude Risset, Angelo Badalamenti, Eliane Radigue, Brian Eno, Lawrence English (who mastered my album) are my foundations.
I think 'Shedir' is the name of a star, related to the constellation of Cassiopeia. What fascinates you in this name and this subject and what's the link with your music and the sound of Shedir?
I like to fantasize about the limits and borders of the world we know. In the wider picture of contemporary science there are so many things we do not understand yet. About the origins and architecture of the universe, for example, or the nature of time and the human mind. Shedir is a Cassiopeia star and also a name that reminds me to never unplug myself from the universe. The complex reality we are made of blends with the texture of outer space: we are nothing but knots on an endless web made of exchanges.
Through my work I try to keep these connections on, and the astonishment and unsettling feeling caused by the mystery of life.
What kind of album did you have in mind when starting the writing of "Falling Time" and how did the writing happen –considering the influences, sound creation, instruments, recording and emotions?
I realise my approach to sounds is a sentimental one. I grow fond of them as if they were needy creatures. I catch those sound that 'feel sick', unstable ones coming from faulty sonic sources, or I go hunting for micro-sounds, these that move like ghosts in the world. And I gather them to create my phonetic army. I'm mostly interested in sonic landslides escaping labeling or control, something ambiguous and alien. Bodies that seem to fade.
Before starting to work on "Falling Time" I thought a lot about György Ligeti's music, where single voices and melodies are submerged in a blurred sonic mass, as in "Atmosphères", famous for being featured in "2001: A Space Odyssey's" soundtrack. I started working on "Falling Time" under the spell of its hypnotic suggestions.
I've been intrigued by your work, which I think reveals a duality between relaxing and evasive cuts at one side but still darker and haunted cuts at the other side. I think this feeling is perfectly shown in the front picture of your album but what is it all about?
Yes, that's right. My album swings between these two dimensions. I tried to create a constantly changing sonic landscape where harmonies merge into each other creating a fogginess that blurs the combinations of intervals. How our minds grab and elaborate music is the hardest and most interesting question. How does the listener perceive it?
My goal was to offer some kind of oxymoron springing from these cuts, a daring fear or a calm agitation.
In the 8 tracks there are mostly processed recordings from my travels on plane. In emptiness the sky's intimate wars explode: turbulence and storms, frictions and collisions and clotted spaces soon become turbulence of the mind, because the body - stuck to the seat - is no longer a free entity but a tiny cage forced to attune to the changes of Earth, to the complexities of atmospheric life, which can be powerful and destructive, or calm and generous: they slowly become one with psychic life.
What does the future bring for Shedir and how do you see yourself evolving as an artist/musician?
Truth is I always think I'm gonna die tomorrow. I don't now why, it's just a feeling I've been carrying within since I was a kid (I wrote my will at seven years old). This sensation keeps me from projecting myself into the future and makes me live the present with great intensity. The present is all I have and I'm gonna make the most of it by keeping learning.
Stef COLDHEART
21/04/2018
---