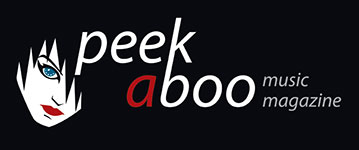 like this interview
---
FIRST AID 4 SOULS
Composing Songs Begins By Reading A Lot Of Books
29/05/2018, Stef COLDHEART
---
First Aid 4 Souls is an Hungarian electro project dealing with different kinds of electronic music. Set up by Istvan Gazdag, First Aid 4 Souls reflects to him 'the intention to give people something meaningful, something that can fill the void inside of us'. When the artist is going through a darker mood he sometimes feels that the name of the band no longer fits and it even starts to sound cynical to him. 'The reality has to be somewhere in between, more like a painting from Hieronymus Bosch. From a certain distance at first glance, it presents beauty, however as soon as you step closer the details will be revealed. It intentionally conveys a message that shakes your existence and brings dawn on your soul'. The band last year released an impressive dark-electro & EBM driven album entitled "Dark Tunnel" which incited me to get in touch with Mortum (vocals) and Istvan Gazdag.
You've been involved with music for quite a long time now. What are the main facts you'll keep in mind and how did you finally come to set up First Aid 4 Souls?
Yes, I've been a very active and productive musician since the late 80s. My first project I got involved with was Vacuum; a pure industrial and experimental electronic act with my good friend Istvan Drimal. In 2004 Drimal left the project and I did not want to continue any longer as Vacuum without him. From there came the idea to change the name.
First Aid 4 Souls actually saw daylight in 2004. Shortly after finishing the first demo recordings, a well operated label, Some Bizarre, found my work worthy to release. With the support of the record label, I actively contributed remixing some real big names such as Coil, Soft Cell, Test Dept, Einsturzende Neubauten, Cabaret Voltaire etc. This gave me pretty good references to help me out with the future works.
First Aid 4 Souls as a band has a constantly changing member crew. Right now Vic Willow and Mortum both are the vocalists who can keep up with the pace I dictate. I can consider them as base members now.
How do you explain the different changes in the line-up, which never stopped you releasing an impressive number of productions? What can you tell us about these aspects and what's your perception of electronic music?
Istvan: First Aid 4 Souls is a reaction to the world, a direct response to the entropy dwelling in this world. That concerns everyone and many even can express their feelings about it. The project gives words and sounds to numerous points of view from different people but the message remains always the same; expressing something that is important at so many different levels can be done through electronic music. The sounds, the vast variations and the infinite possibilities to create can make this communication complete. First Aid 4 Souls is an ever evolving project with multiple faces, with strong purpose without following trends and fashions or shrinking into only one genre. It does not serve your wishes, does not fancy your taste since its role is not to serve but to bring changes.
I consider your latest album "Dark Tunnel" as the most accomplished and sophisticated work so far. What kind of album did you have in mind when starting the writing and what makes this work maybe different from previous releases?
Istvan: It is important to know that the album and the entire concept of "Dark Tunnel" is based on the book "Metro 2033" from a famous Russian contemporary novel written by Glukhovsky. The post-apocalyptic world described in the book is full of dreams and emotions, so I tried to focus on using warm and smooth analog sounds. Evenly designed tunes and soundscapes provide the feeling that the entire album is about only one universe, a world brought alive by a writer. The contrast between the smooth electronics and Mortum's harsh and cruel vocals is just as sharp as a katana slicing through dimensions. It definitely gives a unique aspect to the album.
Mortum: Well on the last two albums, "Trashcathedral" (2016) released on Electro Arc Records and now "Dark Tunnel" (2017) released on Exabyss Records, First Aid 4 Souls showed significant signs of abuse and a darker approach due to my involvement as singer. That was quite a strong change in the history of the project. I admit that right in the beginning it was pretty odd for me to mix my harsh dark-electro-style lyrics and vocals together with Istvan's fairly uplifting electro-pop music. I had doubt it could match... but it did.
Istvan made an amazing job and crafted some really great tracks that could fit with my sickness and brought alive an amazing album. The present material, "Dark Tunnel" is the next stage of the evolution, a clear improvement that shows the complicity of the music arrangements and sounds as good as at the conception of the entire album.
"Dark Tunnel" impressed me for its great sound treatments. Tell us a bit more about this essential aspect of production and do you have some references and criteria when it comes to sound production?
Istvan: For "Dark Tunnel", I purposely planned to invoke massive yet still floating sound structures, which were so peculiar of the late 80s or the early 90s. That was the golden age of electronic underground, the precise fusion of electro-industrial, early goa-trance, techno, the Belgian new-beat as well as EBM and new-wave. During the writing process of this album I was really into listening to early tracks from Chris & Cosey, Coil and Die Form. I am confident these projects musically influenced "Dark Tunnel".
Talking about influences I noticed First Aid 4 Souls is influenced by philosophers and painters, which is not that usual for artists dealing with EBM music. What does it reveal about the lyrical content of your work and how do you transpose these subjects into lyrics and songs?
Istvan: Let me point out that despite the strong EBM influenced base in the music of First Aid 4 Souls, the project is not an EBM band. There are influences such as industrial and electro-industrial, but as we all know industrial as a genre is just a flow in the vast sea of avant-garde. The well working and constant relation between the contemporary arts and the intellectual artists is the result of this flow. First Aid 4 Souls is part of this avant-garde world. From this point of view, the project draws closer to the creative and critical world of arts than to be a mere club dance floor act.
Composing songs begins by reading a lot of books. I'm reading thousands of pages every single year as reading is a huge part of my life. In my opinion, if we compare a book to the reality we are living in and let the two worlds collide in order to give birth to a new reality, then the music I create is not less than a dream from this new realm that comes at night. The world morphing force of catharsis improves the quality of life.
Mortum: From my point of view, the lyrics I wrote for the project are very personal and more critical about human society. They analyze belief of humanity going through religions, the faith that betrays us, the mistakes we made and we will make. Although the lyrics are not really related to any artist or philosopher, they provide a strong and deep understanding of occultism and the fragile human existence.
You already working on a new album planned later on this year. What can you tell us about the new work? Are you exploring new ideas? Influences? And what does the future bring globally speaking?
Istvan: I am currently working on a few different things at the same time. An instrumental album entitled "Music For Geekz", obviously an album for geeks mixing genres from synth-pop to breakbeat. A new full-length album with a real deep conceptual approach is under post-production right now. That particular album features a few outstanding names of the Hungarian electro scene such as Emke from Black Nail Cabaret, Josef Stapel of Ultranoire, Damage from Planet:Damage as well as Vic Willow.
In the meantime, Mortum and I are working on the upcoming studio album, the third one in a row to be more exact. That work, according to our plans, will be completed in 2019 and this time this album will be conceptually and emotionally based on the novel, "Ice" written by Vladimir Sorokin.

Just recently you have been added to the BIMFEST2018 line-up. I suppose you are you looking forward to this?
It is like blues musicians playing in a prominent New Orleans club. The EBM genre's early pioneers and decisives are Belgian bands. It's truly a great honour to have the opportunity to play there and represent the Hungarian EBM scene.
If I understood correctly this will not only be your first concert on Belgian soil but it will also be a special show?
Yes! This will be a special show with new videos and tracks that we've never played before. It will be the debut of the FA4S's new EBM project Stahlgeist.
FIRST AID 4 SOULS will perform @ BIMFEST 2018 - Day 1 with Clock DVA, LIGHT ASYLUM, LIEBKNECHT.
Stef COLDHEART
29/05/2018
---