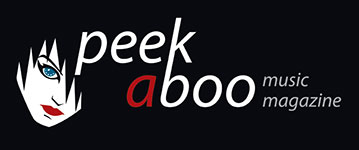 like this interview
---
MARTYRIA
The Process Of Creating Our Music Is A Way Of Expressing This Spiritual Transformation
04/05/2018, Stef COLDHEART
---
I recently discovered the astonishing official debut album from the Greek duo Martyria. George Zafiriadis (vocals, didgeridoo, synths, ozark harp) and Lena Merkouri (vocals, percussion, wind instruments) are driven by ritual music. The self-titled album released on Malignant Records is characterised by dark-haunting atmospheres, bewitching chants and the omnipresent ritual approach. "Martyria" is an intense opus, which can't leave you unmoved. This is one of the best ritual productions in quite a long time so I got in touch with both protagonists.
Can you briefly introduce your band referring to -the background of the members, the meaning of the band name and the style of music you're dealing with?
Lena: Martyria is a music duo consisting of George Zafiriadis and myself, Lena Merkouri. We both are musicians and visual artists. Martyrs are all those who live in the material world and are suffering for their spiritual beliefs. We take our inspiration from their suffering and we create mainly dark-ambient music with ethereal chants and traditional musical instruments.
A debut album is something special for an artist and definitely the consecration for all efforts that have been done. What does "Martyria" mean to you and how do you look back to the composition and recording of the work?
George: First of all we realised we both had an interest in experimenting with sounds to create a dark atmosphere inspired by eschatological texts, religious myths and also the suffering of people for their religious beliefs. We started by recording only our voices and created our own chants that sounded similar to Byzantine hymns. Later on we also added sounds from natural instruments such as bendir and didgeridoo. We soon realised we had something special, thus Martyria was born and it became a very important part of our lives.
Can you give us more details about the mix in the composition between electronic equipment and authentic instruments? How does that work when it comes to compose songs plus what's the impact of each member?
Lena: Both of us have been passionate about music since our childhood. Getting older we became fascinated by Byzantine music, which is expressed in the album through our chants. I have been playing the piano for many years, and we are currently exploring ways to incorporate this aspect in our future work. My recent focus has been to experiment with bendir. George composes the music soundscapes using electronic equipment, which are a key part of our music, and he is also a great didgeridoo player.
"Martyria" clearly deals with ritual music. The instruments and chants both have an important impact in the ritual style. What can you say about these essential elements of your sound and what does this ritual style mean to you?
George: What we try to achieve as Martyria is to create the right atmosphere, which will help the audience and ourselves to explore our inner world. The ultimate goal for us as composers and for the audience is to discover the knowledge that is engraved on the human soul and to remind our consciousness of this knowledge through our ritualistic music.
What's the deeper meaning behind the titles of the album and the mystic/liturgical chants? What do you want to express here?
George: The music and titles of our debut album are an attempt to describe the process of exploration of the dark side of the human psyche, in order to comprehend it so that we can confront and redeem it.
I'm also fascinated by the front cover of your album so what does it stands for and where's the link with the music you play?
Lena: Our front cover is mainly inspired by Byzantine icons describing the torment of the martyrs. The sun stands as a symbol of spiritual growth conquering the darkness of the human psyche. The process of creating our music is a way of expressing this spiritual transformation.
Stef COLDHEART
04/05/2018
---