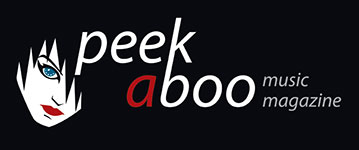 like this interview
---
ERIC BILITCH
'I WOULD NEVER WANT TO MAKE A MOVIE FOR EVERYONE!'
25/05/2018, Britta Tabrit
photos: © Eric Bilitch
---
Peek-a-Boo Magazine had the chance to talk to writer and director Eric Bilitch about his career, his movies and about a moustache at the beginning of everything.
Eric, thank you so much for taking some time out and doing this interview with me! Could you please introduce yourself to our readers. Who are you and what's your professional background. Why did you choose a career as a writer and director?
I'm Eric Bilitch - a filmmaker from Los Angeles, California.
I started as an actor and theatre artist. I ran a non-profit theatre company in Los Angeles (The Mechanicals Theatre Group) for a decade, which also had an outreach program serving many of the schools here which have had their arts funding cut. I graduated from The Los Angeles County High School for the Arts (LACHSA) and Syracuse University in New York. After graduation, I performed in the Broadway national tour of The 25th Annual Putnam County Spelling Bee. Shortly after that, I realised my true love was in writing and directing, not performing. I had already been directing and writing for the stage but my love was always film, so I made that transition. I started working for a production company called Wondros, which is run by Jesse Dylan. Along with Jesse, I also worked for directors Antoine Fuqua, Mark Pellington, David O. Russell and more. I worked and learned under these great directors for a few years, which was sort of my version of film school. I became a Creative Executive and Staff Writer there and worked on lots of cool projects. The directors and the Executive Producer there (Anne-Marie Mackay) urged me to leave and make my own stuff and about five years later, I'm still doing that!
I chose the career because I love telling stories and illuminating humanity through them. I don't know what else I am actually even capable of doing ;-)

Let's talk about your first movie The Submarine Kid which premiered at the Napa Valley Film Festival in 2015. It deals with a Marine returning from Afghanistan and suffering from Post-Traumatic Stress Disorder. Tell us about the individual steps towards making this movie from the drafts to its first performance. On the whole, how long did it take?
Finn Wittrock and I wrote it together. It was a long-time passion project that took almost 10 years to get made. I had told Finn a vague idea of a story in a bar one night about a guy who wants to live underwater, and then he wrote a narrative short-story version of that, and then we started working on the script together. We wrote our first real draft of what was close to what we shot in around 2010. It was bought by another company, but we hated what they were doing with it and so we bought it back. Deborah Del Prete and Monica Raymund became interested as producers and set about to get the money. We shot the film in mid-2014 and it was released in early 2016. It expanded to Netflix worldwide in 2017.

Your friend Finn (American Horror Story, The Normal Heart, The Big Short) plays the film's leading character along with your fiancée Emilie de Ravin (Once Upon A Time, Lost). Was it challenging for you guys to separate private and professional matters or did it help everyone to feel more comfortable on set? In what sense is this different to working with total strangers?
When we shot the film, Emilie and I weren't dating, so no, there was nothing difficult about it but even if we were, I have a very easy time separating fiction and reality with those kinds of things. I love working with my friends.
Trailer 'The Submarine Kid': https://youtu.be/Xm58D9e1tmg
Twitter: https://twitter.com/TheSubmarineKid


Tell us, how do you pick the actors for your movies? Do they have to audition for the roles or do you simply ask them if they are interested?
It's a little bit of everything. Some people you have in mind while writing, some are offers to agents, and some are auditions or maybe requests of friends that you know. I'd say mainly auditions.

Your latest movie Locating Silver Lake is currently screening at several Film Festivals throughout the US. It's the story about a young man, Daniel, moving to L.A. and looking for his place in this world. Please, give our readers a deeper insight into Daniel's journey. The trailer provides a few hints such as friendship, love and wild parties. What can we expect?
Yeah, there's a bit of what is alluded to in the trailer but the movie is definitely more of a roller coaster ride than the trailer gives away. I hate spoilers and giving away too much in trailers but I can say the movie will probably not be what you expect and that is actually a large theme of the film-subverting expectations. So, I'll leave it at that and hope that's enticing enough to make you wanna see it.

Ha, absolutely! So besides Josh Peck (Drake & Josh) as Daniel, who are the other male and female leads?
The film stars Josh and the supporting cast includes Finn Wittrock, Aubrey Peeples, Amaury Nolasco, Valerie Cruz, Zelda Williams, Robbie Kay, Dan Lauria and a bunch of other pretty amazing actors that you haven't heard of yet but will in the future.

Finn recently received the Festival Honours for his acting role on the movie! At this point: Congrats on behalf of the PAB team to Finn and everyone involved! Have you received any feedback from the audience itself so far?
We've played a few festivals thus far, so yes. It's a mostly very positive reception. There are parts of the film that are not going to be for everyone and we all knew that while making it. The people that made it love it and I think the people who are into it are REALLY into it. I'd rather make movies like that. I find surefire crowd pleasers that give you exactly what you expect to be a little dull!
I can say the movie is definitely thought-provoking and I do often find that people don't have an immediate reaction but two or three days later I'll get messages saying 'I'm still thinking about your movie.' and I love that. I take it as a great compliment that something has stayed with you. I think this movie does that.
I'm very excited for more and more audiences to see it because it is unique and again - those that love it really seem to be passionate about it! So that's been awesome. I would never want to make a 'movie for everyone.'

Great attitude! Eric, what's one thing you're most proud of when it comes to Locating Silver Lake or your work in general?
Maybe the above? I think both of my films thus far have a great 'second viewing' experience, where I think the characters are illuminated even more once you know their full journey. I love movies like that where I can go back and see that subtext that I didn't catch the first time. I like multiple meanings and layered storytelling. Maybe that's not everyone's cup of tea but I like thinking on those levels. Maybe that's pretentious? I dunno. I'm proud of doing something different - of not adhering to a model of storytelling.

Will Locating Silver Lake be available on Netflix or on demand some time soon?
We're currently in talks with distributors. We only premiered last month, so it's a process, but I'm sure it'll be available soon. I just don't know exactly when. So, if you can catch us at a film festival, I definitely recommend that! I also think it's a movie that plays great with a crowd so it's nice to see in that communal environment.
Trailer 'Locating Silver Lake': https://youtu.be/rD89AbuoSTQ
Twitter: https://twitter.com/Loc8SilverLake
https://www.locatingsilverlake.com/

And what's next? Maybe another movie or TV show? Or something completely different from that?
I've got a few things in the works. I generally try to start with the story and the characters and then try to determine what medium that story would be best told in. I'm toying with writing a novel but I'm also fascinated by the storytelling opportunities in podcasts. I think that format is just starting to be mined in a narrative form and that's exciting. I also have something that would be a great TV show, I think. We'll see what happens. It's a whole other world - TV - and I don't have those credits so it could take some time and of course I have about 20 movies I want to make.

Compared to your life before being a writer and producer, do you look at productions in a different way today?
Absolutely! It's hard to watch things sometimes because I'm often thinking about "how did they do that" and the filmmaking aspects, rather than the story but it's also even more amazing to see films where I am only watching story, characters, acting, writing... because if I can turn my filmmaker mind off, it's gotta be good ;-)

Tell us, what's your favourite movie and/or TV show and why?
The two that I always come back to are Stanley Kubrick's The Shining and Paul Thomas Anderson's Magnolia. Those are two that I watched at a formative age and they made me want to be a filmmaker. Both are hugely ambitious and epic in their size and scope but are ultimately just about humans and human relationships. Those are the kinds of films I want to make.
OK, at the end of our interview let's play a game: You are given some random keywords and you tell us what pops into your mind! :-)
Favourite Food:
Mexican Food. I recently became a pescatarian again after a few years of eating meat, so I'm enjoying exploring vegetarian rich cuisines, as well.
Politics:
This is sort of loaded... The U.S. is a powder keg right now.
The Accidental Hipster Song:
Ha! That's the first music video/short film I ever did. I had been directing theatre for a while but that was my first foray into 'film' besides student projects. That was shot by Zakk Eginton, who shot The Submarine Kid and Locating Silver Lake - and of course, it stars Finn and a moustache and my buddies Mesch and Cod - Mesch has a small role in LSL, too :-)
Link to check out 'The Accidental Hipster Song': https://youtu.be/-Ktv2QqWYGY
Best day ever:
The proper answer is the day my daughter was born and that's of course true! But the other would be a day in Mammoth, California in January 2010. I spent it with my friends Tim and Jacob and we went cross country skiing and hung out. We had all gone through some recent traumas and we kind of healed through each other. Sounds super corny but it was just this feeling of freedom that I can't describe. I often think of it and it was just a beautiful day with my buds.
Beer or wine?
I never drink beer except at Film Festivals, where I drink WAY TOO MUCH beer ;-) Usually wine but I don't drink much at all.
Some closing words to our readers!
Say 'Hi' to me on Twitter! I love talking about films and stories, so hit me up anytime or let me know what the great films you're watching are!

Thank you so much for your time, Eric, and good luck for your future projects!
Locating Silver Lake screening in Colorado at Breckenridge Film Festival / Sept. 20-23, 2018
Here you can find the PAB review on The Submarine Kid: https://bit.ly/2Lq5T6D
Britta Tabrit
25/05/2018
---