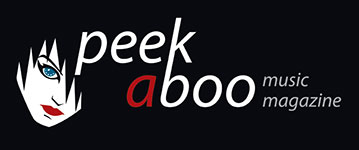 like this interview
---
THE LIVELONG JUNE
OUR AIM WAS TO PRODUCE SOMETHING THAT SOUNDED LIKE NOTHING ELSE THAT WE LISTENED TO
15/06/2018, Stef COLDHEART
photos: © Patrik Svedberg
---
Benny Gustavsson and Marcus Rejnevik set up The Livelong June in 2013. Their debut album has recently been released on the Russian label ScentAir Records revealing a terrific mix between electronics, pop and rock music. It sounds pretty indie-like featuring vocals reminiscent of Placebo's front man Brian Molko. "The Art Of Living" is a real great surprise and definitely an album, which will for sure become one of my 2018 favorites. I got in touch with the Swedish duo to get more information about this astonishing debut work.
The Livelong June is a rather new name active at the wider edges of electro-pop music so can you introduce yourself and give us more information about the band name?
Benny: The Livelong June is gritty alternative electronic music or post new romantic if you like. We're driven by lyrics worth listening carefully to. Lyrics with a message or a story to tell; often layered too.
The name stems from a poem by late Emily Dickinson "I'm Nobody! Who Are You?".
The poem deals with the subject of taking pride in being a nobody. Are you a nobody just because you haven't reach certain levels of fame? And is it worth striving for? We think it speaks to everyone in the society today. Where are we going if we don't feel value as individuals if we cannot impress or outsmart others by showcasing ourselves and our personal life by using technology.
When I noticed you guys are from Sweden I spontaneously thought 'again a Swedish band dealing with electro-pop music!' but your debut album "The Art Of Living" clearly sounds different compared to the Swedish electro-pop standards. What is it all about and tell us a bit more about possible references and sources of inspiration?
Benny: Our main focus at the very beginning of the 'livelong' story was to create a sound that felt and sounded like a machine but had that extra human touch to it. We wanted to create something that was catchy and had an aggressive sound but at the same time would fit in a pop song format. Our aim was to produce something that sounded like nothing else that we listened to.
I think we managed to achieve that. I think the reason it sounds different is because we didn't have any point of reference in each others genre.
I come from the alternative rock world and Marcus from the electronic landscape. What you hear is a hybrid genre that comes from our very different backgrounds. The album is about the dark side of human emotions through an introverted way of thinking. The album deals with the feelings of not living your life fully. The wanting to escape your ordinary life in quest of that total freedom. Life doesn't come with a manual but sometimes you wish there was one.
How did the writing and the global production of this album happen? What did you keep in mind from the entire process and what were the main difficulties and challenges?
Benny: The writing began a couple of years back with a project called Portrayal. We released just one E.P with three songs on it. Track three had a remix version Marcus did of the first song of that album. What made that version stand out was the combination of adding synthetic sounds over acoustic sounds. That opened up a whole new world for me. The first time I heard that version I realised we had found a sound that could be the starting point of something special. It turned out to be The Livelong June. After that Marcus kept sending me material to work with.
Marcus: The song writing evolved from there. It's very much a common process writing songs. We both write lyrics and music and we have an agreement always to allow each other messing about with each other's contributions. All for the sake of improvement and never to be afraid testing new ideas. The production of this album took two years from the time we set out to make a record. We wanted to find a balance in the mix so that the guitars didn't overpower the electronic sounds but enhanced them instead. That was a big challenge at the beginning but we later found the right way to approach them. Mixing is a powerful tool. If you take up something too loud it can make the music sound like a completely different genre. It's really a balance.
Benny I've been fascinated by your timbre of voice, which clearly reminds me to Brian Molko, while Placebo also is one of your sources of inspiration. What can you say about the production of the vocals and what makes Placebo so special to you?
Benny: We wanted the vocals to sound like they had been run through an old gritty amp. We wanted a dirty and distorted sound to give the music that extra aggressive flavour. I'm really pleased in the way we managed to achieve what we aimed for. And yes, Placebo is a huge influence and so are a handful of other bands that write about every aspect of being alive. We feel intrigued by that and it inspires us to write about other things than the birds and the bees. The pains and struggles in life are much more interesting.
I found an interesting quote on your Facebook page affirming 'the focal point is the static noise of life; like on that analogue TV set when the image is just not clear'. That's an interesting metaphor but can you give us more detail about it and the lyrical content globally speaking?
Benny: We use the TV as a metaphor of life. Human emotions are sent out and sometimes they are not clear to see. Noise is interference in a signal. And in life you have certain trials and losses you have to go through, it's just part of being human and part of exploring yourself. In some way the noise is the human soul. In there we can channel everything, without boundaries, without judgement. A portal between your innermost feelings and everyday situations.
This analogue TV is also featured at the front cover of your album. From a very personal point of view I think this poorly inspired front cover is the only minus point about your work as it doesn't represent the brilliant album you've made. I can imagine you don't agree with what I think?
Benny: We wanted a front cover that represents the gritty feel and the ideas the record deals with. Packaged as a powerful symbol. Analog static noise is what we are all about. It takes you back to when you were a young kid spending your time by the cassette recorder or that busted TV set. You kept hearing that beautiful noise in between the intentional sound recordings and you had the feeling it came from a frequency far far away. Maybe from another world. Somewhere in that hypnotising noise is where you find our voice.
Marcus: The conceptual artwork is very strongly connected to what we do and what we stand for. So it is an important symbol in the world of The Livelong June.
Stef COLDHEART
15/06/2018
---