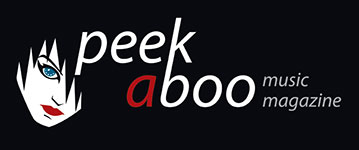 like this interview

---
EVI VINE
That's the story.… the reason we do this
06/09/2011, Jeremy Thomas
---
We were first introduced to Evi Vine's fabulous voice and mesmerizing stage presence when The Eden House came to the Fantastique Nights in Brussels at the end of 2009. She's coming back at the Fantastiques on the 17th of September, this time with a solo album and a full live band. So we thought we should have a chat.
Tell us about Evi Vine. What inspires you? What drives you to make music?
The elements, a melody, being able to bounce off idea's with other musicians, personal experiences… and inspired by the music I have listened to and that I discover and am inspired by the friendship love and human tragedy.
I personally have a dislike of labelling people, but needs must so I thought of "acoustic shoegaze". How does that fit?
We have heard 'freak-folk',' dream country' & 'acoustic goth' etc…as you say it's hard to place especially for us, its just the noise we make when we are in the same room. Some songs are standard in their structure and quite pop but I think the soundscapes keep it otherworldly sometimes. We joke amongst ourselves that we play 'acoustic doom'…So maybe that's it.
You're clearly quite an accomplished and experienced musician, but this "When the Morning Comes" is your first solo album. Please tell us of your prior wanderings in the wilderness.
I'm not sure of that... but thank you. I have been writing music for probably 10 years, first on a MC505 Groovebox, then on the guitar. I released a home demo EP titled Human Remains in 2006 which we may re-release if we get the time. The Eden House was the most recent release other than my debut and it was a thrill to work and write 3 songs for the record with Tony Petit who is a long term hero. I also have worked with Downliners Sekt, an amazing band from Paris and we hope to do some more collaboration soon.
"No label, management, agent...just us". Am I right in thinking that "us" implies there's more to Evi Vine than just Evi?
There is Steven and I at the core and has been for a few years now but we have a very close and amazing band. Ruban on Bass & Guitars, Al on drums and Ben &Hannah on Cello so the live gigs can take various forms, depending on who's available. We're keeping it very loose and more like a collective lately as everyone's very busy with many projects, we're finding it works to keep it fresh and can get different variations live…
You've worked with Steve Hill for a while now, and he seems quite important in the process. Please tell us a bit about Steve (or maybe he's around to answer for himself)
Yes I'm here lurking in the background as always... I've worked together with Evi for about 5 years which sounds like forever. I joined as drummer back in 2005 but am now on guitars and whatever I can get my hands on…(we have a much better drummer now thankfully) The band changed forms with the sound and we happened upon something of a calm magical working process on this album, feeding off each-other's limitations, but that for me is what makes band's different, exciting, is what they do within their limits and how they push them to achieve new forms. We also manage the band together so we've had each-others backs through some horrifically difficult times but also some soaring magical moments…and that's the story…the reason we do this.
"No label, management, agent…" Is that out of choice or necessity?
I would say a bit of both but really necessity…we wanted to put the album out as soon as we could, to get it out, to release the burden to which at some points it had become on our shoulders to carry. I think we're much more open now to the possibility of some help. Putting a record out on our own has proven to us that we can do it, from start to finish and driving CD's to Rough Trade shops was exciting and taking control of all aspects from distribution, PR and manufacturing was incredibly stressful but also rewarding…but yes I think we appreciate the weight a label carries.
You seem to be doing a fair amount of radio promotion and you've had to restock CDs recently. Are sales going well?
We've had some sessions with the BBC Introducing, regional shows and lots of online and European fanzine stuff. We were also excited to be played on Simon Raymonde's (Bella Union/Cocteau Twins) Strangeways Radio show which is just amazing…every show is a delve into the new and old, he's a bit special. Sales themselves are slow and steady, we knew it'd be a slow burner and as it's just us at home with a laptop promoting ourselves it can be hard, but personally very rewarding.
We loved The Eden House - the Brussels show in 2009 was utterly brilliant. How did that come about?
I had an existing relationship with Jungle Records through Bob White NFD, I was contacted midway recording an album with Peter Yates when Tony Petit called me...it seemed like a wonderful opportunity and one not to miss - performing live with Amandine was an amazing experience.
You did the Queens of Pop show recently on Arte TV in Germany. With Kate Nash and Nina Hagen! How did you pull that one off as a totally independent artist?
We had some interest in Germany from the album reviews and were approached by ARTE, so really it was a rare opportunity and a truly amazing experience. We felt very naked on stage just the 2 of us and our first live TV was terrifying but the reaction has been great. We also played our first show in Hamburg the night after and I think it was the first time we've played to people abroad that were actually there to see us play…so we were sad to leave and can't wait to return.
You have a fan-pic up of you and Nina. Are you a big fan?
She's a hugely influence artist and a creative force to be reckoned and has survived the music industry leading the way for new generations of female musicians.
Why Madonna's "Lucky Star"? Does it have a special significance for you?
We were given Madonna as an artist to cover so we toyed with a few songs but this one when stripped down had a certain something about it, the lyrics are actually beautiful when you can hear them slowed down…what a song.
I love "Colours of Night" with Tom Moth on the harp. How did that happen?
Thank you…It sounds really simple to say but we just got his details, called him up and he agreed… we were so lucky. We saw Florence & the Machine play their breakthrough set at Glastonbury in 2009 and it totally blew us away, the harp especially and I had always imagined harp on the album way before it became trendy……so the seed was set. Tom had time in between tours (2 days) so he recorded some stuff and sent it over and what you hear is the version and it was perfect for the arrangement.
You also have some illustrious musicians (like Bob Loveday) contributing to the album. What was your favourite experience recording the album?
It's very hard to pinpoint because the recording process was amazing, totally creative I think we also learnt through trial and error about what not to do next time…but so many good memories, adding the strings to In this Moment or Kiss and probably the first time I heard the beginnings of the Dreamers which would set the scene for the whole album. Steven actually recorded this whilst I was on tour Eden House show in Brussels…so this was a special moment.
You've played some interesting venues - like churches or castles. Does the venue, or even the audience enhance the overall musical experience? What would the ideal setting by for an Evi Vine gig?
We were lucky enough to play at the Union Chapel in London, which had been a dream for all of us. It's probably the place…a night in an old church has a certain air about it that suits us and the sound can swell and still be delicate.
What can we expect on the 17th of September?
The core band will be over so myself, Steven, Ruban on Bass and Alistair on drums…we hope that can do a good show and we can't wait to see the other bands too, they all sound great. If we can play a good show and connect with people then we have done a good job and it'll be lovely to return to Brussels with my own band.
Music is full of ups and downs. I'm sure you could tell us a good war-story…
There is not enough space to answer this question…next time! We can safely say it's been a journey up to this point and are hoping for some more ups than downs…
Where next? What promise does the future hold?
After our Brussels gig we'll be focusing on ideas for the next record which is exciting. "..and so the morning comes" was a long process so something quicker in terms of writing and we plan to push the sound more this time and see what we can create…we have an amazing band this time so perhaps we won't need to play everything.. There is talk that Steven and I may move to somewhere quiet and rural in France, Germany or Spain to fully focus on the next record.. I think Europe is the key for us, and maybe moving away from London for a few months would open us up to different sounds and new people. The future's exciting…
Jeremy Thomas
06/09/2011
---