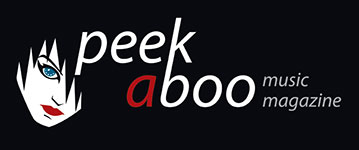 like this cd review
---
WILD ROSES FOR THE EXIT
Wild Roses For The Exit
Music
•
CD
Self-released
10/12/2016, Didier BECU
---
Goth rock and the UK always used to be a brilliant combination. Not that many of these bands got famous (or got the deserved credits), but at least we got some great records to never forget. The debut album by Wild Roses For The Exit, which is actually a solo project by James Fiction, is another gem. Don't shiver, this isn't another singer-songwriter who lulls you to sleep after a few minutes. James makes excellent goth-synth pop, albeit in his own way.
Always start an album with a strong track, that's the best an artist can do and that is what James does. Chasing The Ghost is a killer start: mesmerising synth patterns with a crazy rhythm, and above all a simple (but genius) chorus. Think of Gary Numan doing a cover by London After Midnight, and you realize what James is doing.

The synths of Fear Of The Light sounds a bit cheesy (in fact they sound cheesy on many other tracks), but they fit well with the 80s atmosphere of this synth pop ballad (even if I could have used the term goth pop ballad).
When Neon Flight To Heaven starts, it's clear that James doesn't care how he will be labeled, because this is the work of an artist who wants to be judged for his compositions, not by his style, and this track comes close to the superb pop sound of Alphaville. You hear that same melancholy in a tune that you can't get out of your head. Yes, we love it!

Dogrose Of The Wild Forces sounds like goth rock with a synth touch, imagine Him (that's one of James' influences) with an irresistible Duran Duran beat. Okay, we're aware of the fact that this combination might suck, but then you haven't heard James Fiction.
If you love synths, then James is your right company, just listen to Mirrors In The Dark: in a way it feels like you hear some old New Romantics record. And yes, it's very poppy! Quite 80's, but it doesn't have a real retro sound.
Indigo Lovers is definitely the most raw track here, while This New Heaven takes you back to (well) the synth heaven.
The debut by Wild Roses For The Exit is the work of an artist who doesn't care about being hip or not, it's all about his black soul here. According to James, he's working on a second album, we can't wait!
Didier BECU
10/12/2016
---