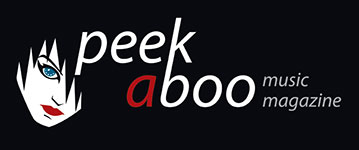 like this cd review
---
ONEIROGEN
Convivium
Music
•
CD
Ambient
•
Drone
•
Electronics
•
Noise
[75/100]

Denovali Records
10/12/2016, William LIÉNARD
---
In September 2015, we presented the EP Plenitude of the American band Oneirogen (the solo project of Mario Diaz de Leon) on the Peek-A-Boo site. Meanwhile, a full album is released on Denovali. It includes seven brand new compositions.
Convivium is Mario Diaz de Leon's third album as Oneirogen, but as a musical centipede, he has a lot of other projects: earlier this year he wrote a modern classical composition, commissioned by the LA Philharmonic Orchestra, and nowadays he is the frontman of the newly established death metal band Lumious Vault. But Oneirogen is clearly the most personal side of his work. It is just me producing everything, and of course I perform it alone as well, he says about the new album, each album is a kind of personal trial or rite of passage. As someone who also works in the classical tradition, I think of them as my symphonies. It is a project where I am open to all my influences, and I am entering into mystery and the unknown, battling to carve essences out of formlessness.
For Convivium, Oneirogen again comes up with an impressive array of instruments, ranging from synthesizers and percussion to deranged vocals and noise, and he builds a selection of loud electronic compositions in which dark drones, melodic synths, heavy percussion and sporadic noise are melted together in an interesting way. Opener Siege contains all the elements that were previously available on the EP Plenitude, but we cannot escape the impression that Oneirogen has shifted toward more melodic compositions, despite the throbbing drones, the machinegun-like percussion and the sporadic flurries of crackling noise. Sacrum start quietly, with gentle synths and short outbursts of abrasive noise, while the track retains a certain melodic quality as the drones and the twittering synths hurtle through the soundscape and aggressive voices resound in the background. Later, Sacrum is complemented with atmospheric elements, dark synths, whip-like percussion, death march-like drones and an emphatic pace: an 8 minute long, dark, sometimes metal-like electro track that never bores.
Rapture begins with layered synths, lively and nervous, short trumpet-like synth shocks in-between, later supported by quiet, but jet black drones, languid percussion and again trumpet-like synths, which pave the way for a provisional crescendo. Halfway, noise that sounds like a firefight is added, with distorted vocals that are barely recognizable as human voices. Again, a fairly melodic track with a fairly normal structure, quiet in tone for a while, with more noise and distortion at the end. Title track Convivium gets silent drones and oriental bells, barely audible synths, short flurries of various types of noise that sound like a violent encounter, an earthquake, a nuclear explosion even, and then bells again and another kind of noise: the soundtrack for a movie without images... With its sucking drones, fierce drums, abrasive synths and hysterical vocals, Engulfment is the most industrial track of the album, in which no space is left for silence or interruptions, nor for melody: a surly electro track for lovers of the harder work.
Cordium ties in with the start of the album: an atmospheric soundscape in which a battery of good sounding synths takes the lead against a sometimes dark and noisy background. The melody returns, the reverberating percussion makes a lot of noise, vocal lines that give the track a searing and dangerous feeling are added, with noisy synths and drones in their wake. With a babbling brook and breezy synths, followed by silence, loud running water and a small waterfall, thus begins Hero, quiet and repetitive, melodic and harmless, slightly more emphatic afterwards, but minimalist and atmospheric to the end: an almost religious parting with organ like synths and silence.
Lots of noise, a lot of fuss, but also a lot of melodic fragments and a surprisingly quiet final as a nod to Mario Diaz de Leon's neoclassical work. Not for everyone, but fans will appreciate this album.
Tracklist:
1 Siege
2 Sacrum
3 Rapture
4 Convivium
5 engulfment
6 Cordium
7 Hero
William LIÉNARD
10/12/2016
---
In September 2015 stelden we u op Peek-A-Boo de recente ep Plenitude van de Amerikaanse band Oneirogen (het soloproject van Mario Diaz de Leon) voor, en ondertussen is het aangekondigde full album gereleaset door Denovali. Het bevat 7 gloednieuwe composities.
Convivium is Mario Diaz de Leons derde album onder z'n pseudoniem Oneirogen. Maar als muzikale duizendpoot heeft hij nog andere projecten: eerder dit jaar schreef hij een modern-klassieke compositie in opdracht van het LA Philharmonic Orchestra en sinds kort is hij de frontman van de onlangs opgerichte deathmetalband Lumious Vault. Hij beschouwt Oneirogen evenwel als de meest persoonlijke kant van zijn werk. Ik produce en speel alles zelf, zegt hij over het nieuwe album, het is telkens een soort van persoonlijke proef of initiatieritueel. Als iemand die ook met de klassieke traditie bezig is, zie ik mijn albums als mijn symfonieën. Het is een project waarbij ik opensta voor al mijn invloeden; ik geef me over aan het mysterieuze en het onbekende, vechtend om de essentie uit de vormeloosheid te hakken.
Voor Convivium brengt Oneirogen opnieuw een indrukwekkend instrumentarium in positie, gaande van synthesizers en percussie tot gestoorde vocalen en noise, waarmee hij opnieuw een selectie luide elektronische composities bouwt waarin donkere drones, melodieuze synths, heftige percussie en sporadische noise op een interessante manier samensmelten. Opener Siege bevat alle elementen die ook op Plenitude aan bod kwamen, maar we kunnen ons niet van de indruk ontdoen dat Oneirogen opgeschoven is in de richting van meer melodieuze compositie, ondanks de ronkende drones, de machinegeweer-achtige percussie en de regelmatige vlagen van knetterende noise. Sacrum begin rustig, met lieflijke synths en korte vlagen van schurende noise, terwijl de track ook een zekere melodieuze kwaliteit behoudt als de drones en de kwetterende synths door het soundscape donderen en op de achtergrond agressief stemgeluid weerklinkt. Later wordt Sacrum aangevuld met atmosferische elementen, donkere synths, zweepachtige percussie, dodenmars-achtige drones en een nadrukkelijke tempo: met zijn 8 minuten een dijk van een donkere, soms metal-achtige electrotrack die geen moment verveelt.
Rupture begint met gelaagde synths, zoemend en zenuwachtig, korte trompetachtige stoten tussendoor, later gesteund door rustige maar gitzwarte drones, doffe percussie en opnieuw trompetachtige synths die de track naar een voorlopig crescendo voeren. Halverwege wordt noise toegevoegd die klinkt als een vuurgevecht, en distorted vocalen die nog nauwelijks als menselijke stemmen herkenbaar zijn. Opnieuw een redelijk melodieuze track met een vrij normale structuur, lange tijd rustig van toon met alleen tegen het einde meer noise en distortie. Titeltrack Convivium krijgt stille drones en oosterse belletjes, nauwelijks hoorbare synths tussendoor, korte vlagen van verschillende soorten noise die opnieuw klinkt als een gewelddadig treffen, een aardbeving, een atoomontploffing zelfs, en dan opnieuw de belletjes en andere noise: de soundtrack voor een film zonder beelden… Met zijn zuigende drones, heftig slagwerk, schurende synths en hysterische vocalen, is Engulfment de meest industriële track van het album, waarin geen ruimte is voor stilte of onderbrekingen, maar waarin ook nauwelijks ruimte is voor melodie: een stugge electrotrack voor de liefhebbers van het hardere werk.
Cordium sluit opnieuw aan bij het begin van het album: een atmosferisch soundscape waarin een batterij van goed klinkende synths het voortouw neemt tegen een soms donkere en soms noisy achtergrond. De melodie keert terug, de galmende percussie legt mooie maar spaarzame accenten, vocalen worden naderhand toegevoegd en geven de track een iets hitsigere en gevaarlijke feel, met in hun kielzog lawaaierige drones en synths ter afsluiting. Een kabbelend beekje en winderige synths gevolgd door stilte en luider stromend water als van een kleine waterval, zo begint en evolueert Held, rustig en repetitief, melodisch en ongevaarlijk, ietsjes nadrukkelijker nadien, maar minimalistisch en atmosferisch tot op het einde: een bijna religieus afscheid met orgelachtige synths en stilte.
Veel lawaai, veel herrie, maar ook redelijk wat melodieuze fragmenten en een verrassend rustige finale als een knipoog naar Mario Diaz de Leons neoklassieke werk. Niet geschikt voor iedereen, maar de fans zullen het beslist op prijs stellen.
Tracklist:
1 Siege
2 Sacrum
3 Rapture
4 Convivium
5 engulfment
6 Cordium
7 Hero
William LIÉNARD
10/12/2016
---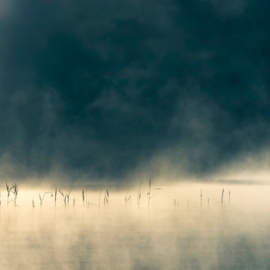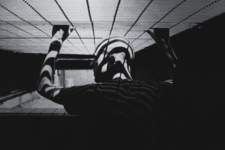 ---