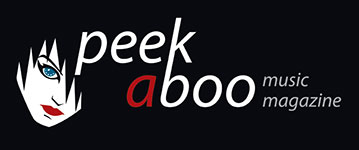 like this cd review
---
EKCA LIENA
Graduals
Music
•
CD
Ambient
•
Drone
•
Electronics
•
Noise
•
Post Rock
[75/100]

ConSouling Sounds
12/04/2015, William LIÉNARD
---
Graduals is the latest album by producer-musician Daniel MacKenzie from Brighton. He is probably best known to fans of ambient sounds with his album Slow Music for Rapid Eye Movement. On the new album he continues in the same direction, with a mix of ambient drones, electric piano and fragile melodies. The result is atmospheric and dark, swollen and noisy, but also vulnerable with space for silence.
Out Fit unfolds slowly with the sound of an electric piano and soft drones. The tones fall like drops from the sky, relaxed and casual. The percussion sounds like bamboo sticks clattering over twittering synths. The atmosphere is dreamy and cinematic. Mattie Devore follows almost seamlessly with new sounds of an electric piano and then dark synths with scraps of noise, music for empty cathedrals and ancient crypts, seeping away and cautiously creeping up again, bamboo and sirens, threatening drones, shades of yellow and green, gray and blue, organs and rotating aircraft engines, silence...
Summoning Dust is a symphony of drones, ambient, atmospheric and dark, but it sounds melodic too, with long echoes and synthetic noise. Free Precipitation begins with repetitive machine noise, bells, distorted guitars and metallic drones in the background, slowly increasing in volume and then dominating, with the repetitive sequences in the middle, at least temporarily, because halfway through the composition a blanket of noise alights, dramatic, chaotic and tense, the entry of the insulators, sultry and busy, mechanical, industrial, and then subtle and sunny...
Precipitation/Epilogue bobs on spherical sounds of an electric piano and occasional percussion, a glockenspiel in a high tower with blaring sounds of birds and fluttering seagulls. Fields Forever sounds as if the tape is played backwards: guzzling organs against a background of soft noise. Ky Ra seamlessly follows the same background of soft growling drones. Occasionally a slightly higher tone shoots through the palette as a passing white dwarf, but the atmosphere remains calm and relaxed as before. No apocalyptic end for Graduals, but a quite reassuring apotheosis.
Album tracks:
1. Out Fir
2. Mattie Devore
3. Summoning Dust
4. Free Precipitation
5. Precip/Epilogue
6. Fields Forever
7. Ky Ra
William LIÉNARD
12/04/2015
---
Graduals is het recentste album van de uit Brighton afkomstige producer-muzikant Daniel Mackenzie, die zich eerder een plaatsje in het hart van liefhebbers van ambient geluid reserveerde met het album Slow Music for Rapid Eye Movement. Op Graduals bouwt hij voorzichtig voort, met een mix van ambiente drones, elektrische piano en fragiele melodieën. Het resultaat is atmosferisch en donker, gezwollen en lawaaierig, maar ook breekbaar met ruimte voor stilte.
Out Fit ontvouwt zich langzaam met het geluid van een elektrische piano en voorzichtige drones. De klanken vallen als druppels uit de lucht, relaxed en ongedwongen. De percussie klinkt als klepperende bamboestokjes over kwetterende synthesizers. De sfeer is dromerig en filmisch. Mattie Devore sluit bijna naadloos aan met nieuwe geluiden van een elektrische piano en vervolgens donkere synthesizers met snippers van ruis, muziek voor lege kathedralen en eeuwenoude crypten, wegsijpelende en voorzichtig weer opkruipend, bamboe en sirenes, dreigende drones, tinten van geel en groen, grijs en blauw, orgels en draaiende vliegtuigmotoren, stilte…
Summoning Dust is een symfonie van drones, ambient, atmosferisch en donker, maar tegelijk ook in zekere mate melodisch, met lange echo's en borrelende synthetische ruis. Free Precipitation begint met repetitief machinegeluid en belletjes; distorted gitaren doen hun intrede en metaalachtige drones starten op de achtergrond, langzaam in volume toenemend en vervolgens alles dominerende, met de repetitieve sequenties duidelijk in het midden, althans voorlopig, want halfweg de compositie valt een deken van noise over het geheel, dramatisch, chaotisch en snerpend, de intocht der isolatoren, broeierig en druk, mechanisch en industrial, en dan is er weer ruimte voor subtiliteit en voor ruimte en zonlicht…
Precip/Epilogue dobbert op sferisch geluid van een elektrische piano en sporadische percussie, een eenmansglockenspiel in een hoge toren met geluiden van tetterende vogels en klapwiekende meeuwen. Fields Forever klinkt als een tape die achterstevoren wordt afgespeeld: slurpende orgels tegen en achtergrond van stille ruis. Afsluiter Ky Ra sluit naadloos aan tegen dezelfde achtergrond en begint met middelhoge drones die rustig voortkabbelen. Af en toe schiet er een wat hogere toon door het palet als een passerende witte dwerg, maar de sfeer blijft vredig en eerder ontspannen. Geen apocalyptisch einde voor Graduals, eerder een geruststellende apotheose.
William LIÉNARD
12/04/2015
---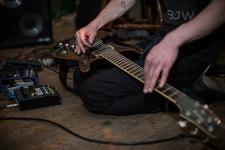 ---