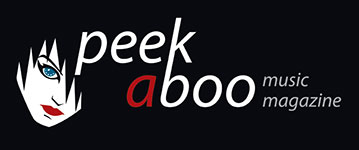 like this concert review
---
DOOMSQUAD
Antwerpen, Trix (28/05/2016)
Concert
10/12/2016, Didier BECU
---
Should we blame the fair a few hundred meters down the road? Probably not, but there must be a reason why only a handful of people showed up at the Trix in Antwerp for a band that without any exaggeration can be described as one of the most talented acts of the moment. The name? Doomsquad. You never heard of it, we hear you mumbling? Probably not, otherwise you would have been at the Antwerp rock hall.
Before we saw Bella Union's next promising band, we witnessed the Belgian band The Germans. It turned out that even the headliner was impressed by these guys. Ten years ago, these Ghent-based musicians were in the semi-finals of the Belgian rock contest Humo's Rock Rally. But what is the use if you refuse to make compromises and perform gigs that are partly pure improvisation? little, but you can win the hearts of music connoisseurs that way. There is little interaction between the band and the public: the four suck you in its cocktail of krautrock and experimental (although accessible) noise. Music that is reminiscent of Can, Liars and the early Swans. Loud, but delicious earwax. Sometimes funky (tom-toms always do the job), complemented with the special (intriguing) voice of Jacob Ampe.
Doomsquad is the perfect example that music can still sound original. Well, there are indeed some similarities with Talking Heads (apparently the band members are extremely flattered by this comparison), but the band definitely creates its own style. These five Canadians (Allie, Jaclyn and Trevor Blumas are siblings) make quirky psychedelia that is both danceable and contains mysticism; you may even use the word hippie. We are willing to admit it: this foursome from Toronto often looks frightening. During It's The Nail That Counts, Not The Rope, keyboardist and vocalist Allie walks among the public and screams in the face of every spectator neat words like "fuck you" and "motherfucker". No problem, however, once the show is over, they are just the sweetest creatures you can imagine. It is a way to spit out the inner demons, the poison that needs to leave the body, you know. However, Doomsquad is more than just a bunch of outsiders who cover their faces with soot. Musically, they also have a lot to offer. There is so much going around in Doomsquad that it is hard to note it all, from martial drums to a simple flute. Not typical radio fodder (although single Solar Ass works on the dancing hips). The forty people (well, yes) who were in Antwerp this Saturday, saw the future.
Photos by Danny Quintelier.
Didier BECU
10/12/2016
---
Lag het aan de Sinksenfoor die een paar honderd meter verder in volle glorie bezig was? Waarschijnlijk niet, toch moet er een reden zijn waarom er gisteren slechts een handjevol mensen naar de Trix was afgezakt om een band te bewonderen die zonder overdrijvening omschreven mag worden als één van de meest talentrijke van het moment. De naam? Doomsquad. Nog nooit van gehoord, horen we je mompelen? Wellicht niet, anders stond je gisteren zonder twijfel in de Antwerpse rockzaal.
Vooraleer we de nieuwste belofte op Bella Union aan het werk konden zien, was The Germans aan de beurt. Achteraf bleek dat zelfs de hoofdact onder de indruk was van deze Vlamingen. Zo'n tien jaar geleden stonden de Gentenaren in de halve finale van Humo's Rock Rally. Maar wat doe je ermee als je weigert om compromissen te sluiten en optredens brengt die voor een deel uit pure improvisatie bestaan? Weinig dus, behalve het hart van de fijnproevers veroveren. Er is weinig interactie, wel zuigen de vier je mee in een cocktail van krautrock en experimentele (toegankelijke) noise. Muziek die iets van Can, Liars of de vroegere Swans heeft. Luid, maar heerlijke oorsmeer. Soms funky (tamtams doen het altijd), dan weer ondoordringbare noise, aangescherpt door Jakob Ampes speciale stem.
Doomsquad is het perfecte voorbeeld dat muziek anno 2016 nog steeds origineel kan klinken. Nou ja, er zijn weliswaar raakpunten met Talking Heads (en blijkbaar is men zelf uiterst geflatteerd met deze vergelijking), wel doet men er zijn eigen ding mee. Deze vijf Canadezen (Allie, Jaclyn en Trevor Blumas zijn broer en zus) maken eigenzinnige psychedelica die zowel dansbaar als mystiek is, je mag zelfs gerust het woord hippie gebruiken. Toegegeven, dit vijftal uit Toronto ziet er op het podium bij momenten angstaanjagend uit. Toetseniste en zangeres Allie stapt tijdens It's The Nail That Counts, Not The Rope van het podium en schreeuwt recht in het gezicht van iedere toeschouwer nette woorden als "fuck you" en "motherfucker". Geen nood echter, eens de show is afgelopen zijn ze gewoon de liefste wezens die je je maar kan inbeelden. Het is het uitspuwen van demonen, het gif in je lichaam dat je naar buiten wil werken, weet je wel. Doomsquad is echter meer dan een bende outsiders die hun gezicht met roet bedekken, muzikaal valt er ook heel wat te beleven. Er zit zo veel in Doomsquad, dat het nauwelijks bij te houden is: van martial drums tot dwarsfluit. Niet het typische radiovoer (hoewel single Solar Ass enorm op de heupen werkt, weliswaar in positieve zin), dat niet, maar de veertig aanwezigen (tja) wisten dat ze zaterdag in Antwerpen de toekomst zagen.
Foto's van Danny Quintelier.
Didier BECU
10/12/2016
---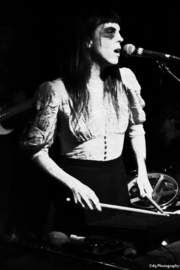 ---