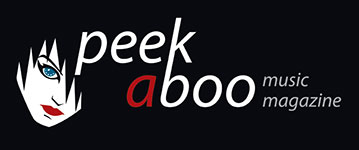 like this interview
---
SOL 19
SOL19 is able to move and touch some people who in their turn respond great, so I'm happy about that.
04/08/2011, Didier BECU
---
On Friday 30th September we have a very good reason to visit the Belgian beach. Not because we like to swim but because on that day you can see Sol 19 with Parade Ground and Attition in concert, which is a great reason for Peek-A-Boo to talk with them.
The first question is the most important I guess; why is the band named SOL19?
The number nineteen has always had a huge symbolic value because it has crossed my path a lot. At some point in my life, the name Tournesol 19 was spooking through my mind, but then I realised in Tarot, nineteen is the number that represents the sun or sol. Obviously, from there, it simply turned into SOL19 or SOL XIX.
"Why Tarot?", you might ask. Well, just because I am a big Frieda Harris fan. Which shouldn't imply that I am a Tarot-adept or some dark, caped fortune-teller. I'm not into rituals nor do I feel the need to predict any future.
But I can't deny either that the paintings of Frieda Harris have had a great impact on me and my feelings towards art.
Your music is rather difficult to describe but I tried to make it as something as spacey synthpop with an EBM-touch. Now it's your turn!
Yeah, it's quite a hard nut to crack describing the style of SOL19. I guess it's impossible to label it or classify it, which in a way, is good. We grew up with all kinds of music and therefore, we've tried out all kinds of different approaches.
Spacey... absolutely, all of the music is made by synthesizers and computers so yes, it feels like stepping into a spaceship. Synthpop... sure, there's a high 80's level in a lot of songs. EBM... also found in most songs, even if not in its specific tempo. Sequences are present in almost any SOL19 song. There's also trance involved and different rhythms like native indian or hiphop drums at a higher tempo, mixed with a straight pop drum for example. And of course, we are fond of pianos, strings and flutes. We mainly experiment.
Anyway, when I sing however, the style tends to become cold wavish. Which is only logical from my background perspective, I guess. There's not many happy lyrics to find in SOL19 songs and there's quite some tearjerkers there as well.
In that same review I also said that if you were Germans you could compete with players like De/Vision or Melotron.
Unfortunately, we're Belgians... And we're not the greatest competitors either. About Melotron, I believe they're more Depeche Mode influenced than SOL19 is, but I haven't heard all their songs, so I could be mistaken. I think both bands bend more a certain style than we do, which isn't specifically better or worse, but still different.
As SOL19 you are already around since 1986. How do you see those two decades?
Yeah well, Roel and I go around since 1986, under different names though. The last two decades... that's a long story... in short, we did a lot of recordings, different equipment, different periods. We didn't do many performances. We were more of the type, hiding with our little home-studio in caves. But recordings ended up in a suitcase, which I keep carrying around.
Certainly, after two decades, our equipment improved and for me personally, I can remix all those recordings under better circumstances now. And recently, a song from 1986 has proven to be able to withstand time. Which in the end, makes me happy enough.
When it became SOL19, it was an attempt to categorize all these recordings into album projects and so, SOL19 is primary a collection of songs by Roel and me. On the other hand, thanks to Roefke we got together a live-act and started performing more than we used to. Today, we are able to enjoy performing, so that has become a different aspect of the SOL19 project as well.
At present, I am still in the (long) process of remixing the old songs, while Roel is looking into new horizons, but so we keep busy with our music, trying to combine this with all the other aspects of daily life, you know.
We are a black mag so a black question! Are you happy with the response you got in those years?
Well, when you're making music, mainly in cellars, you don't get much response, but there are some personal responses of people, that are very appreciated.
Today, responses are still few, but they are generally ok and it's not what keeps me awake at night. In the end, we're just a gang that created some sort of audible art-form that we are sharing, but what truly makes me happy, is that SOL19 is able to move and touch some people who in their turn respond great, so I'm happy about that.
SOL19 is also a real DIY-band which indicates that you have to do a lot for less in return. What motivates you? The love of music I guess…
Oh yeah, absolutely, and the urge to lay an egg, I guess. It's the perfect exhaust valve, right? No, we couldn't survive without it, that's for sure.
Some bands say it's that DIY-spirit which makes it that they could have made what they really wanted. Do you think this counts for SOL19 too?
Oh, again, yes, absolutely. There were never ties to which direction a certain song would have to evolve to. No boundaries, just toying around. We couldn't hold on to one particular style, and having the opportunity to fool around, we would see where it would lead us.
Trying out different ingredients. And still there's always the necessary amount of drama in each song that make it a typical SOL19 song. And no, you couldn't find any commercial related to the music. If you do, it would be probably for fun. These are simply recordings of a pure emotional state of mind from a specific moment in time. There's nothing to prove or to fulfil, well, apart from the way it sounds of course.
For a band who is so long in the business, do you think there is actually a difference between now and then?
Oh definitively, in many ways. Prices for independent production are lower which I think is great. Today, there are internet heroes and an overload of music available. through the web. The way we treat music in general has changed, I think.
The same counts for today's recording devices; almost anyone with a bit of a decent computer has the ability to create music. On the other hand though, there is no difference whether a song has a good melody or not. Some basic musical rules are unchangeable, it seems.
I really love this question, but do you think music means everything to you or is that a rather said view?
Yeah, like I said earlier, we couldn't live without it. Well maybe we could, but it would probably be a lot more boring.
Well, we'll soon see you with Parade Ground and Attrition on stage. What can we expect?
Honestly? I expect us to be softer and poppier than both. Attrition, of course, is a monument. I am still discovering Parade Ground however, but they're definitely noisier than SOL19. So, excellent choice they've put us softies first! Anyhow, we're looking forward to be kicking off this coming gig.
What's your favourite record of all time and please state why.
Oh no, that's a choice too difficult to make. I guess I couldn't chose between The Cure's Pornography, Joy Division's New Dawn Fades, Cocteau Twins's Garlands or some Sister of Mercy's maxi-singles. I shouldn't forget to mention Front242's Tyranny For You and Nin's The Fragile, but I could go on and on and on.
No, I really couldn't chose...
With whom wouldn't you mind to be alone with in an elevator for 8 hours and what would you do then?
Mmh, let's see, would that be male or female... 8 hours, you say... in that case, it has to be female. We'd probably discussing how the hell we got stuck in an elevator... Sinead o'Conner would do fine; I could secretly record that heavenly voice of hers... or Bjork, who looks so adorable.
Do you have a special message to the readers?
Keep your doors and windows closed!
And do check us out through the available channels!
Didier BECU
04/08/2011
---