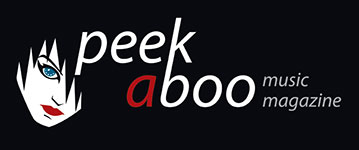 like this interview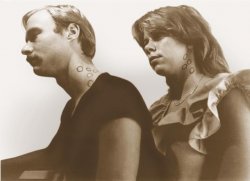 ---
NINE CIRCLES
People did not understand us and were thinking that we were very strange people...
01/08/2011, Dennis OHRT
---
2010 saw the release of the critically acclaimed compilation 'Cold Waves + Minimal Electronics Volume 1' featuring many rare and forgotten classics of the early 1980's New Wave / Minimal scene. One of the outstanding contributions was 'Twinkling Stars' by NINE CIRCLES, Peek-A-Boo now had the chance to speak to Lidia about past, present and future of the band...
When you started Nine Circles, did you consider the band part of a scene or was it rather working on your own?
Well we were part of a group that all were making this new kind of noises, but yet we were standing alone.
Many English bands (The Cure, Joy Division, The Sound,...) had their first success outside England in the Netherlands, did those bands had an impact on Nine Circles?
Well The Cure was and is still my favourite but at that time I did not know them, that was later after I stopped making music and singing. There were some bands I knew and liked, like The Force Dimension, Smalts, De Fabriek, Genetic Factor, Van Kaye & Ignit, Fausto, but I don't think they had an impact on our music.
Was using just synths and drum machine (the lovely 4 sounds of the Boss DR-55) done on purpose or was it more a question of what stuff was around and affordable?
Well it was that we could not afford more, and we were happy to have the Yamaha CS-30 and Boss Dr. Rhythm.
Your first release was in 1982 on a compilation of Dutch VPRO radio, how did this happen?
A friend of us, Richard Zeilstra, was working at the Radio (SPLEEN). He had a program in which new groups had a chance to present themselves. He asked a lot of bands to send in a tape and he would pick some of the bands to be on a sampler, and so it happened that Nine Circles was on the "Radionome" LP aswell.
'Twinkling Stars' is probably your most famous song, can you tell us a bit more about it?
Well, I am very involved with stars and planets, in those days my life was so bad that I was wishing that a spaceship would come and take me away from all of it. I am still convinced that there is more than this life here on earth. :))
The song has recently appeared on the well-received 'Cold Waves + Minimal Electronics Vol. 1' compilation, were you surprised even newspapers like 'The Guardian' from England [Lidia was interviewed for a podcast] showed an interest in the band?
Well I was very surprised when my youngest son Patrick googled my name and told me that I was all over the internet. That was when I found out that my ex had released a CD, that there was a lot more out there and he forgot to tell me. ;(( Of course I am very surprised about everything that is happening time after time I wonder why people like this music so much...
The band split up after two years, did you ever try to form another group or was it a goodbye to the music scene for yourself back then?
When the love was gone, Nine Circles was gone as well. For 25 years I did not speak about or listen to my music simply because I did not have it. I did not talk about it, because I was thinking that this was a mistake and that nobody liked it.
You started playing live again in 2010, what can we expect from a Nine Circles concert these days and why didn't you play concerts back in the early eighties [Nine Circles just performed once for Dutch VPRO radio]?
Well you can expect the minimal sound like in the 80s, but of course there is a slight difference but we try to be as close as possible to the songs from back then.
In the 80's we did not have concerts because we split up at the wrong moment and because people did not understand us and were thinking that we were very strange people.
How has the live-setup and band changed for those gigs, as from what I read, Peter van Garderen cannot be part of Nine Circles in 2011?
Well the only thing that has changed is the keyboard player and the instruments. Peter Van Garderen has a different life and it happy like that, and I respect that. But he is in contact with me and is helping where he can to get all the sounds to me. So in a way he is part of it all, but he said I am free to publish what I want :))
Can we still hope for new Nine Circles material in the future and are you up for more concerts??
Well the concerts are still going:
July 30th: Frankfurt
September 17th: Lyon
November/December: Paris
(A list of our concerts can also be found on our website) And yes there is coming something but I can't talk about it yet.
In retrospect, do you regret not stocking a whole package of the 'Radionome' compilation in 1982? It could have worked out as a nice extra pocket money these days seeing the prices on various internet-auction sites...
I never had a copy of that sampler. I even have never touched or seen it in real in my life. :-(
Was there ever a musical event or song that made it clear for you you have to become a musician yourself?
When I was a child my father taught me how to play the harmonica and from that time I wanted to make music by my own. I also wanted to play theatre, but I never had the chance to get anywhere with it, wrong karma I suppose.
As there are still so many almost undiscovered songs from the early minimal days, is there a song or band you can recommend that possibly not everyone has heard of?
Well a band like Genetic Factor, great music but not respected by anyone. :((
Lidia, thanks so much for taking the time to answer my questions! I leave the last words to you, anything you want to say to our readers?
Well I want to say that I am glad to make music again, I want to thank Joa Saleina for her hard work within Nine Circles, she is a great musician.
I want to thank Martin Kleefeld for all his support and love. And last but not least some words to our fans: Thanks for visiting our concerts or listening to our music at home. Soon, very soon there will be more. :))
Dennis OHRT
01/08/2011
---