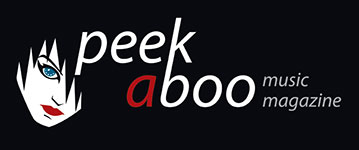 like this interview
---
RELIGIOUS TO DAMN
I'm about pushing moods now, really intense ones, less timorously.
13/09/2011, Ward DE PRINS
---
'Religious To Damn' surprised us with their strong debut-album "Glass Prayer". An album that made us describe the singer as a brilliant combination of Patti Smith, Kate Bush & The Cocteau Twins. Curious about the lady behind these beautiful songs we decided to ask Afghan-American singer Zohra Atash for a little bit more background information. And luckily she could find some time to answer!
Tell us something more about your debut album Glass Prayer. Does it need to be considered as a concept album?

Things sit in my head for a while, sounds I like, whether it's a mixture of textures or chords in a certain meter... for instance, I'd always loved the sound of a rhodes piano and a manipulated harpsichord, which is what you're hearing in "Serpent Song". Before the song even came to me, I knew I wanted to use that sound. And the harmonium with hammond bass drones, I was so psyched I figured out a way to do that in a way that worked and sounded natural on the record. Josh pretty much used a fucked up bass and we recorded him beating the thing up. The record may sound like a delicate affair, but there's an underlayer of pure aggression.

I didn't approach making the record with a concept in mind. The meaning started to reveal itself as I was writing. You find that current that runs through it, and build the work piece by piece.
You know, my father is a singer, and he played harmonium and sang every day. If you're familiar with the mechanics of the harmonium, you know the harder you pump it, the louder the sound, and he would go at it full force, and sing over it without a mic. I'm actually quite a loud vocalist, but I wanted to temper it on the first record. I think there is something fantastic about restraint, and not belting out every note. The next record is an exploration of dynamics between restraint and balls to the walls.
A lot of influences (ethnic, post-punk, psychedelic, pop) can be found while listening to Glass Prayer.
Why and how did this complex mixture of influences get realized? Has your Afghan-American roots
something to do with it?
My background has absolutely everything to do with the sound of the records I make. It's quite an unavoidable thing. I've been listening to music from all over the world for years. I think since "Glass Prayer" was my first proper record, I wanted to pack in as many influences, almost as if to put a watermark on all of them. I don't know that I'll ever approach my work that way ever again. It was exhausting. I'm still really interested in creating a really intricate sonic tapestry, but without as much thought into the ingredients. I'm about pushing moods now, really intense ones, less timorously.
We are in the process of recording some material that will make up a series of videos shot by various artists before we record our next full length at the end of the year. It's an expansion on what we did with the first record, visually and sonically that I'm really proud of.


In our review of Glass Prayer, we compared you with a lot of other artists like Kate Bush, Patti
Smith or the Cocteau Twins. However, your music is so diverse, it's hard to capture this in words or
comparisons to other artists. Which artists had some influence on the sound of RTD?
Those artists got me through some terrible times, like when you think you could just die, but you listen to records instead. They were, dare I say it, empowering. I come from a bloodline of strong, warrior women. My sisters have devoted their lives to helping widowed artisans in Asia and Africa sell their goods to western markets... one of my sister's is a social activist, helping inform the new Afghan constitution in the area of women's rights. My father's built schools for girls in Afghanistan. I've no brothers, and all the strong characters in my life have been women, outside of my father. You put on a record by Selda Bagcan, or Fairuz, or Diamanda Galas, or Emmylou Harris, and you just cannot deny the power, and these records do the same thing for me as The Stones, or Roxy Music, or Nick Cave. Greatness is greatness.
Frankly though, there's something vaguely insulting about the influence question every female artist has to entertain.
Our magazine is mainly focusing on the black scene – we think your music fits perfectly within this
range but due to the variety or mixture of genres we think a wider scene is possible – is there a
scene or some scenes you are focusing on?
My parents are Afghan. It doesn't get much darker than that. It's really a culture of artists and warriors. Admitting to this is going to sound like I'm glorifying it, but I'm neither proud or ashamed to say there's a fire in the blood of our people. I think there is really something to an underdog culture that is perpetually having to fight to keep their identity. From the Anglo-Afghan wars, to the ten year cold war.... fighting is just in our blood.
Music has been an outlet for me to take that intensity and channel somewhere. I guess that would make the work inherently dark, but I have no reservations saying I've always been attracted to darkness. There's a tremendous amount of beauty in darkness that is just far more palatable to me.

As for a specific scene... no. I'd say one of the most rewarding experiences we've had as a band is seeing the variety of people "Glass Prayer" resonated with... men and women of all ages from all over. That's what's kept the band going, really.

In Europe, a lot of independent, alternative bands really struggle to get enough attention from the
press or even to live their dream while focusing on their music. How viable is it in America for a
project such as Religious To Damn to get enough attention and to survive?
Really? That's a shame. I think doing something for the love of doing it is survival. Beyond that, well, like my mother would say, that's up to God.

Who wouldn't you mind being alone with in an elevator for 8 hours and what would you do?

Josh or Charlie, I'd make them listen to me singing acappella versions of songs I've been working on.


What's your favourite record of all time and why?
This is a difficult to answer, as there are many, but I'm going to answer Peter Gabriel's iii or Melt. It's the father of the gated drum sound, which I love. It perfectly weaves synths and organic instruments, and there's just so much power and soul in the vocals. I love that he decided against his original idea of using French childrens' choir on "Games Without Frontiers" and went with Kate Bush instead. I use it as a reminder when I'm pouting about some lofty idea that's just not feasible time or money-wise: explore other, simpler options without jeopardizing the idea. The rhythmic choices are just genius. Religious to Damn don't play covers, at least not yet, but if we decided to dip our toes in that water, "No Self-Control" would be my first pick.
What's the latest (new) record you were really impressed by? Which artist(s) should we really
check-out?
Wierd and Pendu records - they both put out consistently great stuff.

What are the future plans? Live performances in Europe/Belgium?
More music and video projects... They are in the works and coming very soon. So excited to put as much music out there as we can... and eventually touring.
Thanks for your time & this interview!
Ward DE PRINS
13/09/2011
---