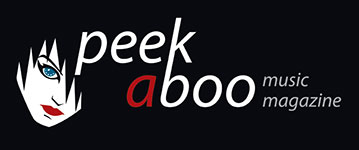 like this interview
---
FOUR DIMENSIONAL NIGHTMARE
Out…now…"Sludge"…by…Four…Dimensional…Nightmare…
23/12/2011, Didier PIETERS
---
Tom Nicol contacted me a while ago, after my review of the compilation album "The Worst Music Dracula Ever Heard" (http://www.peek-a-boo-magazine.be/en/reviews/various-artists-the-worst-music-dracula-ever-heard/ ). He's the man behind Four Dimensional Nightmare, that contributed the best song to "The Worst Music …" ("Cells") and turned out to be an adorable, interesting guy and passionate musician. As his new album, "Sludge", just came out I considered this the exact right moment for an interview. Here we go …
Hi Tom, tell us all about yourself? Who is Tom Nicol? Where do you live?
I live in the Seattle area with my teenage son. He wants to (and will) be a theoretical physicist, and I've been reading books on various approaches to the search for reality for many years. Some of which have had a definite influence, both consciously and subconsciously I think, on my work.
When did you start making music and what has made you the person / musician you are today?
I've been playing music since I was a kid, taking (against my will) piano lessons. I played guitar and bass in a few bands in the Seattle area back in the early 90s. When I got married and had my son (as well as a wife and two stepsons), family life wasn't really a match for the band lifestyle. So I spent several years away from the scene, but always playing my guitar and writing as much as possible. When my life moved forward and it was just myself and my son, I added a synthesizer and percussion machine to the guitar, bought an eight-track recorder, and started making some songs. I kind of figured at that time that I'd do maybe 10-12 songs and share them with my friends. I had no idea how Four Dimensional Nightmare would grow, and how manic I would become with writing and recording music. That was near the end of 2007 and I've done more than 400 songs now. All but a handful of collaborations were completely written, played, mixed, etc. by only me.

When I was 14 and living in a small town in Iowa, I stumbled across the Patti Smith Group's "Radio Ethiopia," which remains one of my favorite albums to this day, and was mesmerized. I realized that what had been missing from the music I was listening to was PASSION and creativity, and everything changed for me. I started searching out and listening to more challenging music like the Talking Heads, Dead Kennedys, Minutemen, stuff like that. Then when I first heard bands like Skinny Puppy, Front Line Assembly and Throbbing Gristle, I believe I may have unconsciously caught a glimpse of my future, which definitely has an industrial component. I do have an abrasive side. J
Are / were you involved in other projects / bands?
I have done some side projects since starting Four Dimensional Nightmare, although none of these are currently active. One that I really enjoyed and feel proud of was reading the poetry of Charles Plymell and putting it to music, which I did in 2009. I e-mailed Mr. Plymell after reading an essay he had written about "We Jam Econo" (the documentary about the Minutemen) and he sent me a very nice response. Ultimately, he sent me several signed books, including a short one from the 2008 "No More Bush" tour. I asked his permission to use his words, he was happy to oblige, and I came up with a CD called "Plymell and Me," which hopefully someday might be published. I've done two other side projects as half of a duo - one called Nightmare Evolution 2.0 and one called The Odic Force.
You have contributed to the compilation album "The Worst Music Dracula (n)Ever Heard". Care to elaborate on that?
"The Worst Music Dracula Ever Made." I'm proud to be a part of that. I had met Alex (from Retro Virus) online a few years ago when he was in a band called the Death Sound, so when he started the label, we already knew each other. He offered me the opportunity to contribute a song to the compilation. It was kind of funny, because I had sent him a copy of my first CD (Ramblings From A Troubled Universe), which I recorded in 2008. He chose a song from that for the compilation before I ever even thought of what I might want to send him. Even though my style has changed somewhat from that time, I still like what I was doing then and I was cool with his choice (Cells). When the release came out and I heard some of the other bands for the first time, I was blown away by several of them. In particular, Rachael Please.
Your album, "Sludge" just came out? Is it the first Four Dimensional Nightmare album?
No, it the second one actually. "Sludge" came out just a couple months ago - online version at the end of October and hard copies a couple weeks later. I think I would define the CD as being two halves (but the sequence of the songs doesn't reflect that). I had a very difficult summer and went through a serious depression during most of July and August. I played music during that time, but didn't write anything new or feel inspired whatsoever. I even questioned whether I wanted to continue this project. When I came out of that, I immediately started writing again, wildly, intensely, feverishly. Six of the 13 songs on "Sludge" came from that - all of them recorded, edited and mixed during the month of September. The other songs I chose from work I had recorded previously.
"Sludge" is an utterly strange piece of work, do you agree?
Yes, I agree that it is utterly strange and I like that description. My main goal in creating music is to be creative and push limits that haven't been explored by others. I didn't want to sound like anyone else. I'm limited by my gear budget in a big way, but I try to get as much out of what I do have as possible. Everything I've ever recorded for Four Dimensional Nightmare was done in my bedroom, first on the 8-track and now on a 16-track. I don't use a computer for anything but uploading and sharing my music once it's complete.
The keywords, as far as I'm concerned, are experimental, electronics, inventive, innovative psychedelic and just plain crazy! Can you relate to this?
Yes, I think so. I have been diagnosed with schizoaffective disorder and I know I see things from angles that most people don't. Sometimes that can be a good thing in my life and sometimes it can create real challenges. I've recently been reading a great deal about the holographic principle (the entire universe is a hologram), and there are moments when I realize that the reality described in these books coincides with the reality I've lived with my entire life. One theory postulates that, based on both scientific theory and interviews with people who have had NDEs (near-death-experiences), the afterlife - void of time and space - is dominated by waves and frequencies. Listening to some of the songs on "Sludge," I think you can hear where I was impacted by this. Moving forward, everything I have written since that CD came out has been a direct effort to incorporate these ideas into sound.
Can you describe the music on "Sludge".
How would I further describe the music of "Sludge?" It's noisy, but with a purpose. Not all of the songs are the same - some do have a bass and percussion and a more structured style, but not many. I'd like to think that everything on there is unique - it should be hard to name a band or song that you are reminded of when you hear it. I hope. It is industrial at times, psychedelic at times, indefinable at times. I did make an effort to include vocals on most of the songs - all but two, since my first record was about half instrumental. Some of the songs have vocals for the first portion and then slide into long instrumental parts. Sometimes I create loops that repeat, sometimes I free-form, usually I improvise large sections. I also play guitar on nearly all the songs, sometimes in very experimental fashion to coincide with the synthesizer noise, and sometimes just to rip fast bits on top of the madness.
Why "Sludge"?
The name "Sludge" came from the song of the same name. It's a slow, creepy piece with words that come out of my throat with a rather reluctant feel and the line "wading through a river of sludge." Which is kind of what the whole song feels like, I hope. I nearly named the CD "Andy Vs. The Flying Saucers."
Why should people buy the album?
To give me money, of course! I guess I'd say partly because it's completely original and mind-bending, if you like a bent mind! I know my music isn't mainstream in any way and can be a challenging listen. But many people are craving for a challenging listen, I think. Especially considering the circumstances in which it was created, I'd like to believe that it is inspired mostly from within, not trying to duplicate or fit into a certain style or genre. Speaking of buying the album, you can download or order a hard copy of it through my website at www.4dnightmare.com. For now, every hard copy purchased will be hand-numbered and autographed.
Any special remarks on the artwork?
The artwork was created entirely by a good friend, Reverend Havoc. We met when we were both under the Ear Bleeding Tunes label - he is both a musician and a visual artist, so I asked him if he would design the artwork for "Sludge". And I think it's really good. He also mastered the record.
Describe "Sludge" in 3 words.
Experimental, frequency-based, mind-bending?
What's your favorite song on the album … and of course why?
I think my favorite song on the album has turned out to be "Space." It includes three guitar tracks (I rarely use more than one), and I modified the vocals to sound somewhat alien and tricky to understand. I think when Michael Stipe was asked early in his career about the difficulty in understanding the lyrics in R.E.M., he said that it could be up to the listeners to create their own. Perhaps this could be the case on this song.
In which "genre" should we situate the music of Four Dimensional Nightmare?
I've always had a hard time with "genre." On one hand, yes, you can hear elements of industrial, punk, gothic, etc. in it. On the other hand, I don't feel like I completely fit any of these definitions and I don't want to. I was asked this before and answered quickly without thinking, "horrorshow." So I guess that my genre is horrorshow.
Do you think there's a broad audience for this kind of music? How do you see your (potential) listeners?
I'm still somewhat isolated and apart from a large portion of the music scene, so it's difficult for me to say how broad of an audience there could be for me. I'd like to think that there are a lot of true artists - probably most of them making music or paintings or sculptures or photographs or whatever - who would enjoy and appreciate it. I'm not very good at promotion, so I'm trying to think of ways to get my noises into as many ears as possible, because people typically tell me they like it when they hear it (unless they're simply being polite).
Have you ever been played on the radio?
I have been played on the radio and I am glad for this, because it was on an experimental show out of Portland which streams on the internet. I've also been on several of Mike Watt's podcasts. I met Mike a few years ago, which was a gigantic thrill for me, and he's been a very cool friend.
Are you involved with a record label? Are you still looking for one?
I have been involved with a couple labels - I was on Ear Bleeding Tunes and they released one of my songs as a single. The Odic Force also was on that label, as my partner in that project was running it. It seems to be rather inactive at this time, so I went ahead and self-published "Sludge," because it felt right to put out a CD immediately, rather than shopping for a new label. And you know about Retro Virus, their compilation, etc. I'm rooting hard for Alex and RVR to succeed, because it's tough for small labels to get by these days.
Where do you get your inspiration?
What inspires me? The quest for reality, which is contained in all of the physics books my son and I like to read. And sometimes in direct experience, which is hard to explain, rather like Philip K. Dick and his 2-3-74 experience. Taking these things and putting them into some sort of noise/form/art. Syd Barrett is another hero - he also saw things from a unique angle and brilliantly converted that into sound.
Which bands have influenced / influence your music?
I think I've probably named already most of the bands/artists that have influenced me. Barrett, Smith, Skinny Puppy and Throbbing Gristle are the first names that come to mind. Perhaps I land somewhere in the void between SP and TG. Not to compare myself to greatness several levels above me. :)
Work in progress, what are you working on right now?
Like I mentioned, I'm writing a lot of music with a frequency/wave approach. After focusing on having most of the songs on Sludge contain vocals, I find myself back to my old ratio of about 50/50, instrumentals and vocal songs. I am considering taking this new body of work (about six new songs since "Sludge" came out) and moving toward a new CD in the late winter or spring, but no solid plans as of yet.
Do you perform live?
I do play live shows and I LOVE doing live shows. But it is difficult to get a lot of venues to give you that first chance when you don't have a lot of name recognition in your own city and you play alone. Sadly, Seattle is not the beacon of creativity that it once was. With some exceptions, most of the bands here are starting to sound the same to me. But I have played several live shows - mainly in Tacoma and Olympia (which are just south of Seattle) and they went very well. I keep my guitar strapped on and move from synthesizer to synthesizer, creating loops and percussion, and then free-forming more synths and guitars on top of it, while trying to get to the microphone occasionally. On my site, there's a photo of me attacking my guitar with drumsticks, while it sits on the floor. It can be a challenge, but I feel like I really throw everything into my performances and hope to have more. I played at the annual Olympia Experimental Noise Festival this year and will definitely be playing that again.
Which CD's are you listening to for the moment?
Right now, I can't stop listening to Skinny Puppy. Currently getting the most time on my I-Pod is "Mind: The Perpetual Intercourse," which I think is one of the all-time great albums. Strangely enough, since it doesn't sound much like what I'm doing, I'm also really into OK Computer (Radiohead) for the past couple weeks.
Pick one Four Dimensional Nightmare-song and tell us why it's special to you.
One Four Dimensional Nightmare song that is very important to me is "Genesis." This is a spoken-word piece from "Sludge." I wrote the words one night about my transitioning outlook at the possibilities that lie beyond death. Previously, I wasn't really sure whether I believed in any kind of afterlife at all - and I'm still not - but at some point I came to terms with that. It's about losing the fear of eternity in any form. I have a new song that also deals with that (recorded after "Sludge" was released) called "Surviving Infinity."
If you could make a record with ANY person (or band) of your choice, who would it be …
Any person? I'm not sure. Maybe Dwayne Goettel, if he were still around. I was just reading a review of Puppy Gristle, which included the line, "Dwayne Goettel was a sonic monster," and it's true.
Thanks a lot Tom, all the best!
Didier PIETERS
23/12/2011
---