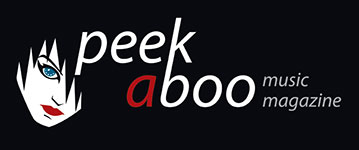 like this interview
---
EMILIE AUTUMN
I'm a Muppet crossed with a unicorn!
29/12/2011, Filip VAN MUYLEM
photos: © Marquis(pi)X
---
We decided to contact Emilie Autumn with the upcoming concert in mind at The Vaartkapoen on 12/4/2012, in Brussels, as this will be for sure a must see. We had a nice chat and this is the result. I hope you enjoy the tea party.
Hi Emilie, how can you describe yourself (for those who still have to discover you):
a) the visuals (the shows, the broadway look and being an fashion icon)
b) the music
c) the lyrics
d) the idea's behind the whole Emilie Autumn project: Asylum Emporium www.asylumemporium.com

EA: I only describe myself when I'm riding in a taxi and the driver asks me what I do. I started referring to my music as Glam Rock Burlesque for lack of any other intelligent way to explain it. When they ask what my band is called, I just tell them to Google "pink haired violinist" and they will find me. To make it very simple, I'm a singing violinist who writes music, I went mad, got locked up in an insane asylum, and have now made a career out of turning very bad things into very beautiful things.

One told me you sound like a mix between a female Rammstein, Marylin Manson and Britney Spears. Can you give some comment on that?
EA: Wow! That is a combination of comparisons that I never would have thought of! I personally think I'm a Muppet crossed with a unicorn.

What do you have with a violin? Why a electric violin and not a contrabass, for ex?
EA: The violin is small, delicate, and female. It is also very powerful, with a massive emotional range. It's easily portable, you can walk around while playing it (and dance, in my case), and it's incredibly difficult, all things that appeal to me. There was never any thought of playing another instrument professionally...even the piano and harpsichord I didn't study, but taught myself simply because I wanted to play my own songs.

Did you start with a classic violin education and later on evolve to a more rock 'n roll version? How did you make this change? Tell us more, plz (at what age did you start for ex.)?
EA: I began studying the violin very seriously at age four, and I've never stopped. I owe it everything, really. The lifelong pursuit of mastering this instrument, and the incredible amount of work and sacrifice it demands, has given me so much, and ingrained in me a very strong work ethic, a drive to achieve, and a demand for perfection that I would not otherwise have and can now apply to everything in my life and career. Even when I was still quite young, early teens, I began experimenting with different ways of playing this very classical instrument, because I never really understood why there was really only one "right" way. That just didn't make sense to me. Knowing that I was doing something very wrong by playing jazz or rock or an electric violin of course made it all the more thrilling to my rebellious side, but the ultimate achievement for me is to be able to play both the classical version of this instrument and the music that goes with that as well as the rock, electric version, and to have my audience appreciate both. It is something I always, always believed could happen, but was always told could not. I'm very happy to have been right about that one...
You use distortion on the electric violin, it gives a special effect. I noticed some other special effects. It took me some time, but I taught you used an original medieval piano (or a clavesimble), but it's a keyboard, right? Would you love to work with a real classic orchestra?
EA: I've played with countless orchestras growing up, and would love to form my own orchestra in the near future - it's something I've been planning for quite a long time actually. The keyboard instrument I use in so much of my music is in fact a harpsichord, one of my most beloved instruments. While I play real ones in my own home and on recordings, I travel with an electronic version that sounds pretty convincing. As you can probably tell, I really enjoy taking very old things and very new things and smashing them up to create hybrid creatures. This applies to the way I write as well as the orchestration I use, and even to the clothes I wear. The further back we can see, the further forward we will also be able to see.
How come's the idea of bringing out a book and poems? Was the idea throwing it all out, as a part of the cure?
EA: The poetry I've released is more from my childhood, but, in the case of my recent book, it was I suppose a bit of an exorcism. Writing everything down wasn't going to make any of the bad things go away, but, I felt that, if I could transform some very dark, scary things into beautiful things that could perhaps help other people, them maybe all of that time lost wouldn't have been truly wasted.
What is your bound with Lady Gaga (referring to spread the plague on your site)? Must be hard to go in competition with her?
EA: I don't know who that is.
Fight like a girl tour? I listen … Tell me about the time(s) you had to do it in your own life and as an artist?
EA: The FLAG song and album are specifically about what happens when the inmates of the Asylum for Wayward Victorian Girls find their way out from behind the bars and take down all of the doctors who have been torturing them in a battle called the Tea Party Massacre. But fighting like a girl is something I do, and have to do, every single day. Discrimination and gender inequality is globally as rampant as it ever was, and I feel this all the time, whether it's happening to me, or to someone else, in a big way, a small way, any way at all. I am aware of it. I am never not aware of it. To fight like a girl simply means to take back your power, find your own strength, and use what others have found to be your faults to your advantage. Even the term is about taking words that have been used for a very long time to ridicule girls and insult boys and turn them into very good things instead, things to be proud of. Though we have a genetic predisposition to creating and nurturing peaceful and prosperous societies, I think we all know by now that girls are more than capable of any kind of combat, both mental and physical. There is nothing wrong with fighting like a girl, and it's something I encourage all boys to do. Fighting like a girl means to be the absolute bad-ass that you truly are. I am extremely proud of all of my male Plague Rats for realizing that this new song, and the title of the album and the message it contains, is not meant to be divisive or to exclude them in any way. They are smart enough to see that what is good for us is good for them, and they join us in the fight. We are all on the same side. We love our boys in the Asylum.
'Gloomy Sunday' has been noticed as an Hungarian suicide song, can you tell us more about the lyrics and why did you rework this song? And a lot of other artists worked on it too, so it must be pretty hard to work out a new and even better version? I love your version (just to let you know).
EA: Thank you very much, I'm glad you enjoy it! I've always thought the song was mysterious and intriguing, very dark, ever since I first heard it on an antique recording by Paul Whiteman several years ago. Once I learned it's true meaning and how it was banned from being performed or played on the radio unedited, I knew I had to sing it myself. I felt a close bond with this composition particularly because I myself have written songs, 'The Art Of Suicide' for example, that are about very much the same thing, i.e. the contemplation of suicide, and I realize that, had I been born just a bit earlier, my songs would have been banned as well.
Your show are always a real visual hit, how do you manage to work out the shows and timing? Who helps you with the choreography? And maybe you can tell a bit more for those who are coming to see you for the first time?
EA: When I perform with my Bloody Crumpets, it's never about singing a list of songs from an album in order to promote that album, which is generally what tours are meant to do. Instead, it's about telling a story. So, when we are all in rehearsal together, the focus is on much more than just singing and playing music -- it's on how we communicate with each other, how we will involve the audience, how we can create theatre with every sound and movement we make. The fun of it all is that much of what we practice and drill is never really meant to happen. We practice our movements, our comedic timing, our lines, so that, when we get out on stage and decide to just improvise, it works. We don't work with any outside choreographer, costumer, anyone at all, but do all of these things ourselves, and so everything you see is intensely personal, and intensely ours.
What are for you the most tempting sins and why?
EA: I'm not sure...I don't really identify with the concept of "sin" as it is a Christian concept, and I don't associate myself with that.
How was it to work with Courtney Love?
EA: It was quite a learning experience, if nothing else, and I am grateful for the education. I learned a lot about what not to do, especially drugs, which I've never tried, and never plan to after seeing how badly they can affect a person and all those around them. One positive thing I will say is that, at the time Courtney first contacted me, I was extremely young and very shy and frightened of everything. I didn't really know my place in the world. After working with her and being exposed to some truly frightening and volatile situations, I came home fearless. I knew I could handle anything.
Later on you even worked with Billy Corgan & Dennis DeYoung, any further idea's of people on your list to work with and why?
EA: Once the Asylum became a reality, I found myself collaborating much less with other performers. Where I used to be glad of the experience of working with various different people, I now feel very much devoted to the Asylum world and the music I make inside of it, and so don't like to dilute this work but participating in a bunch of different projects. I create entirely on my own, and very much prefer that to working with virtually anyone else...I'm a very solitary person, artistically speaking. That being said, there are a few exceptions, one of these being a collaboration with the marvelous Otep on a song from her last album. Another project I am very deeply involved in is "The Devils Carnival," a film series in which I am not only singing but acting as well. Up until it's release, this is still very secret, and so I can't reveal too much, but you can get a glimpse of what it's all about at www.TheDevilsCarnival.com. It is written and directed by the same people who created "REPO, The Genetic Opera," which I think will be very exciting to a lot of people. But even this I would not have taken the time to participate in had the people involved not been dear friends.
We still haven't received the new cd, but what can we expect?
EA: Well, I think the first thing you will find is that this new album is not really in the format of a rock album at all, but is rather a soundtrack. I think that most of the Plague Rats know by now that my evil scheme is to transform my book, "The Asylum For Wayward Victorian Girls," into a movie, but first, into a Broadway musical. "Fight Like A Girl" contains several songs that will be part of the musical score, and the entire album is meant to be an epic, cinematic soundtrack. I very much like the idea of releasing a soundtrack for a movie that hasn't been made yet. It's like releasing a "greatest hits" album before you've had any hits, and I think that's quite funny. I would think this would all sound ridiculous if it weren't working so well.
What do you think of Belgium and do you have any comment for the Belgium crowd?
EA: We have performed in Belgium several times now, and I am being completely honest when I say that it is one of our absolute favorite places in the world to take our show. From our very first time on stage in Belgium nearly five years ago, the audience was absolutely connected with us. We were nearly unknown in the world at that time, and yet, this entire Belgian crowd not only knew, but they were singing every word to every song right along with us from the first note. I'm still not quite sure how it came about. It was like coming home, though we'd never been there before -- a very magical and unique experience that doesn't happen everywhere. It's given us the greatest pleasure to find that so many of the Plague Rats that attend our more recent Belgian performances were in fact there at our very first one. We know many by name, and have kept in communication with them even while we are away. Very sincerely, the girls and I couldn't' be more thrilled to be back. We've brought more "tea" to share, and we hope you're thirsty!
Thanks a lot for the nice chat! See you on stage and i hope a lot of people will be there to enjoy a must see!
Filip VAN MUYLEM
29/12/2011
---