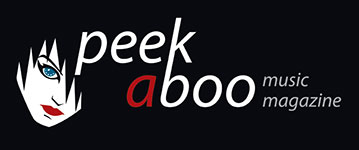 like this interview
---
PSY'AVIAH
'You cannot label our music. It's Psy'Aviah-music, that's what it is'
30/12/2011, Philippe BLACKMARQUIS
---
Psy'Aviah are a very special band on the Belgian musical scene. This Antwerp based eclectric project, founded in 2003, consists of Yves Schelpe (production, composition) and Emélie Nicolaï (vocals). The band is associated to the dark, electro-goth scene but with each new album they seem eager to explore even more new different musical styles. Their latest release, "Introspection/Extrospection" is a clear proof of this evolution as it successfully experiments with pop, reggae and even rap. Peek-a-boo spoke with the band.
Peek-a-boo: Your music is very difficult to label. How would you describe it?
Yves Schelpe: We like playing different genres, we like to listen to different things.. This makes us sound diverse, eclectic, though always with a rougher, dark edge, it's what we like.. So, yes, in a way we have a "goth" label but I just dislike the idea of having to label everything.. it's Psy'Aviah-music, open-minded electronic music with energy and soul, that's what it is [;)].. But it is not the way some organisations or institutions work, even within the "goth scene" with subgenres as "terror" and "old-school ebm", whatever.. being tied to genres is too narrow-minded for me. Look at the albums made by Faithless, DAAN, The Chemical Brothers, even Front 242 etc.. If they would've been hanging on to only one genre - they would've never made the diverse albums we can now enjoy today.
Emélie: When we began, we were not at all listening to dark music. Our favorite bands were Praga Khan, Moby, and electro in general. Later when we started playing our own music, we realized that the gothic scene loved it and found it dark. Little by little, we got to know more about the dark scene and discovered some very good bands and events. But, as Yves said, we prefer to describe ourselves as "electro with a dark edge".
Peek-a-boo: Do you think that having a "goth label" is a disadvantage for you when you want to get more exposure in other circles? Some artists have experienced the goth scene to be some sort of "ghetto". Do you agree with this statement?
Yves: Yes, the "goth" label can make it difficult to break out and it can be a ghetto sometimes because all lot of people associate it with narrow stereotypes. But on the other hand it is a very dynamic scene and it brings a lot of opportunities.
Peek-e-boo: Do you manage to get airplay on radio's, especially Belgian national channels or is it really "mission impossible" for a band like yours?
Yves: We do get some airplay, mostly in foreign countries. We can track plays via Kollector.com. But in Belgium, it's very difficult. There are some local radio stations playing us, we get great support from our label, but getting airplay on national radio is a no-go. Why? I don't know, probably there are different reasons. We don't always have radio-friendly songs (meaning vocals all the time). We have more success in clubs. M.I.K.E.'s remix of our song "OK", for instance, is doing very well with club djs, also in techno-clubs like The Fuse in Brussels.
Emélie: Yes, it seems like our songs are played in many countries like Hungary, Russia, Spain, Finland, etc. You know the saying: "A prophet has no honour in his own country" (smile).
Peek-a-boo: On Introspection/Extrospection, you collaborated with Kari Berg, the Swedish singer/model/actress (formerly with Ashbury Heights and currently with the collective Chaos All Stars). She is singing on the track "Deep Dark Desire". How was the collaboration?
Yves: Working with Kari was awesome, in many ways. She has a great sense of humor, she writes her stuff fluently, she has great looks and a very special sound in her voice. I found it a pleasure to work with her and I have just agreed with her that she will do another collaboration with us in the near future.
Peek-a-boo: How do you find inspiration for the lyrics? They give a good view on our modern society and on emotional warfare..
Yves: Indeed we focused on the society we live in today.. it's a reflection on the world, and it also includes some self-reflection. Thus that's where the title comes from essentially: "Introspection" (self-reflecting) and "Extrospection" (thinking about the world and how I stand in this world).
Emélie: We discuss a lot about our emotions and frustrations both in our private and social lives and this gives the starting points of the songs. "Virtual Gods", for instance, is about the violence you sometimes find on social networks, esp. on Youtube. "Your List" came naturally after I had listed all the qualities that the ideal man should have... (laughs).
Peek-a-boo: Emélie, which other female singers do you feel close to? Anne Clark?
Emélie: Yes, Anne Clark is definitely an inspiration for me. I love to sing "Our Darkness"! Some people also compare me with Ayria but I prefer to say that I have my own vocal personality.
Peek-a-boo: Any other projects for the future?
Yves: We're preparing a DJ/EP release for "OK"/"Virtual Gods". There'll be a dub and a shortened version of the remix and an acapella version of both songs. A clip of "Virtual Gods" is in the making and should be released the coming month(s). It's being made by Duncan Catterall at PenKat Studios. They did some work for BBC etc.. It's the first clip we don't shoot ourselves, as the previous ones we did completely alone [:)]. When the release will hit Spotify we'll also publish some free stuff on our website again: some remix kits for people to toy with. Just because we like this open-source music sharing [:)]. We also did a remix of a song called "Kick Out" for Belgian trip-hop band KOALA for their new album "Tall Machines".
Emélie: We are also planning to shoot new video's and to create songs on the basis of these video's. Doing the job the other way around; I'm sure it can be very inspirational.
Peek-a-boo: And what about your next gigs?
Yves: We have two live shows coming up in February: - 03/02/2012 at Arlon, L"Entrepôt Arlon, with vv303 and Anamorphis. - 25/02/2012 at Sint-Niklaas, OJC Kompas vzw, with Minusheart and TDDUP-Compilation Party.
Peek-a-boo: and in other countries?
Yves: Currently nothing internationally planned yet. We do get some request, but it's difficult to get a) everyone together, b) get there safely without losing money etc.. [;)]
Check the complete review of "Introspection/Extrospection" here.
Philippe BLACKMARQUIS
30/12/2011
---