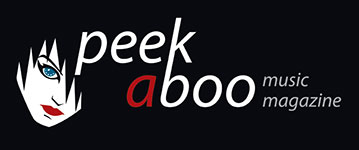 like this interview
---
ANOUK WEBER
Our purposes are not commercial....we just want to have fun with our music.
08/12/2011, Jurgen VANVLASSELAER
photos: © Fabienne Cresens
---
On the 9th of December the second edition of the Porta Nigra Festival will take place in Aarschot, Belgium. Opening the festivities will be the Brussels based electropop duo Anouk Weber.
Hi Anouk and Stéphane, can you introduce the band to our readers?
We are delighted to have an article in the Peek-a-Boo Magazine, thanks for your interest ! Well, first of all we would like to clarify that Anouk Weber is not just one person, it's a duo consisting of Anouk D. (singer and lyrics) and Stéphane T. (synths and laptop), a couple on stage but also in real life. We are based in Brussels and began our musical collaboration in 2003. We've performed since 2005 on numerous Belgian stages and festivals. We also played in Paris and London. Our style, as well as our minimal musical sound, is inspired by a world of romanticism with a touch of cynicism and naivety. It's dark, glam, electro, melodious, nostalgic etc.
Is it an advantage or a disadvantage to be in a band with only 2 members ?
It is rather an advantage. At the beginning we made some tests with other musicians (including a guitarist and a drummer) but it didn't add anything essential to our music. Playing with three or four people requires more compromises and complicated repeats. As a couple we usually work and make decisions together. So it's also harder for someone else to fit in. We can also rehearse in our living room, we don't have to rent a studio and move our material.
Anouk Weber can be described as minimal electro synthpop. What are your influences ?
The killer question! (laughs) We never wanted to be labelled but people apparently need a direction, it seems inevitable. Our respective musical tastes are very eclectic and similar. However it is undeniable that we have been bathed as young people in 80's music (new wave, electro, new beat, industrial, pop) which represents our first musical emotions. Some bands or sounds of that time have clearly influenced our style (consciously or not), but not just those. We like the atmosphere of pop or more underground songs of that time but also of the present ! Some of our tracks are reminicent of the 80's but there are also different sounds or rhythms, such as drum'n bass because Stéphane had some DJ experience in that style. Our music is indeed minimalistic and we try to focus on the melody, the voice and the lyrics. It is strange and funny to see that each time we play,or on comments posted on the internet, that we are perceived in very different ways, it depends on the listener. Our universe is at the same time pop and underground, which allows to reach a lot of people: classical, gothic, electro addicted, new wave nostalgic or young people,… If you really want some names we would think about Kraftwerk, Front 242, Anne Clark, Depeche Mode, Soft Cell, Snowy Red, Daf, Nitzer Ebb, Joy Division,… But the list would be reductive or infinite. We also like bands such as Nid and Sancy, Vive la Fête, Stereo Total, Miss Kittin, Ladytron,…and underground electro bands.
A debut album was in the pipeline a few months ago. But it's been very quiet lately around that release. Are there still plans to release it?
We were in contact with an American label in Minneapolis. We were about to sign a contract, but they recently changed their conditions and it didn't suit us anymore. On our side, it took a lot of time to do the mixing and mastering of our tracks in London. Therefore we are searching for a new label! If anybody is interested, let us know. We are also seriously thinking of producing it ourselves but money is always the problem. There are musical platforms on the internet, where we can post our tracks. But we really want to have a CD, the object in our hands (and in yours too). However a demo CD is available by contacting us at anoukweber@gmail.com
On your live gigs you bring an excellent cover version of Carol's Breakdown. Are you planning to do more covers?
Thank you for the compliment. We are actually quite proud of this version, it still has a certain effect on the audience when we play it. It must be said that the song is already very good and it fits in well with our musical universe. Of course we thought about certain covers. But there are certain songs which we think you cannot touch.
Is Anouk Weber the only project you are in? Or are there any side projects or collaborations?
Not for the moment. Anouk had some proposals to collaborate with other artists but it never really resulted in anything concrete. Maybe some tracks in the near future with Yeti Popstar, from Velvet Underwear, but nothing is confirmed yet.
A question for you both: If you could pick any artist to work with, who would that be and why?
Stéphane : An artist who I've always liked for his musical approach is The Hacker, both in his own productions and his DJ sets. Or Andy C, an English drum'n bass DJ-producer.
Anouk : Which artist would like to work with me, do you mean? (laughs). It's a very difficult choice. In my dreams (or in heaven) maybe with Ian Curtis from Joy Division.
Anouk Weber will be the opening act at the Porta Nigrafestival in Aarschot on the 9th of December. What can we expect?
We are very proud to open this great festival. We just hope to have and give the audience a good time and also that we will be a pleasant surprise for those who don't know us yet (shame on them ;-)). We will also play a new track, so this will be a nice opportunity to discover it. But the essence is: having fun.
What are the futureplans for Anouk Weber?
The release of our debut album, new tracks, great gigs and fun ! Our purposes are not commercial. We just want to have fun with our music and give people a pleasant time.
Thank you very much for your time, we look forward to seeing you at the Porta Nigra festival in Aarschot.
Jurgen VANVLASSELAER
08/12/2011
---