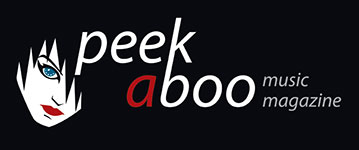 like this interview
---
IKON
Mick Mercer called IKON "the quiet achievers" and I think that sums us up
24/05/2011, Didier BECU
---
One of the gothbands that never seemed to go away must be Aussies from Ikon. In a couple of weeks they'll start their European tour which passes through Belgium, in Beveren on the 4th of June.
Peek-A-Boo took a virtual flight to Australia to find out everything about Ikon!
Ikon has been in the musicbiz for almost 20 years. It makes me feel old, but I guess you can't believe it yourselves?
I guess I'm starting to feel a little old now, after turning 40 years old myself last year. But I'm still young, with lots of life and energy left in me yet. I would still like to do music for as long as I live, and can never understand how some people can do it for most of their life, then stop doing it all together and not pursue it even on the basic level of personal satisfaction. It's becoming a very difficult industry now on every front, so I'm not sure how younger bands are going to find the strength and commitment to put in the hard work and dedication needed to keep a band alive.
In those 20 years, do you think you have fulfilled all your dreams in both musical and ambition?
For sure, I have fulfilled my dreams beyond my expectations, but I guess once you reach certain goals, you put new ones in place. Twenty years ago, I never expected to play outside of Melbourne, let alone in Europe. Our initial success with 'In the Shadow of the Angel' in 1994 made us all think we were doing something right and gave us a little confidence to dream a little and work towards creating music that we liked, and we were happy that others liked it also.
If you decided to pick up your instruments back in 1990, would you ever have thought you would be around 20 years later as well?
I doubt it! We first started playing together in 1988 for fun, mainly playing Joy Division covers, because they were easy to learn. With IKON, we wanted to push things further. From the beginning we wanted to release a single as a memento, so we would have something to look to look back on as a souvenir. I never thought we would still be around twenty years later. I suppose in some ways I didn't have a lot of belief in myself as a musician/entertainer. I really just wanted to write songs and release them.
After all these years, I honestly think that Ikon is a band with a really original sound. I mean I hear your influences but Ikon is Ikon.
I think we have developed our own sound over the years. Back in the early years, we did get compared a hell of a lot to Joy Division, because of Michael Carrodus's singing, so I was determined to work on the sound to make it sound less like Joy Division and more original. By 'Flowers for the Gathering', I feel I overcame that Joy Division link musically, and by 'This Quiet Earth' we were in control of our sound totally. I think it's good for bands to have their links and influences still there. We are a darkwave/gothic rock band and that's what we are. I'm comfortable with what IKON is. I wouldn't mind a bit more promotion and publicity to go with it, but I've done as much as I can musically
I guess there aren't that many bands left in Australia who are making darkwave music?
I can't even think of one other band making darkwave rock in Australia. Lots of people are making electro music, like in the rest of the world. There are, however, a lot of new darkwave/goth bands coming through from all sides of the globe, which is very encouraging to see. I think the scene goes in its own waves. Maybe it's time for a new comeback for guitar music, and for the demise of all this electro karaoke stuff, which I'm really not that keen on at all.
Have you ever actually been accepted in your hometown, Melbourne?
We are a band that keeps to ourselves. We never set out to make a noise about what we are doing. Mick Mercer called IKON "the quiet achievers" and I think the sums us up. We do things the way we want, when we are ready, and don't play the game. We have received praise within our field of music, and to me that's very satisfying.
Looking at your discography, it's kind of massive. I mean, it's incredible how much stuff you have out. Do you have favorites amongst them?
In twenty years, we have put out a lot of stuff. Some things I'm really happy with, but others I'm almost embarrassed about. I always wanted to run IKON like any other mainstream band who releases singles. We have only released six proper albums, but I'm very proud of all of the singles. To me, they are all like my children. There are not a lot of bands within our scene that have released as many singles as we have. For me, the vinyl releases are my favourites, and this is why I'm going back with all the album re-issues and releasing them on vinyl also.
Do you ever listen to Ikon yourself?
When I'm working on ideas, recording and developing new material, I listen to it a lot, but once it's done and finished, I must say I don't really listen to it at all. In creating the recent re-issues, I had to go through all the old masters, demos and so on to find the best material. I think I found that the hardest thing to do, as the music was from so long ago, and I think we do so much better now.
Do you think your music is dark?
IKON has the ability to play many styles, but I think primarily we are a dark rock band. I'm happy with the sound we have, I'm curious to see which direction the next IKON album will travel, once I get around to developing ideas.
In 20 years time, the music industry has changed a lot as well. What do you think about that?
I think the changes force musicians to work hard and do the majority of the work themselves. You can't expect that a record label is going to make you famous. You really have to be dedicated to put so much time and money into your own musical endeavours, as no one else is going to do it for you. The changes also mean that there is a lot of rubbish music out there, which is the downside to it.
In fact, what do you think as a musician of music that is available for free with a simple mouseclick?
It's quite annoying when you spend so much time working on an album and then there it is up on the internet for free, everywhere, like a virus before it is even officially released. What can you do, though? We have to get with the times, and embrace technology and the promotion it gives us. I hope that music being available widely online encourages music fans to go out and actually buy our albums.
You will be playing soon in Belgium, what can the fans expect?
We love coming to play in Belgium and are looking forward to returning there. You can expect a greatest hits setlist, with some songs we haven't played for over fifteen years thrown in for good measure. Having Clifford Ennis back in the band will also give me an occasional break from singing, and also enables us to add a few Jerusalem Syndrome songs to the set.
What's your favourite record of all time and why?
That's a tough one, but after giving it some thought, I would have to say 'Night Time' by Killing Joke would have to be my favourite and the most influential album on me. I was totally captivated by the film clip for 'Love Like blood' and it was my first discovery of dark sounding music. I already loved U2 and felt the guitar playing was similar to Killing Joke, but after buying 'Night Time' it took my life on a new journey into alternative music and I loved it. Every track on that album is a killer not a filler. I was only 14 years old when I purchased that album, but play it today on a regular basis and it still gives me an intense feeling when I listen to it.
With whom wouldn't you mind to be alone with in an elevator for 8 hours and what would you do then?
Gosh, I don't know if I would like to be stuck in an elevator for 8 hours with any one, but for the sake of the question I would have to say maybe Bernard Sumner from New Order. He doesn't like to talk much about things, so I guess if he had no choice, I could ask him questions about Joy Division that no one knows the answers to.
Do you have a special message to the readers?
Keep an eye out for our special album re-issues for our upcoming Twentieth anniversary tour in Europe this June. We are really looking forward to our return there, and we've put together the best IKON line-up ever with the best song selection, so hope to see you at our shows.
Didier BECU
24/05/2011
---
Nederlandstalig interview via de Dark Entries website.
Didier BECU
24/05/2011
---