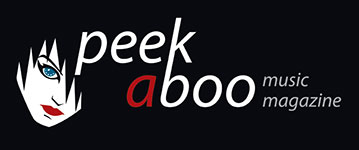 like this interview
---
ARBEID ADELT!
During our performances this summer, we will supplement many classics with vintage-80's tapes and new songs!
17/03/2013, Didier BECU
photos: © Marquis(pi)X
---
How would you describe Arbeid Adelt! musically nowadays?
Marcel Vanthilt: Belgian electro-pop, so elektrobel! But also unique, because the sounds is crazy and unconventional.
How was playing at Sinners Day? Did you have any contact with the other artists and how was that?
Sinners Day was fantastic. They had a great sound system, stunning graphics, and a LED wall with which we could let loose and of course there was a very fine audience. A high point was Jah Wobble playing bass during "Death Disco." It seemed unlikely to have the author of that PIL song together with AA! on the podium, while he actually knew nothing about the cult status of the AA version of "Death Disco." It was first picked up during New Beat and later by 2 Many DJ's. Jah Wobble is a very charming man and he still makes very exciting music.
How does it feel singing in French? And why did you choose explicitly for Dutch as the language for the songs?
French feels quite natural with Dani Klein beside you. "Decoiffee" (the French version of "Stroom" (Current)) was written at her kitchen table, in Brussels, while we were shrieking with laughter. Mixing French and Flemish feels really normal. But I do prefer Dutch as the main language for my lyrics, because it is the easiest way to make them easy-going. Although many find Dutch to be a rigid language, I think that is absolutely not true. You can cut and paste the text and play with words to create whatever you want; you can craft your own language.
Luc Van Acker could relive the glory of The Ship and Marcel Vanthilt made another album, Z (with spicy texts), but what have we missed? Who has done what?
Luc has done a lot, but you would have to ask him. Jan Vanroelen (David Salamon) has a solo project and released "Noblesse Oblige" (1993) under the name Arbeid Adelt!. He has also worked with Plastic Bertrand! I also have a CD with Ad Cominotto called You are!, from 2001.
Nice to see that Arbeid Adelt! brought together some famous Belgian artists. How do you feel when looking back on your start?
I look back on the beginning with bewilderment. The important thing is that we did it and it was appreciated! We didn't know in which direction we would go. And, eventually, it went nowhere at all!
Two Flemish groups that are known for their sharp lyrics and somewhat leftist attitude (if it is only in the name) are Arbeid Adelt! and Aroma di Amore. Have you ever done anything together or are there any plans in the pipeline? If not, why?
We have performed alongside each other many times and I recorded a song together with them under the name De Bange Konijnen (The Scared Rabbits). The song was called "Shit, Ik ben verliefd op Sandra Kim" ("Shit, I'm in Love with Sandra Kim").
How did the text of "Johnnie Sexpistool" arise?
I was joking around and telling obscenities to myself to a silly melody from Jan Vanroelen. It was never meant seriously, but suddenly the record company (Virgin) released it as single. I think it's funny, but am not particularly proud of it.
I also read that your most famous song should have actually been called "De dag dat de dokter geen pillen meer voorschreef" (The day the doctor did not prescribe pills anymore), but that the record company did not agree with it. Is that true?
No No, there was no record company involved, because we financed and self-released that single (our second) ourselves. When we walked into the studio it was titled "De dag dat de dokter geen pillen meer voorschreef," but Jan Vanroelen didn't like the title. So I altered the text on the spot, just before I sang it, into "De dag dat het zonlicht niet meer scheen" (The Day the Sun No Longer Shone). I think both titles are good. Maybe we should do a new version titled "De Dokter." Let's do that!
How do you recall the 80's, Marcel?
Very positively because so many brilliant things happened then, at least for me. I was a rock journalist for Humo, a free radio DJ for FM Bruxel, a TV producer for Roodvonk and I worked for the VPRO in the Netherlands. I was also singer/musician in Arbeid Adelt! and The Yeh-Yehs. The days and nights when we were on all stages in Flanders and the Netherlands were all incredibly fantastic. Nothing is as much fun as being on stage and playing your own music.
Do you try to reach new audiences with your current performances or is it merely melancholy?
No, not only melancholy or nostalgia, preferably not. I hope that we are also relevant today, not necessarily that we appear in the charts or are played on StuBru, but we wish to remain significant in the live circuit. AA! is a vintage 80's band and there is nothing wrong with that, but we must continue to give really strong and good live appearances. We need to entertain people in our own headstrong manner.
Is John Terra still not talking to you or is all forgiven and forgotten?
That conflict has long been settled. We have even performed "De dag dat het zonlicht niet meer scheen" a number of times together with John Terra. It is always fun. We start with the AA! version and suddenly John Terra joins us and the music evolves seamlessly in his version of "De dag".
Will there be a new album or a single?
Yes please! I'm writing songs again. We just need to find a good moment….
Tell us something about your upcoming gigs.
During our performances this summer, we will perform many songs that we also did at Sinners Day and at the AB Rewind concert , but supplemented with vintage 80's-tapes and new songs! I really look forward to it.
What is your favorite album of all time and why?
Beethoven's Ninth Symphony. Why? Because everything by Beethoven is perfect.
What can we wish you guys?
Good health and willing groupies!
Didier BECU
17/03/2013
---
Hoe kunnen we dezer dagen Arbeid Adelt! omschrijven op muzikaal vlak?
Belgische elektro-pop, elektrobel! dus. Maar ook uniek, wegens geschift en onconventioneel.
Hoe was het trouwens om op Sinners Day op te treden? Enig contact gehad met andere artiesten en hoe was dat?
Sinners Day was fantastisch, 'n geweldige geluidsinstallatie, magnifieke ledwall waar we grafisch konden mee loos gaan èn 'n heel fijn publiek. Top was natuurlijk dat Jah Wobble bas kwam spelen op 'Death Disco'. Onwaarschijnlijk dat de schrijver van dat PIL-nummer gewoon met AA! op het podium stond, terwijl hij eigenlijk helemaal niks afweet van de cultstatus die 'Death Disco' in de AA-versie heeft: eerst opgepikt tijdens de newbeat en later nog 's door 2 Many DJ's. Jah Wobble was bovendien 'n zeer charmante gast èn hij blijft nog steeds zéér boeiende muziek maken.
Hoe is het trouwens om in het Frans te zingen? En waarom kozen jullie expliciet voor het Nederlands als voertaal voor de nummers?
Frans is, als Dani Klein naast je staat, heel vanzelfsprekend. 'Décoiffée' (de Franstalige versie van 'Stroom') hebben we, gierend van het lachen, geschreven aan haar keukentafel. In Brussel. En dan is Frans mengen met Vlaams normaal. Maar, ik verkies het Nederlands als mijn voertaal in liedjesteksten, het bekt en kwekt het makkelijkst. Hoewel velen het 'n stijve taal vinden, is dat absoluut niet zo. Bovendien kan je knippen en plakken met woorden zoveel je wil, je kan je eigen taal ineenknutselen.
Luc Van Acker mocht de glorie van The Ship herbeleven, Marcel Vanthilt maakte nog een album 'Z' (met pittige teksten). Wat hebben we nog gemist? Wie heeft nog wat gedaan?
Luc heeft nog heel veel gedaan, maar dat moet je hem vragen. Jan Vanroelen (David Salamon) heeft 'n soloproject uitgebracht onder de naam 'Arbeid Adelt!', dat heette 'Noblesse Oblige' (1993). Hij werkte ook samen met Plastic Bertrand! En ikzelf heb ik ook nog 'n cd gemaakt met Ad Cominotto, in 2001, die plaat heette 'U nu!'.
Best leuk om te zien dat Arbeid Adelt! bekende Belgische artiesten bijeenbracht. Hoe blikken jullie terug op jullie start?
Met verbijstering. We deden maar wat en het sloeg aan! We wisten eigenlijk helemaal waar het allemaal naartoe ging. En uiteindelijk ging het ook helemaal nergens naartoe!
Als we twee groepen moeten opnoemen die we kennen omwille van hun scherpe teksten en ietwat linkse houding (alleen al jullie naam) zijn het toch wel Arbeid Adelt! en Aroma di Amore. Hebben jullie nooit iets samen gedaan of staat dit op stapel? Indien neen, waarom?
We hebben veel samen opgetreden met Aroma en ik heb ooit één nummer samen met hen opgenomen. Onder de naam 'De Bange Konijnen', het liedje heette 'Shit, ik verliefd op Sandra Kim'.
Hoe is de tekst van Johnnie Sexpistool ontstaan?
Al zwanzend, in mezelf wat schunnigheden verkopend op 'n huppeldepup melodietje van Jan Vanroelen. Het is nooit ernstig bedoeld geweest en toen bracht de platenfirma (Virgin) het plots als single uit. Ik vind het grappig maar ben er niet bepaald trots op.
Ik las ook dat jullie bekendste nummer eigenlijk anders had moeten heten: "De dag dat de dokter geen pillen meer voorschreef", maar de platenmaatschappij ging hier niet mee akkoord Is dat waar?
Neenee, er was geen platenfirma, want we hebben die single (onze tweede) zelf betaald en zelf uitgebracht. Toen we de studio binnenstapte was de titel "De dokter die me pillen voorschreef", maar Jan Vanroelen vond dat maar niks. Dus heb ik de tekst, terplekke, net voor ik de stem inzong, verandert naar "De dag dat het zonlicht niet meer scheen". Ik vind beide titels evengoed. Misschien moeten we 's 'n nieuwe versie opnemen met als titel "De dokter". Doen we!
Hoe kijk jij eigenlijk terug op de jaren 80, Marcel?
Heel positief, omdat er zoveel geniale dingen gebeurden, tenminste voor mij toch. Ik was rockjournalist voor 'Humo', vrije radio dj bij FM-Bruxel, tv-maker in 'Roodvonk' en voor de VPRO in Nederland. En -vooral toch- zanger/muzikant van Arbeid Adelt! en ook The Yéh-Yéhs. De dagen en nachten die we sleten op en rond alle podia van Vlaanderen en Nederland waren allemaal ontzettend fantastisch. Niet is zo leuk als op 'n podium staan en je eigen muziek spelen.
Willen jullie met je optredens een nieuw publiek aanspreken of is het een kwestie van melancholie?
Nee, niet alleen melancholie of heimwee, liefst niet eigenlijk. Ik hoop dat we ook vandaag relevant zijn, niet per sé in de hitparade of op StuBru, maar wel in het live-circuit. AA! is nu 'n vintage-80's band, daar is niks mee, maar we moeten wel stevige en goeie optredens doen. We moeten de mensen van hun sokken blazen en/of entertainen, en dat op onze eigengereide wijze.
Is John Terra nog steeds niet te spreken over jullie of is dit ondertussen begraven en vergeten?
Dat is intussen allang bijgelegd. Meer zelfs: ik heb "De dag dat het zonlicht niet meer scheen" al 'n aantal keer samen met John Terra live gespeeld. Is altijd leuk. We beginnen dan met de AA!-versie en midden daarin komt plots John Terra op en de muziek gaat naadloos over in zijn "De dag".
Komt er nog een nieuw album of een single?
Graag! Ik maak weer volop nummers. Even afwachten of we 'n goed moment vinden.
Vertel iets over jullie volgende optredens?
De optredens deze zomer zullen veel nummers bevatten die we ook op Sinners Day en in het AB-Rewind-concert deden, mààr... aangevuld met vintage 80's-tapes èn nieuwe nummers! Ik kijk er zelf geweldig naar uit.
Wat is jouw favoriete plaat aller tijden en waarom?
De Negende Symfonie van Beethoven. Waarom? Omdat alles van Beethoven perfect is.
Wat mogen we jullie nog toewensen?
Een goede gezondheid en gewillige groupies!
Didier BECU
17/03/2013
---