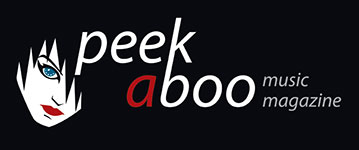 like this interview
---
C-LEKKTOR
Disappointed from apocalypse,creating an alternate ending! And yes i would love to work together with Suicide Commando if there is any occasion!
17/03/2013, Filip VAN MUYLEM
photos: © Marquis(pi)X
---
C-Lekktor, one of the most popular Mexican bands, is coming to Belgium (6/4/2013, in Petrol, Antwerp). Time to interview them. Marco was so kind to answer our questions.
Where does your name come from and what does it mean?
Hola...Well, I first took the name when I started out as a DJ 18 years ago. It comes from the word "SELECTION," which is exactly the result of a DJ's activities: selecting the music to be played during one's sets. I started the band just as a hobby and when a friend asked for a live show, I had no name for my project, so I used the one from my DJ-act. After that first show, I just decided to keep the name for the band.
You have been active for almost 20 years (first as a DJ). Can you tell us about some of your experiences?
YEAH, I'm so old! (Laughs) I have been involved in this kind of music since I was at school, first as a spectator, then as a collector (by buying massive amounts of CD's), then as a DJ and now as a band. From time to time I still play as a DJ: I just love sharing the music and I can't stop listening to music either!
In Europe we don't have a clear view of the Mexican scene. Most of us know you and Hocico, but how is it really to be a member of our underground scene?
The Mexican scene is not as big as it is in Europe. Our scene has grown recently, though, and more bands and projects are popping up and getting noticed. But it's still not comparable to Europe. I think we are far away from being a real scene, especially because we have just a few regular clubs like DADAX, THE UNDER OR UTA. Most people come to the events just to have some fun, to drink and dance, so sadly there is no real underground culture, yet. So far, people don't really get involved with the true meaning of the "UNDERGROUND SCENE." There are several things that need attention and you need broad shoulders to build things up into something like the European scene. But in the end, I think we are on the right track, I'm just not sure about the future of our Mexican scene.
Is it correct to state that Mexicans apparently love your kind of music, especially with its harsh industrial/EBM and aggressive elements, as part of a resistance against the state, conformism, etc.?

Honestly, it's been hard. Yes, people love hard styles of electronic music, but it has been quite a long and difficult road to get to where we are now. I think people follow this genre a bit more than others because of its lyrical content and the way the music is performed. It's really a protest against all kinds of establishments: religious, political, love and even the human race. You must keep in mind that we live in a third world country with plenty of daily suffering and a shitload of troubles.
What about your lyrics? Even just the tracks' titles sound pretty horrific, for example, "See My Hate," "Suicidal Tendencies," "Living Dead."
(Laughs) The music does, too. As I mentioned, I like to protest in my own personal way. Normally, on every CD we do this by working on a specific theme. The first one, THE SILENCE PROCESSION, is more of an anti-church protest (although not against religion) while the second one, TENDENCIAS SUICIDAS, is about the concept of suicide as the title explains. X-TENSION IN PROGRESS goes a bit more into how the automation of human life has numbed our feelings and encouraged a loss of our human side. We are working now on a new CD with a post-apocalyptic theme. I can say that I normally write the lyrics from my personal view on life including the way I live my life. So far the new album is 70% ready and we'll finish the rest after this tour.
What influenced you to become a DJ and join our underground culture?
The passion and the energy that I found in this kind of music encouraged me. The manner in which sounds coming out of machines can make a human body move to the rhythm of it is fascinating!
You will play in Belgium (as part of your European tour) at the vampire party in Antwerp, on 6/4/2013. What can we expect?
Hell yeah! We are so excited about this, especially because it's our first time in Belgium! So what you guys can expect is energetic-apocalyptic beats for your brains.
Is there a possibility that Johan Van Roy (Suicide Commando) will join forces with you on stage? Some of us dream of a solid collaboration between you two. What do you think of that?
Ii haven't talked with Johan Van Roy about it, but we did it a few months ago in Mexico City during the first Suicide Commando show. I'm not sure if we can do it in Antwerp, because Johan is a bit busy with his new CD and he's playing several shows all over the world. But I will suggest this to him and hopefully we can make something special for you guys. I'm sure if it happens it will be memorable!
You do a lot of remixes for other bands. Can you tell us something about some recent ones? Any chance you'll create something from the new Suicide Commando?
Not this time for Suicide Commando. But we do some remixes for bands that really like us. The most recent ones were for SURGYN and CINICAL EXISTANCE. There will be a few more remixes coming up.
Is being a musician your only occupation or do you have what some call a regular job?
At least for me it is, yes. I decided to leave my regular job and just work for the band. That can be good move or it can turn out to be a very bad gamble. At this moment, nothing is sure, but it's my dream! I'm a musician pretending to be a regular human, not a regular human pretending to be a musician. I do all of this because of my passion and love for the music! But I have to pay bills and I hope this decision wasn't be a bad gamble. I really hope it's worth it, but let's see what the near future brings!
I think in view of the economic crisis there must be a lot to write about: corrupt banks, people losing their jobs because some guy wants to make more profit, making profit for some seems to be more important than saving our planet... What enrages you the most?
Sadly, you are right, especially here in Mexico where corruption feeds fear, where poverty ends our dreams, and where death comes closer every day. So, yes the whole situation definitely enrages me a lot. We are working on this subject for future songs, too.
Can you tell something about X-Tension in Progress, your latest album?
On this one we tried to do things a bit differently from the past without losing our regular sound. I love different kinds of electronic music such as trance, hardcore, hardstyle, psycho DNB, dubstep, etc., and we wanted to put some of those elements in our new songs. The end result is pretty good, although there were some complaints about the changes, but change is good, too! Luckily we received many more good reactions from other people. On top of that, Side-Line Magazine mentioned it as one of the best albums of 2012. That is a real achievement for me!
To whom is "In Memoriam" dedicated? Can you tell us about it?
This track was written for a very close friend of mine, GABY GAESBE PUNTO G, who died from cancer. I miss her, but know we are going to meet each other again soon.
My Spanish is not so good, so what is the song "El Comienzo De La Muerte" about? Comedy of Death?
You are close. The translation would be "The Beginning of Death." This track is about losing our senses and our feelings. It's about losing the sense of being alive and about stopping the pain that torments us every day…we just want to be dead.
What can we wish you & do you have any last comments about Belgium (or the Belgian scene)?
First of all, thank you for this lovely interview. To all people in Belgium: we want to thank you for your support and friendship! Be sure to be at the Vampire party, you won't regret it! SALUDOS Y MIL GRACIAS A TODOS.
something great & epical!

listen to it, the link is inside & buy it if you like...
and share it, as a lot of people worked hard on it...

I hope you take the time to take a look at it......
http://www.peek-a-boo-magazine.be/en/reviews/various-artists-dwa-xxx-100-remixes/?viaadmin=1
you can now preorder the new C-lekktor's album here:
http://www.copint.com/ddtonline.asp?searchstring=COPCD139
Filip VAN MUYLEM
17/03/2013
---