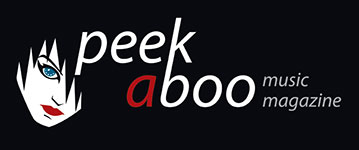 like this interview
---
RED LORRY YELLOW LORRY
We are more of an in your face Punk Band with an Industrial sound
16/03/2013, Didier BECU
photos: © Marquis(pi)X
---
Soon you can catch Red Lorry Yellow Lorry along with Chameleons Vox on stage in Holland (26th April in Heerlen in De Nieuwe Nor). Peek-A-Boo was proud to talk to founder Chris Reed.
Hello, well I always thought…why does a band name themselves Red Lorry Yellow Lorry?
The idea was to make people think and ask this very question, just like you. It makes people curious as to what we are all about.
You were at the cradle of a new sound in music. How important are you in music history you think?
We are one of those bands who just do their own thing and have our own sound and style. We are still as relevant today as we were when we first began, although we have never been a massively commercial act. We have influenced a lot of other bands for sure.
After a demo you immediately got signed. Do you think you had tons of luck, tons of talent or were such things possible in the eighties?
We were offered several record deals very early on, so I guess they must have seen good talent in us. The 80's were a much healthier time for Independent record sales than right now.
You got the support from John Peel. Sometimes I tend to think that one John Peel is more important then all the Facebooks and YouTubes throw together, not?
We generally agree with that. John Peel was a great champion of bringing interesting new Bands and Artists forward to people over the airwaves that they would not so easily have had the chance to hear over commercial radio. However, Facebook and YouTube at least give the possibility to give Bands and Artists some independent possibilities and presence on the internet these days.
You are often seen as a Goth band, but I never thought you actually were…more like punk that's right in your face but with an industrial sound.
It's true, we are more of an in your face Punk Band with an Industrial sound. Some aspects are also quite phsycadellic as well. We seem to have been embraced by the Goth audience because it is a dark kind of sound we make.
You are from Leeds. I remember that we used to link the dark music scene from your town with the industry over there. Is that so or is that just a myth?
Yes, we are from Leeds – a City which grew up with Factories, Cloth Mills and Industry. It most likely caused and influenced a hard edged and machine like sound to come from the Bands here.
Can I say there was a Leeds-scene in the sense that you knew each other?
Yes, we were all in it together. It was an exciting time because the Bands were beginning to get recognition outside of Leeds, which helped us to inspire each other and gain more confidence.
In 2003 you decided to revive Red Lorry Yellow Lorry, why?
I don't really think it was a case of reviving Red Lorry Yellow Lorry. I had been taking a break from doing the band and spent some time living in Hamburg Germany. It just seemed like the right time to get back into doing it again.
I know it's a nasty question, but I play my old RLYL-records too. Do you never got tired by performing those old classics?
Well not really because we don't play so often these days apart from more selective shows. The songs are still so good and timeless that we can shake them up a bit and probably play them better than ever before. Besides which, we have new material mixed in as well to keep us on our toes. I am not one for living too much in the past.
To be quite honest, I just discovered that you did something under the name Chris Reed Unit. Can you tell us something about it?
Yes, ChrisReedUnit is an alter ego of mine to do some solo stuff. It's a stripped down kind of thing and is more about the songs and the voice than the big barrage of sound with Red Lorry Yellow Lorry. I have a ChrisReedUnit album called Minimal Animal. I perform material from this Album as well as some Red Lorry Songs on my own or sometimes with guest musicians.
To purchase The Album Minimal Animal or for more info visit: http://www.chrisreedunit.com
You're talking to a man who is in his mid-40's and I sometimes tend to say that they don't write tunes like you did these days. Talk from old men or is there a truth in it?
Difficult to say. I think that there is definitely a lack of rebellious music these days. Many bands seem to be pretty watered down and missing attitude.
You soon will play with The Chameleons in Holland. Does this band mean anything for you?
Yes, we like the Chameleons. I know Mark Burgess from when he was also living in Hamburg for some time. We played a show together in Milan a short while back and the 2 Bands fit together really well. It's a great double bill show.
In fact, do you have heroes?
Yes, quite a few musical heroes, but also anyone who is being honest, themselves and trying their best for themselves and other people. There are a lot of unsung heroes out there doing great things who have no interest in being some kind of celebrity.
Let's finish with two questions I always ask. With whom wouldn't you mind to be alone with in an elevator for 8 hours and what would you do then?
Probably Nelson Mandela. He spent 27 years in prison for his beliefs, so he knows a thing or two about surviving in a confined space and how to come out with his dignity in tact. He just has this aura of composure. Once we were out of the elevator I would like to spend more time with him to ask more stuff about his life, because 8 hours would not be enough.
"The greatest glory in living lies not in never falling, but in rising every time we fall" – Nelson Mandela
What's your favourite record of all time and please state why?
"Hey hey my my, Rock'n Roll will never die" from the album Rust never sleeps by Neil Young and Crazy Horse. – It's a Classic Guitar riff; Classic lyrical sentiment and Crazy Horse are the best Band Neil Young has worked with.
A message for the Peek-A-Boo-readers could be?
Red Lorry Yellow Lorry is a band who has always followed their own path for discerning listeners both young and old. Check out our shows when you get chance. We are going to release an Album of great new material this year.
Follow us on:
http://www.red-lorry-yellow-lorry.com
https://www.facebook.com/rlylofficial
Didier BECU
16/03/2013
---