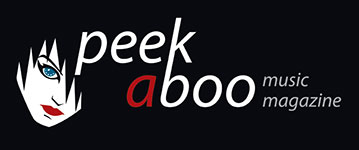 like this interview
---
HUMINOIDA
One thing that amazes me is that some people seem to take the song lyrics VERY literally. I mean, there are serious topics on HUMINOIDA records, but then there's this surreal and pitch-black crap as well.
23/06/2013, Jurgen VANVLASSELAER
---
One of the most interesting Finnish projects at the moment is without a doubt HUMINOIDA. Intelligent synthpop combined with the fantastic vocals of former [Active] Media Disease and Neuroactive singer Kimmo Karjalainen. His new, and excellent, 10" has just been released, so it was an ideal time to have a talk with the man behind the machines:
Welcome Kimmo. Your musical journey started in the 90's with [Active] Media Disease. Or were you in other projects before [A]MD ?
Hi, thanks for the interview! No, I wasn't in any "proper" band before [A]MD, but I made some primitive recordings with a 4-track recorder, Yamaha drum machine and Jupiter 8 (the non-midi version - these were unbelievably cheap in the late 80's). I didn't even bother to do any understandable lyrics, just some pseudo-english howling on top of a hellishly dysfunctional soundtrack. Great stuff ;-)
I joined [A]MD around -92 or -93, and that was an interesting ride. We were a strong willed, young and highly
ambitious bunch. It's funny to think about it now, and I'm kind of proud of all that enthusiasm and attitude, but back then it became clear that it wasn't going to last for long. There were just too many opinions and ideas pushing the band in different directions. I was actually surprised that we got the full-length album done and that it turned out to be so good. Some of the material hasn't aged that well, but there are couple of tracks that I still enjoy.
After a while you started doing the vocals in Neuroactive as well. How did you end up in that great band?
Ville and Vesa had already left Neuroactive and Jarkko was planning to do an album with guest vocalists. He knew me from [A]MD and asked me to sing Parallel. Jarkko was moving towards a synth-poppier sound and that suited me fine. We were both pleased with the result and our co-operation went really well, so he asked me to do another song. And then another... At some point I realised that I became a full member of the band.
You released a few albums with them and then suddenly disappeared from the Neuroactive radar. What happened?
Many people seem to assume that there was some tragic breakup or something, but that's not the case, on the contrary. Jarkko and I both had very time consuming jobs at that time, and he also had two little kids so that slowed things down and basically the gigging stopped. The usual shit - life got in the way. I like the two albums we did together, especially the latter Transients , with its darker tone and cohesive set of songs, but after that I felt I didn't have much to offer to the band anymore, and also that I should start doing my own songs. I'm a very stubborn ass with these things: If I don't have the time or the drive to do the record wholeheartedly, I don't do it at all (very unprofessional, I know ;-) So, no big drama there, we're still good friends and Jarkko has also mastered HUMINOIDA records. And if I'm not completely wrong, he's going to release another Neuroactive album later this year.
I remember great Finnish bands such as Advanced Art, Shade Factory, Chaingun Operate , your projects, to name but a few, but could we talk of a Finnish scene in those days? Were there clubs which played this kind of music?
Those were exciting times, but I didn't see it as a scene back then, it was just this bunch of like-minded people, mostly friends and everyone was in a band.But yeah, I guess we can call it a scene now ;-), the synth & industrial club-nights and gigs were held rather regularly in the early 90's. In retrospect, the center figure of the whole thing seemed to be Pete (also known as Sam B) - one of the founding members of Advanced Art, later [A]MD and Shade Factory, an epitome of coolness, great friend and a mystery man. Wonder what he's up to nowadays.
After you left Neuroactive you started with your own musical project : HUMINOIDA. Can you tell us something about the bandname?
HUMINOIDA is an odd, poetic Finnish word meaning "to hum", "to make a humming noise". I thought this would be an appropriate and original enough name for a slightly skewed synth band. (the first release was a dark instrumental drone with the hand-scratched b-side. Avantgarde! - High Art! - Madness!) And the similarities with the english word "humanoid" doesn't hurt a bit...
Are you at the moment involved in other projects next to HUMINOIDA?
No, not really, but I did vocals and lyrics to three tracks on the forthcoming album of Finnish electro-pop band Nyx. I gladly collaborate with other bands every now and then if I have the time, but HUMINOIDA is the main thing for me.
After a few great vinyl singles, your debut album Whiter Album saw the light of day in 2011. How do you look back on it? Are you still satisfied with the result?
This may sound a bit big-headed but I'm very satisfied with it. I think the material is strong and I'm especially pleased with the diversity of the songs and how they blend with each other. I don't see any reason why there couldn't be positive synthpop tracks (Time And Space, Sound Of Synthesizers) and heavy, genuinely weird stuff like Folk Of The Twilight Counties on the same record. And of course the 2LP+CD set looks rather nice.One thing that amazes me is that some people seem to take the song lyrics VERY literally. I mean, there are serious topics on HUMINOIDA records, but then there's this surreal and pitch-black crap as well.
It's not a wise thing to explain lyrics, but I just have to point out that the clingy stalker character on Obsessions isn't me, I'm not singing about myself, and I thought it's kinda obvious that you shouldn't take Other Side too seriously. Genesis has also generated some confusion... Oh yeah, surely I believe that the universe was created by giant slime oozing slugs :-P (Well..that scenario IS exactly as possible as the one that millions of people are believing at the moment.) But of course it's great that everyone form their own impressions of the songs and lyrics, that's the whole point of music.
During the process of writing and recording your next full album, you are going to release a few EP's. The first one, Mystic Summer, just came out as a 10" + CDR set. Can you tell us something about it?
I had this obsession that Time And Space should be released as a single - don't ask me why, as if it's going to get any radio play or anything ,and then Ville (ex-Neuro, Flux Fin) offered to do a remix of it and that gave me the idea of four or five tracks on a 10" vinyl (with the CDR for those people who don't own a vinyl player.)
I really like the new EP I have to say. It's also more 'poppy' than the Whiter Album and with the Flux Fin remix of Time And Space you will even hit the better dancefloors I think.
That's nice to hear, Jürgen. Yeah, I guess Time And Space is so unashamedly nice pop and She Said is also poppish, that those tracks give the EP relatively light and mellow feel, but then there's also Waves and The Boatman to add to the mystic side.I've noticed that I do music mainly for listening to and the songs seem to take some effort to "get into". I'm probably a bit thick but I don't consider things like dancefloor friendliness at all while making music. There are some danceable tracks on Whiter Album, but all in all it's not a party record.So it was really great that Ville wanted to do the remix, he added a whole different feel and a modern touch to the song.
As far as I understood, there will be a few EP's as inbetweenies. Will it be all 10"+CDR sets?
Yeah, I've planned them all to be 10"+ CDR sets, but one or two of those sets may be released after the full-length album.
Will the new full album be in the same vein as the 10" releases?
I try to achieve a slightly different mood to each 10" set, Mystic Summer is this light and well, summery one, but the songs that I've already made for the second album seem to be angstier. I try to maintain this diversity: pretty synthpop, heavy dark songs and then the weird ones. This time the weird may be really far-out, I have this one track that's musically almost unbearable and lyrically very unhealthy. Anyone with even a little sense wouldn't release it, but I just may... We'll see.
Another fact that I really like about HUMINOIDA are the formats of your releases. Colour disks, a 10", even the CD version of the Whiter Album was a special fold-out digipack.
Yes, the visual side is very important to me. Downloading is a handy way to distribute music, but I got used to
the physical formats as a kid, the sleeves and all that is an important part of the package to me, so I try to offer
something special and make an effort with the sleeves and inserts and unusual vinyls etc. Financially this is
absolute insanity but you got to do what you got to do.
Will HUMINOIDA be just a studio project or will you be performing live as well?

At this moment I'm not planning any gigs, but never say never, it would be pretty interesting to see if the
material would work live at all.


What's on the HUMINOIDA agenda the next following months?

The agenda is simple: More music.

Final word?

Don't give in to stupidity!
Thank you Kimmo for the great answers.Looking foward to the new album and the next 10" inbetweenies!
Jurgen VANVLASSELAER
23/06/2013
---