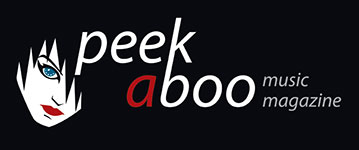 like this interview
---
SOUND & VISION
Sound & Vision is more than ever a combination of new wave and other musical influences that have crossed my path over the past thirty years.
07/06/2015, Xavier KRUTH
photos: © Benny SERNEELS
---
Sound & Vision is a rather new name, but the aim is to put the older minimal synth back into the spotlight. Dark Entries invited them to play at the next Dark Entries Night on Friday, June 12th and thought that was more than reason enough to have a chat with Lieven De Ridder and Tom Simoens, the two men behind Sound & Vision. Guess what? At the Dark Entries Night, you will be hearing several songs for the first time. But we'll let them explain it themselves...

Lieven and Tom, tell me, how did Sound & Vision come about?

Well, we already knew each other from the new wave period in the early eighties when Tom was playing with his first project Fata Morgana and Lieven did the DJ sets after the shows, including a performance at POC Waasmunster 1983 (see flyer). However, it was only in 2007 that we first worked together musically. We wrote 4 tracks for Aimé Le Chevalier, Lieven's DJ alias and a commonplace in the new wave scene. This cooperation worked perfectly and this resulted in the creation of Sound & Vision a few years ago.

You obviously work with a strict separation of tasks: Tom composes and Lieven writes the lyrics. Do you work separately or together? Have you found a good balance?

It is true that the music for Sound & Vision usually comes from Tom and that Lieven writes the lyrics, but the songs still have to get their final shape by meeting effectively. We also meet regularly to rehearse our live sets, from which new ideas sprout regularly to write new material.

You both have a pretty good record in analogue synth wave, Lieven as manager of Walhalla Records and Tom since he was apparently building his own analogue synths when he was just 16. Was Sound & Vision a logical extension of your fascination for this kind of music?

You can safely call Sound & Vision the result of a shared passion, indeed. A passion that led to a 'live' concept in 2015 in which we both return to our roots and the love for 'our' music of the early 80s. The designation 'old habits die hard' summarizes this perfectly.

The revival of minimal synth has been around for a few years and is really successful, especially when you consider the number of performances organized here in Belgium. Do you think this will be transitory, or will there always be an audience for this kind of music?

Lieven was the first in Belgium who has ever organized a minimal synth festival, notably on October 14, 2006 at OJC Kompas in Sint-Niklaas (see flyer) with Twilight Ritual and Oppenheimer Analysis on the bill and a great unexpected act of Martial Canterel. I personally think the genre will gain even more notoriety and the Belgian public will therefore continue to grow, a trend that we indeed see abroad too, in England, Germany, France, the USA…

Lieven, Walhalla Records exclusivelly aimes for vinyl editions. Is that out of nostalgia or is there a strategy behind that?

No, this is certainly not a strategy, but it is driven by a pure passion for vinyl. I've always been a vinyl enthusiast and I still play vinyl. The warmth of the vinyl and the beauty of the cover… nothing can beat that.

As manager of Walhalla Records, you probably have a fixed opinion on the crisis in the sale of CDs and vinyl...
CDs and vinyl are still bought, but only by a limited audience, which additionally shrinks year after year. Most youngsters don't buy music on traditional media. They seeks refuge in downloads. In my opinion, this will lead to the dissapearance of CDs over time. But vinyl will always exist (laughs). The decline in sales of CDs and vinyl challenges artists to find their way through concerts and performances.

Tom, you played in Fata Morgana in the 80s, and more recently in Agent 69. But you are perhaps best known as a members of Natural Born Deejays, a collective that even played at Tomorrowland. Can you combine this with 'Sound & Vision'?

Sound & Vision is more than ever a combination of new wave and other musical influences that have crossed my path over the past thirty years, including a beat here and there which differs from the new wave norm. In that sense, there is also a piece of Natural Born Deejays in the Sound & Vision genes. Without ever really having disappeared, my love for New Wave came back a few years ago and I absolutely wanted to do something with it again. After we had recorded 4 demos for Aimé Le Chevalier, as indicated above, I did not hesitate to contact Lieven again, and so Sound & Vision was born quickly without pains.

And, is there a record of Sound & Vision in the pipeline? By when do you hope your work will be available on vinyl or CD?

There will be a cassette on Wool-E-Tapes with the first 4 Sound & Vision songs that, in contrast to our performances, are rather minimal synth. We also just finished the video for the song "Art-I-Ficial", which can be viewed below in absolute premiere.

You are known for playing a multitude of covers live. Is that due to the lack of own songs, or is it just part of the concept? What do you have in store for us on the Dark Entries Night on 12 June?

Allow us to say that we certainly do not lack own material, but a quirky cover often occurs spontaneously while writing and creating new songs, and vice versa. Besides creative impulses while writing, such covers give an additional dimension and dynamic to concerts, and they also carry our audience back to 'the good old days'...

At present, we are putting the final touches on a cover by Frankie Knuckles ('Your Love'), Tom's tribute to his long musical partner in crime TC, who recently stepped out of life. That version will be presented to the public specifically on the Dark Entries Night on June 12. Besides Art-I-Ficial we got another new song, 'Downtown London Town' ald we have already played it live by way of try-out on 18 April 2015 at The Wommel.
Thank you. We look forward to see you on stage.!
Sound & Vision on facebook

Listen to Sound & Vision tracks on MySpace

Photographs by Benny Serneels (live @ Monotone festival Wommel JH 04/18/2015), except the two flyers that were provided by the band itself.
Xavier KRUTH
07/06/2015
---