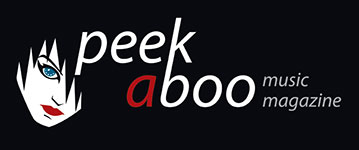 like this interview
---
POLYNOMIQ
The biggest mistake for a band (or a person) would be trying to copy somebody else, even if you're inspired by other artists.
07/10/2015, Didier BECU
photos: © Fabienne Botte
---
You want to hear a CD about computer languages? Nah, don't panic, it's not just a collection of boring experimental beeps, but gorgeous electropop like Kraftwerk or Gary Numan. The artist is Jean-Marc Mélot, the founder of Modern Cubism and his solo project PolynomiQ. So, step into the Peek-A-Boo shuttle and let's fly to Charleroi!
Well, hello Jean-Marc. If you don't mind let me start asking you something about Modern Cubism. Is this band still going or not?
Yes, sure, the project is still running. This third studio album is much more challenging than the previous ones, especially the lyrics writing process (as we're not using already existing poetry/texts), so it takes pretty more amount of time. Jean-Luc and I were also quite busy on our different bands, so all-in-all, the years are going by... but we're still on the run.
You fronted this project with Jean-Luc De Meyer of Front 242. How did that happen, was it a friendship or (sorry for being such a romantic fool) was it the fan that was meeting his hero?
Ahah, not really something related to a fan/hero story (sorry to break up your nice romantic vibe). To make it short, I was already a good friend of Thierry Codenys (Patrick's brother) and after a good time at a restaurant, we moved back in my home studio because Thierry wanted to know about what I was currently doing musically. I started to play 3 instrumental songs. To me, those tracks were just pure instrumental electronic music and I wouldn't even think of having someone actually sing on it. Then, Thierry asked me to burn a CD of those tracks because he wanted to give a hear to his brother and Jean-Luc. A few days later, I got a phone call from Patrick Codenys saying: "JM, someone wants to talk to you". Jean-Luc explained me he was listening to a few CD's at night, and then suddently he heard mine, and thought: "OK, that's that kind of music I'm looking for".We met a few days later at my home studio and then... you know the story.
Your solo project PolynomiQ opened my eyes and showed me that you are a sublime musician yourself. I guess in a way this makes you happy, not? I mean Jean-Luc De Meyer is such an icon who draws all the attention towards him…
Thank you for those kind words... When you're making something, you're pretty happy when people consider what you do as something pretty nice, I suppose.
Jean-Luc is indeed a world wide known guy, because of Front 242. With Modern Cubism we never wanted to do a kind of "242 bis" at all, as a result the lyrics and music are merged in a unconventional way... it is a bit like a table tennis game. If you change only one word, the whole track is different. If you change one synth sound, the whole track is different too. But obviously, we had some fans because of Jean-Luc's famous name, or 242. I'm not into ego things. There is no competition to know who's the first or something like that. I only focus on the project and how to get it to a high quality level.
The CD Languages is about all sort of computer languages. Please explain, I mean for 99,99% (and even more) of all the people all those languages are the same.
Those languages were specifically developped to do ONE kind of job. Back then, the computers that were around were thousands times less powerful than the cheapest smartphone available on the market. No graphical interface, no multi-tasks (or pretty limited), very small memory and limited storage devices. Back to the 60s. As an engineer you had to develop a tool pretty well to let it do a certain task (massive computation, files & I/O manipulation, reports management,...). Cobol was designed to handle pretty easily lots of different data types into indexed sequential files (ancestor of databases). So it was very well designed to do data management for banks, hospital,... But on the other hand, this language was very poor, mathematics wise. Lisp, Ada, Modula3,... were designed in the same way... just a very well conceived tool to accomplish a specific task.
Every track is named after a different computer language. Is that just a name or were those tracks made with that particular language.
It's just a track name. Everything was done around Cubase, which is written with C++ (laughs) However, because PolynomiQ is a full computer concept, the name of those tracks was randomly choosen by a little program I wrote.
Has the band's name (PolynomiQ) something to do with computers?
Not really... PolynomiQ was a name mainly choosen for mathematics representation "Polynomial Algebra" & "Polynomial Languages".
I understand that professional wise you're also working with computers. Do we have to conclude that you're a computer nerd?
Ahah, I think you may say that I'm indeed a computer nerd. I grew up with computers. I had my first computer (Sinclair ZX-81 with only 1kb ram) when I was 11 or 12 years old. I quickly started to develop (very) little games and moved pretty quickly to Zilog Z80 assembly, but on that computer, it wasn't very friendly to write programs in assembly... And because the computers... I moved from piano to synthesizers... So my life, since 1982, is made of that mixed technology... computers/electronic music... For more than 10 years, synthesizers are nothing else but a small computer with a simple architecture: cpu+dsp/ram/rom/dac. You mostly pay for the application research (which is the synth engine).
The music itself is sublime. Of course I hear influences (from Kraftwerk to John Foxx), but it's also a personal sound and I guess it's not that easy to come up with something original in this genre?
Certainly. I think thousands of concepts, sounds,... mostlty started to be developped since the late 60s. At that time everything was to be invented. You could create an innovative sound pretty easily. 50 years later, obviously, when you develop something, there is a chance of 99% that you "sound like"... It's unavoidable, because the music market is so big with a huge background made of so many different artists.
But the biggest mistake for a band (or a person) would be trying to copy somebody else (even if you're inspired by other artists). When I work in my studio, I don't focus on a band or a sound to be close to. I work mainly using constrains and challenges. Like trying to do sounds using only wavetables (and not typical waveforms from oscillators). I use lots of different technologies (sampling, VSTi, true analog gear, digital gear,...) and I put some limits. You're never so creative and inspired but when you put limits. I remember that guy doing a full song with basses, drums, leads, pads,... from only one sample (electric teethbrush).
"Ada" was designed on my iPad, using garage band. You have to deal with only 8 tracks. I was playing with it, and once the song was completed, I exported the project to my main computer and I started to design the sounds on different synths. If I had to play on all my keyboards without any limits, Ada would be a totally different track. That's why limits and constrains are very important !
Is PolynomiQ a studio project or do you play concerts too?
At this moment, it's a studio project, but everything is ready for a gig. I built up a full portable studio in a self-made case including two computers, keyboard & midi controlers,... It's partially live-sequencing (only midi, no audio previously recorded) and real-time playing (with a lot of real-time sound interactions). I did 5 videos... but it's a very slow process... everything is done using Blender for the CGI, and it needs lots of time to generate all those 3D environments and finally do a little movie.
Will you release other CD's as PolynomiQ or is it just about computer languages?
PolynomiQ is a true project with a long-term vision. The second album is 60% done already. It's completly different (the main topic is: clubbing). It's more techno-oriented but with huge technical challenges, but the result doesn't sound at all like you can hear in some clubs. I'm not sure if it's a kind of "new techno", but it's rather different from what you can hear normally in dance-music. So maybe somewhere in 2016 you'll get another "surprise" (laughs).
Sorry, but I can't resist this. Just like Sheffield is the ideal decor for industrial sounds, I think Charleroi is perfect for PolynomiQ.
Ahah, really ? (laughs). I don't know... Charleroi is often described as the worst place to be, but it's really all about a bad media feeling... Charleroi is not so dark as you would believe. I know this town very well, and there are gems to discover. Rockrill for instance... where all the biggest electronic musicians want to be seen...
I think PolynomiQ is maybe more "German" or"British" minded in its whole concept, and probably big and very futuristic architectures would fit better for this kind of project, rather than Charleroi and its huge old industrial factories you can find there...
What's your favourite record of all time and please state why!
If it's about a single: Frankie Goes To Hollywood's Relax. Because in my opinion, it's just the best dance track ever, using a 10 years ahead technology (at that time)... If you carefuly listen to them, it's impossible to find a technical mistake. It's hard to believe they used a 8bit sampling machine with so few Kb of memory! But they did it, and did it very well !
If it's about an album, then it's hard to say... I like Rio by Duran-Duran a lot, but maybe... Computer World by Kraftwerk.
With whom wouldn't you mind to be alone in an elevator for 8 hours and what would you then?
It'd probably be Jean-Michel Jarre... because I follow his career from the very beginning and he's a very clever and talented guy. I have a true respect for him. He's really into music and dares to do pretty risky things... He's doing things himself and knows everything about sound processing. I still have a lot to learn, and from a man like him, 8 hours would just be priceless!
The final words are yours….
I'd like to thank you for the time you allow me to answer this interview and expose my point of view, and also thank people for their interest in this project. Music is just about giving a good time & vibes to people. It's just unbelievable how a 3 min. record can change your mood. It's probably more efficient than any medication or drugsif you can feel the right vibe ! If this happens while you're listening to PolynomiQ, there couldn't be a better gift for me !
Didier BECU
07/10/2015
---