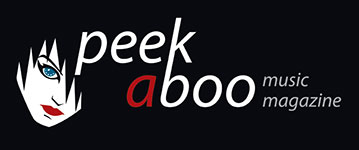 like this interview
---
DER KLINKE
I think if our label would decide to release 'a best of' say in 2020, 60% would still be tracks from our new album
17/09/2014, Didier BECU
photos: © Marquis(pi)X
---
Der Klinke exists 5 years. Not only has this Belgian band gathered a strong following, they also already released two albums and a third is on its way. In December they'll be be part of BIM in Antwerp. Reasons enough to talk to singer Chesko!
Hello Chesko. It's not the first time we are interviewing you, but this time it's special as not only you're part of the BIM-fest, you also are celebrating five years of Der Klinke. Let us also use this opportunity to introduce you to those who don't know the band yet. So here we go: how would you describe Der Klinke?
Well, "Der Klinke" is a Belgian newwave/darkwave band born in 2009 with a very unique sound, a sort of mixture of Fad Gadget with Calva Y Nada with Joy Division with Clan of Xymox with Christian Death with Neon Judgement with Dead Can Dance.. hahaha
Describe these five years. Tell us the high and low points.
Well the highs are of course all the releases and the concerts, and all the people we got to meet during those years, lots of them have become very good friends. The lows are things I have already forgotten or banned.. or too personal.
May I add something? I remember the days you were handing me over a demo. You weren't sure about your sound, almost apologizing yourself. In a very short time you evolved in all directions. I guess you see that evolution yourself?
As I said our sound is a sort of mixture of all different influences.. however in those five years we've managed to establish this sound of ours as it is always very recognisable. We did evolve of course, but not in all directions, just in our own direction, in our own sound. And this is indeed a very wide variety but always "Der Klinke"
Maybe I'm a groupie, but the reason why I liked and defend you so much is simply because you can hear your roots, but you have a very own sound.
Yes I'm a child of the eighties, witnessed the whole wave-scene back then as it was a whole new world to me and this really did influence my life from that moment on. And this goes for everyone in the band.. Marco and Sam were even part of "The Batcave" in Bruges in the nineties, a collective that organised lots of legendary concerts back then: Christian Death, Das Ich, Die Form, Corpus Delicti to name only a few.. So we do all have our roots in the wave and gothic scene and as I said before… we have so many influences resulting in a unique sound which is the combination of all of these.
You were picked up by Echozone. Are you still involved with them and did that deal opened doors in other countries?
Yes we are still under the wings of Echozone and we have been in magazines such as Zillo and Gothic Magazine in Germany many times already, but it's not easy because our sound is not a carbon copy of something else and so it takes about six years instead of six months to get accepted…
Talking about other countries. I saw you parading at the Abbey Road Studios. Your third album is recorded in the UK, not? Can you tell us something about it?
Well, what can I say ? We did not record the album over there, but the Abbey Road Studio's does appear in the "thanks to" section on the credits of our new album and that's really all I can say about that picture.
There's also something strange going on with that cover, not? Looks like these people show us some hope in days where everybody is mentioning the arrival of the Third World War…
Well this is very interesting angle to approach the entire album.. You know.. two years ago we've decided to call our second album "The Second Sun" because sun sounds as "son" and the first one had a moon in the title.. anyway… later on it seemed the whole Maya-thing, which was to happen close to the release, also was connected with some predictions of the rise of a second sun…. But this really was plain coincidence.. and now the third album is called "The Gathering of Hopes".. sound better than "The Third World War" even when it is our third album…
But indeed, the album is very hopeful in many ways.. even when seas are catching fire or stars would be moving backwards there would be people reaching out shouting "We are here" and that is the opening track of the album. The cover are all children.. because a child is also symbol for hope, I could talk for hours about that cover.. there are 12 children on it and you can also see a clock in it.. oh yes.. and look, remember in the days of the cold war.
Sting wrote a song saying it would be such an ignorant thing to do
if the Russians love their children too … Right now the world is facing new threats and let's hope it will not lead to a new world war though there is war and injustice worldwide already....
But really, the song "The Gathering of Hopes" was made before these global threats, and I got the idea for this cover somewhere last year.. so it all really is coincidence again…
One of the high points, at least that's what I think is The Doll becoming a club hit. I guess The Doll is in a way your Temple Of Love or A Forest, not?
Well I guess every band needs a song that is like a free pass to immortality, so for us "The Doll" is indeed our "Temple of Love" I also have the advantage of deejaying myself a lot too, when "The Doll" was just instrumental I mixed it into my sets making everyone curious what that track was… and so The Doll started to grow.. and now it has become a necessary track on every great party..
But until now "The Doll" has only been released as a single. and on a 10" inch marbled grey vinyl (practically sold out), so now on the full album, The Doll of course is also on it but again in a different version.. check it out !
I know you will say your new one. But what is the best album you made you think?
Hmmm.. thinking…thinking…. The new one ! Aaah, you knew it.. hahaha yeah but really it is.. but I'm also still proud of the two other albums, and not to forget my solo album under "Story Off" which was also released this year. Seriously.. every song on the new album is also a hope for recognition.. The Gathering of Hopes gets a new explanation now.
I think even if our label would decide to release a best of or some kind of compilation say in 2020.. 60% would still be tracks from "The Gathering"
I know this will be a hard one. How does it feel to be a talented band in days where the black scene is as good as dead. I mean, concert wise the big players are gone, there's even not a gothfestival around these days!
Don't we all worship dead…. Hahaha.. lots of things are contemporary such as concert promoters.. big players come and go that's life and dead. There are lots of good bands around and not enough festivals to put everyone on stage In Belgium alone there are still lots of festivals and almost every week a party somewhere.. so I really believe the dark scene is everything but dead..
Let me be very cruel, Chesko. In a way I think the decline of the goth scene is a good cause for talented bands. Good music always wins and in a way the band got freed from the suffocating category the gothscene has become…
Well well.. Don't forget gothic and darkwave comes from the newwave, coldwave so in other words postpunk scene, and punk started with the idea anyone could be on stage and be a rockstar.. no matter how terrible he or she was but lots of fantastic things came out of it..
So let us not despise this punk mentality because doing this would suffocate the entire music scene, giving everything to the majors only. Just saying: no first of all there is no decline of the goth scene.. if I see all the compilation albums featuring us it's funny to see the other bands.. some known but 90% new.. I do wish them all the best, because they are all talented, but next to making music we all have to invent new ways to become noticed..
Dead or alive, BIM is still alive and kicking. You're part of it, can you tell us something about it?
Dead or Alive had a great hit with "You spin me around" , "Still' is a legendary double album of Joy Division and "Alive and Kicking" comes from the Simple Minds.. but they did had lots of better songs and BIM ? Well don't know… It' stands for Belgian Independent Music and is organised by Mr. Bodybeast who also has a lovely girlfriend.. hahaha.. It's two days of the pure Wave, Electro, EBM, and everyone who reads this should at least try to be there !
What can we expect?
Oops.. ok sorry.. thought I didn't got that last question right.. Well ok.. we will bring a fantastic live set with 6 people on stage and our sound engineer comes from the legendary "La Muerte" so expect full power from a band that is constantly re-inventing itself !
If you could choose one thing in 5 years Der Klinke what would it be?
Gosh… so many memories.. shooting those early video's.. remember filming at a graveyard me saying "This path is a dead end".. hahaha.. , or staying for over a week at Martin Bowes from Attrition his place in Coventry.. , what should I pick… Ok, the love and friendship of so many people supporting us.. Really, this might sound cheesy but it really touches me over and over again..
Will we meet each other again in 5 years time?
Yes we will, on November 14th 2019 I'm expecting you at my front door at 9 o' clock in the morning singing Happy Birthday.. Deal ?
Peek-A-Boo makes a deal yes!
Didier BECU
17/09/2014
---