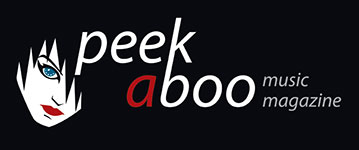 like this interview
---
DALE LLOYD (A VIDEOTAPE COLLECTOR IN 2014)
I will happily watch the latest releases on DVD and Blu-ray, but why spend heavily on older films that I already own on VHS?
18/10/2014, Didier BECU
---
On the bonus section from Stage Fright on Exposure Cinema you can find a lovely gem: a documentary named The Revenge Of The Video Tape. Passionate collectors talk about their VHS-collection and defend the format. Peek-A-Boo loves such people of course and we teamed up with Dale Lloyd, a man whose videotape collection is so big that he is regularly asked to show screenings from unavailable movies all over the UK

Hello Dale, let's start with the question you've answered a 100 times before. Why does someone collect videotapes?
I guess for the exact same reasons that anyone collects anything; it's taking a genuine interest in a particular subject – film - and developing a deep passion for it. I like most people move with the times and invest in the latest gadgets and gizmos, and I do own a Blu-ray player, it's just that VHS is my preferred choice. It's how I first got into movies and I see no reason why I should move away from it for my older films. I will happily watch the latest releases on DVD and Blu-ray, but why spend heavily on older films that I already own on VHS?
When people say they don't get me, I say I don't get those who believe a film has to look like DVD and Blu-ray quality to truly appreciate it. I mean, were your younger years just a complete waste of time?
VHS serves a very important purpose, and always will do until all films on the format make their way over to DVD or Blu-ray, or whatever the next big thing is (probably downloads). And that will never happen because big studios aren't concerned about 40% of the so-called crap that came out in the 80s and 90s. And that's fine, because I am, and I can pull them out of the collection and watch them any time I like. I have enough to keep me going for five lifetimes.

You're facing a fanatic DVD-Blu-ray collector, so you don't have to defend yourself. Having said that you're collecting a "dead" format. I mean, don't you fear the time that a video player simply wouldn't be made any longer and that you can't watch your tapes?
You can actually purchase a VCR-Blu-ray combo from Amazon, so I'm pretty sure it's all in hand. But yes, I do have those slight fears but I still see Beta and Laserdisc machines about so I'm not too overly concerned. I own about five tape players anyway and pick them up quite regularly when a decent make and model pop up. As long as we have sites like E-Bay, I'll be fine.

I guess it's like the vinyl versus CD-thing, but anyway. Technically speaking a video tape surely doesn't have the visual attraction from a DVD, let alone the one from the Blu-ray. I guess people say you're insane for watching movies on a format that is famous for its film grain, not?
I would never compare VHS to the current vinyl boom. In my opinion, vinyl should never be enduring this resurgence; it should be as popular as it was back in the day. CD's will never capture that sound. VHS was cheap to manufacture, hence the death of Beta, and just showed that the public back then was more interested in price than picture quality. Now we have 1080p, which is incredible, but I kind of believe that movies made back in a period like the 80's should always retain that element of grain. Director's could hide a lot in the darkness of tape that is really exposed when upscaled to Blu-ray.
I also don't think you can ever replace the artwork of an 80's VHS release. Those little intricate handdrawn works of art, similar to the Ghanaian movie posters. So much charm. DVD releases are cheap in their approach to marketing, they just want the thing out there.

I guess you're the kind of guy who is walking around at every flea market, not? Or do you believe in the power of internet trade?
When the weather is right car boots are my life. I am there every Sunday. I also go into every charity store I see no matter where I am in the country, if I see one I have to go inside. But it's getting harder and harder to find anything as the years go by so it's hard not to keep an eye out online at places like E-Bay, but thankfully here in the UK we have a private collectors forum where a lot of good stuff turns up from fellow collectors. The fun is always in the hunt so I try to use E-Bay as a last resort.

The video market was a delight for the action- and horrorgenre. Lots of gems that are unavailable. These days lots of labels are releasing them on DVD or Blu-ray. What do you think from that?
I like that there are companies out their like Arrow and Scream Factory who take care in picking up titles that others don't seem to care about, but you will rarely see me purchasing any of them. As I touched on before, I don't need it. Unless I fall in love with a movie, and we're talking top 20 of all time here, why would I need to own the disc? Like, how many times do you plan to view a standard 80s horror flick to justify the tag? I think those collectors have the biggest issues. I can spend £2 on about 10 new tapes from a car boot sale, which is almost 15 hours of viewing right there. I get just as excited during a movie that skips every 10 minutes as those guys do when posting screenshots of the latest Arrow releases

A video tape is a product from the 80's, so are you an 80's-addict?
I am, it's true. There's no harm in that. It wasn't my era as such as I was five when it ended, but they're my earliest memories. The fashion, the music, the video tapes I'd see on the shelves in my local rental stores, as if you can imagine a film back then took about two years to hit rental, so if a film came out in cinemas in '89, I would still see it on the shelf in the early 90s.

People might say you have a bad taste (so do I, mind you!) because those action- and horrorflicks are usually slashed down by critics, but if you look at your fave recent titles I see a lot of arthouse in there. I guess you're just a film freak, not?
I like to think of myself as a cinephile. An all-rounder. There are a lot of VHS collectors out there that stick to horror or action, but that's not me. Don't get me wrong, horror will always be my favourite genre, but I'm 'strange' in the sense that I can watch something like The Amazing Mr. No Legs one night, and then Step Up 2 the Streets the next, then finish the week off with Enter the Void. I'm just obsessed with movies.

I understood that you're regularly asked in the UK to show some rare films in cinemas. Can you tell us something about that?
I am incredibly fortunate to occasionally get asked to screen something obscure from the VHS era to a crowd. I try to select a title that is still unavailable on DVD or Blu-ray, otherwise what's the point? I've done single screenings, double headers and even all-nighters, where I do six movies back-to-back in one night. They seem to go down really well and I love doing them. With each one I learn a little more about what the regulars want and also try to theme them, too. I showed The Last Dragon earlier in the year in London and gave out free chopsticks with every order of popcorn.

What are the most collectable video tapes on the market and what's their price?
There are tapes that are collectable that come up from time to time like The Beast in Heat, which regularly fetches over the £1,500 mark. Journey Into the Beyond on the Citycenta label and Jekyll and Hyde Portfolio are two others, you could probably write your own cheque if you found them in good nick. I don't own any of those, sadly, but then I stick to my principles and never pay more than £30 for a VHS tape. I tend to stick to post-cert labels as that's the era I remember and have the greatest passion for. I have sold on a few in the past for big bucks, one fetched almost £600.

Well, we promise we'll never show it to your wife, but what is the most insane thing you've done?
In terms of VHS or life in general? Because I was quite the tearaway as a kid. I'll stick with tape life, and to be honest, my wife has been along with me for the ride on most. I have a knack for contacting sellers on E-Bay to let me come and see the tapes they have, and then I find myself at their door in the middle of goddamn nowhere, and then it hits me, I haven't let anyone know where I'm going. This guy could be a serial killer or a rapist. I remember going into one guy's house, he had a combover, his house stank of cat urine, and he had sick down the front of his jumper. There were letters and rubbish all over the house, no wallpaper or pain on the walls and he led me to his back room where he kept all his tapes. The thing is, I never blink an eye as I've always got my mind on the prize at the end of it all. I even gladly accepted and drank a cup of tea he offered me, spent over two hours there and came out with one solitary tape. That's the sort of stuff I do.

Being myself a fanatic collector I know it's the truth (lol), but collectors usually are 24 hours dreaming about their collection and even have some sleepless nights thinking what their collection still needs. What about you?
Not at all. I have a family and a very demanding job so I pick them up wherever I can but it's not like I think about them every second of every day, although it may appear that I do on my Twitter feed. I have lists of titles that I am always on the lookout for, as probably every collector has, and perform my regular searches at the beginning of every week on E-Bay, but they rarely turn up. I used to watch a film every night but it's incredibly hard these days.

Let me finish with two questions I always ask. What's your favourite movie of all time and please state why.
At this moment I will still say Vanilla Sky, but my viewing of Her a while back really blew a hole in that top slot and I guess with a second viewing that could really dislodge Crowe's masterpiece. Some days it's hard to move the top three (soon to be top four) – Vanilla Sky, The Warriors and Planes, Trains and Automobiles.
I just saw Vanilla Sky opening night and was left so confused by it. I then picked up a pirated copy some months later, really terrible quality, and that second viewing just secured it. I've never – until Her – been so emotionally involved and attached in any other film. Everything I feel about life and dream about was in that flick. It is so incredibly underrated and I think that in years to come it could finally start getting the recognition it deserves.

With whom wouldn't you mind to be alone with in an elevator for 8 hours and what would you do then? Don't say your tapes!!!
What I wouldn't have given to shoot the shit with John Candy for eight hours, but I'll pick someone from the living… Shannyn Sossamon. You know when you see someone and just feel like you have to know everything about them as a person? That's how I feel about her, especially after Rules of Attraction.
Didier BECU
18/10/2014
---