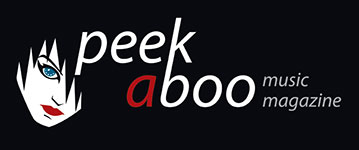 like this interview
---
LIZARD SMILE
'I still see it as the expression of appreciation par excellence to buy a physical album. It still remains more 'real' … one way or another.'
29/06/2018, Fred GADGET
photos: © Band photo's by Serge Baugniet / Live photo's by Benny Serneels
---
Lizard Smile is one of those fine Belgian Gothic-Rock bands who stubbornly keep on putting out quality releases and keep on performing to please their fans. They recently released their critically acclaimed EP Wandering In Mirrors on Wool-E discs and have some special release concerts on their agenda. Time to ask the boys from Antwerp some questions!
Hey guys! Finally we have a new EP but this time released on a new label, Wool-e Discs instead of your previous three releases which all appeared on Reptile Records? What is the reason for this change?
Strobo: Reptile Recordings, as guessed by many journalists by now, was an extension of Lizard Smile. We still do almost everything ourselves and it has not so much to do with having a punk-mentality but even more with the pleasure of assembling our songs all by ourselves, mixing them in the studio, determining the artwork.... Only for the mastering, which was done in Berlin by Erik Van Wonterghem of Prodam Studios. Wool-e Discs offered us this time to to help us release and distribute the final result.
Albi: I am very proud that we were allowed to lay our latest artistic egg at Wool-E Discs.
Beatnick: It should also help us with distribution, traditionally not our best skill.
You always take plenty of time to release a new record, does this have to do with inspiration issues or with lack of time?
Strobo: The best coffee runs through slowly, drip by drip. It is true that we are not able to work on our music every day but even then... the creation process within Lizard Smile is really slow, we plan and keep polishing until we are one hundred percent happy with the result.
Beatnick: If we release something new, we want it to be good! Our songs have to be well rehearsed and incorporated at the time of recording. That helps us to perform the song as it should be. After all, it can take a while before everything in a song falls into the right place.
Like your previous release State of Void, has this become an EP, is this a conscious choice?
Strobo: Yes! If we have six good track ready for the time that we had foreseen, we'll release them. On the first two albums that counted ten or twelve songs there are a few songs that can be considered as an album "filler".
Albi: Indeed, we prefer to release five or six numbers which stand out rather than ten or twelve, of which half give us and the listener gives a 'blah' feeling. It is not because you can burn 80 minutes of music on a CD that you also have fill it to the edge.
Beatnick: Also, in this case the songs really belong together. It would have been strange to add other ones to just have an full album.
Do you process personal experiences in your music and lyrics? Can you give some examples on this new album?
Strobo: This is without a doubt the most personal album that we ever released but otherwise I will not say anything about it because the lyrics and the way they are brought are fully accountable to Beatnick. I have, in retrospect, been surprised at how much the music and the lyrics are completely aligned. We do not really listen to the lyrics when we make music, and yet...
Albi: Beatnick.... enlighten the reader.... tell them now! (Laughs)
Beatnick: I really think it's better to let people find their own story in a song. That being said, the album is indeed the most personal that we have made so far. Strangely enough that has never been the intention. I never consciously wanted to put certain things in the songs and it was only afterwards that it became clear what I was singing about.
What are your personal musical examples and influences? For example, especially in the guitar and bass work, I think I recognize a high The Mission / Fields Of The Nephilim content, in the vocals Bauhaus or is this a coincidence?
Strobo: There are certainly some influences of those you mention but also so much more. Stun, The Bolshoi... but when making songs this is the last thing we are thinking of and if we ever thinking of this. We go for an atmosphere, an emotion, movement, melody... but well: my guitar is going through an 80s effects device.
Albi: Influences can not be ignored. The 80s, British 90s goth, minimal, industrial...
I think we succeed pretty well in camouflaging them properly and not having a typical sound. Already enough Sisters and Cure clones around! (Laughs) It is always nice to hear people - sometimes in their enthusiasm - tell them what influences they hear.. On the release night of Wandering In Mirrors someone else said: I heard Simple Minds and Human League. That is more fun than putting on tags by yourself.
Beatnick: Huh... Simple Minds? (laughs) I think that our background is clear and that the influence is easy to find but if there are recognisable things in our music, it's merely meant as a wink not so much as an effort to imitate.
How would you describe the music of Lizard Smile yourself if, for example, you have to describe your music to an outsider?
Strobo: Moody yet uplifting.
Albi: Dark & ​​gloomy with an entertaining twist.
Beatnick: Based on an eighties tradition in which we absorbed a lot of other influences along the way to finally arrive at our own place.
Besides your musical heroes, do you also have heroes outside the music world? Or what do you think are the most important recent developments or events?
Strobo: That women all over the world flock to the streets to protest against acquiescence of gang rapes, that women everywhere show it's not done to treat them as second class beings or as prey.
Albi: Heroes, well I already consider someone a hero when, for example, he stands on his brakes on a busy street to let mother duck and her five little ones cross. I find it fantastic to see the so-called "acidification of society" is often very remote. Unfortunately, the fact is sometimes terrible dramas have to happen to see the "acidification" fade away. It is amazing to see people of all kinds, backgrounds, convictions, sworn enemies help each other, reach out, support, shelter, give food, clean up rubble... I think it might not be so bad with our world as some want to make us believe.
Beatnick: I do not feel that way. If, in my opinion, there is one trend that emerges and that is more and more irresponsible figures gain the power in the world. You might think that over time we are evolving towards more responsibility but the opposite seems to be happening.
I noticed you still and stubbornly put the message "Unauthorized copying, lending and broadcasting of the record prohibited" on your releases. What is your view on the current and always opposing downward spiral of physical music carrier sales?
Strobo: When sales go down it does not have to mean music carriers are becoming worthless. On the contrary, I notice that CDs and especially vinyl records are still cherished in this world of volatile consumption by those who still value it. You can call it fetishism, it is really too universal for that. I also have masses of books at home and they do not stand in my way nor I think about getting an E-reader.
Albi: I think having the physical thing is still the most fun part. The smell of a sleeve, mat or glossy black, taking a coloured vinyl out from the inner sleeve, putting the needle on it, a crackle, a pop, a slight buzz... love it! Damm I do have a fetish (smiles)!
In addition, if you buy a hard copy record, CD, tape, book... you support the singer, band, writer or any form of artist in a more involved way.
Beatnick: Maybe physical carriers are having their swan death and I have no problem with them eventually disappearing. For the time being, I still see it as the expression of appreciation par excellence to buy a physical album. It still remains more 'real' … one way or another.
Maybe it is still too early for the obligated end-of-year lists, but still, what were your musical highlights of the past year?
Strobo: To experience a personal loss and yet still look at the action of Arcade Fire, that is something heavy to do. Hard to say if that was a highlight but nevertheless unforgettable. My little son who suddenly began to sing his first song, that blew me away too.
Albi: The release of "Wandering in Mirrors" (BIG smile). I thoroughly enjoyed The Damned, Fields of The Nephilim, Clan Of Xymox and Holygram on the recent New Waves Day in Germany and Akalotz at 'Stomp In Den Mai' who turned the night in a very strong and impressive party.
More recently, Nine Inch Nails in Amsterdam was definitely the ultimate highlight of the first part of 2018. More to come!
Beatnick: I've really enjoyed our own performances so far and the fact that the album is finally there. For me, the CD and vinyl are the symbolic closing of an important chapter in my life.
Do you still have musical or non-musical wishes on your wishlist that you would like to check off?
Strobo: I hope to reach as many people as possible with our new songs.
Albi: Above... check....and still hope to "conquer the world" (smiles).
Beatnick: Now that this EP is out, I hope to spend some time on new tracks and ideas. I do not think we have said everything that has to be said, yet! (laughs)
Fred GADGET
29/06/2018
---