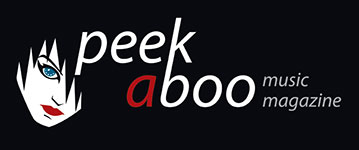 like this interview
---
DISTRICT 13
Many have a "life in chains", each for themselves.[...] Many would like to be free, but they are trapped.
23/06/2018, Masha KASHA
---
District 13 stays on the bright side of German synthpop. Some people compare them to Wolfsheim, others to VNV Nation... but, as a matter of fact, they have their own unmistakable music style gathering futurepop fans from around the world. The new album 'In Chains' is about to be released. We have asked Alex to tell us more about the album, the band and the philosophy behind it.
Since it is your first interview for the Peek-a-Boo could you introduce us to District 13?
DISTRICT 13 is currently only me, Alex Erbacher (music, lyrics & vocals) from Aschaffenburg, Germany.
Michael Volkmer (music & lyrics) was a member until October 2017 but for personal reasons he is currently taking an unforeseen break from the band. Before we formed DISTRICT 13, I was a singer, songwriter and producer of Alexxis Music Project, a one-man music project since 2013, which brought back to life the memories of synth sounds of the 80s and 90s. This all took place in my own local recording studio in Aschaffenburg. In 2015, I joined DISTRICT 13. If I had to tell you what makes us special, it is probably a unique combination of our sound and some very strong lyrics.
We also worked with many other fantastic music projects, such as Schwarzschild, Outsized, Arctic Sunrise, Neocoma, evo-lution, Infernosounds, Van Adrian, Black.Virus and reADJUST, just to name a few, complete the music portfolio of DISTRICT 13
Who is involved in this music project and how did you meet?
In early 2017 we signed a contract as DISTRICT 13 with the label KL-Dark Records. Since then we have worked with the fantastic producer Per-Anders Kurenbach and his studio 'House of Wax'. Per-Anders himself is also a member of Shock Therapy and reADJUST and he can look back on a joint collaboration with Joachim Witt / Leichtmatrose, Anne Clark, Sara Noxx and many others. We all met on Facebook/ Social media.
Could you tell us something about the story of the name?
The name derives from the eponymous material arts movie District 13 and there is no other message or embassy behind it. The name simply sounds cool, that is the only secret. Michael chose the name, that was before I joined the band.
You are playing the 'brighter' tunes of the synthpop scene. Which bands have influenced your choice?
Even though it might sound a bit simple and common, but I love Depeche Mode. Especially the older songs from the band but also the steady development over the many years that the band has existed. I´ve been also inspired by Wolfsheim / Heppner, De/Vision, VNV Nation and Covenant but the biggest influence definitely is Depeche Mode, with its brilliant minds and singers Dave Gahan and Martin Gore. They still reach my heart after so many years and this will never change in my life.
And which bands do you like to listen to at home?
Let's start what I do not hear... I hate those mainstream songs that are played up and down the radio stations every day. These songs are just made for the broad mass and have no sustainable value for me. Always the same chords, the same themes and only produced to sell as much as possible. They are played to death by the radio stations and therefore are at some point no longer worth listening to. I like to hear the old songs, the good stuff, that you have to listen to over and over again, without getting bored. I enjoy various genres to listen to. I like good old SynthPop, also I listen to Subway to Sally or sometimes even Rammstein, if I am in the mood. Of course the old stuff from Depeche Mode or The Cure which were not played so often in the radio stations. I also love the unmistakable voice of Peter Heppner and his way of packing expressive lyrics into magical songs.
I see that the lyrics are pretty important in your project. Who is writing them and how?
On the actual DISTRICT 13 Longplayer "As the Blue Sky Faded to Black" myself and Michael wrote the lyrics together. We both had enough themes that we wanted to put in to the songs. Every song on this album has a very special and personal meaning to Michael and I.
For the upcoming album "Life in Chains" (expected release in this summer) I wrote all the lyrics for the songs by myself. Even the name of the album hides a message. Many have a "Life in Chains" for themselves. We would like to be creative but we are not allowed to. We would like to be constructive but we cannot be. Many would like to be free but they are trapped. Many people are trapped in a system where they do not want to be. And so you can find a message in each of the songs, each track includes a statement. Of course it's also about love, pain, being alone, but also about death. All the topics that concern me and possibly all the people that enjoy my music. First, I let my thoughts and associations on specific topics run wild and then I complement them with the vocabulary of my feelings while listening to the sound. This process of writing is an approach that I have adopted over a long time. And when I sing these songs they sound authentic and in line with my emotional world.
How about the music - who does the composition and recording?
The composing for the upcoming album "Life in Chains" is again made by Per-Anders Kurenbach, in close consultation with me.
We bring our ideas together and something magical comes out of it. Working with Per-Anders is just wonderful and I'm very thankful for that. In addition to his outstanding skills as a musician and composer, he is also a wonderful and great person. I'm glad to know him and to have him musically at my side. My vocal recordings are recorded in my own home studio in Aschaffenburg, the mixing and mastering happens in the 'House of Wax' in Bochum/Germany by Per-Anders Kurenbach.
What can you tell about your last album?
The second studio album of District 13 'As the Blue Sky Faded to Black' is the intersection of danceable electronic beats and hymnic-quiet ballads. The songs combine great feelings and life-telling thoughts with the vocabulary of the 80s SynthPop.
In the title song of the album "As the Blue Sky Faded to Black" I sang together with Conny, the singer of the band Infernosounds. Sadly, Conny passed away this year and it was a very dark moment for all of us. We will always remember this song together with Conny. Her beautiful and unmistakable voice is unforgettable!
Any future gigs to come?
There are currently no concrete plans for performances. We already had requests for some festivals, including the Wave Gothic Festival and the RSE Festival. We'll see what this or the upcoming year will bring for us. It's not so easy to play concerts, especially in a music genre that does not appeal to the masses. So far we act as a pure studio band.
Can you leave a small message for the Peek-a-Boo readers?
Be always open minded for good music and please also support small bands and labels. Quite often, their music is better than the mass-produced music. There is a lot of passion, effort and costs in these small productions. Everything for you, the fans, the real music lovers. So give it a try!
Masha KASHA
23/06/2018
---