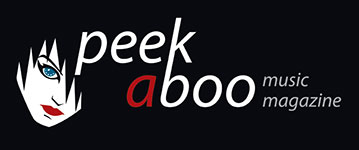 like this interview
---
TREHA SEKTORI
'I Have A Feeling Of Constant Dissatisfaction, So I'll Get Back To Work To Make It Better'
22/05/2019, Stef COLDHEART
---
The last year released album "The Sense Of Dust And Sheer" by Cyclic Law gave me the idea to get in touch with 'Dehn Sora' (real name Vincent Petitjean). The album is a fine selection of previously released and rare material, but it first of all shows the dark sound universe created by this French artist. He's now active under the Treha Sektori for more than 10 years and has released noticeable productions (mainly on Cyclic Law and Consouling Sounds). Dehn Sora talks in this interview about his work and global artistic approach.
(Credits first picture by Gaël Hervé)
We of course know you as music artist, but you're still involved with visual/graphic projects. Can you briefly tell us what it's all about and how you perceive yourself as 'artist' (referring to influences, style, criteria etc.)?
I don't consider myself as an artist, so to speak, to be honest. I try things, I have this possibility to express it through a visual aspect. But I never felt I am at a level of an artist. This is probably what keeps me working harder every day. This is something that helps me keeping balanced. I can get rid of visions that crush me, obsess me sometimes. I can take instruments, or try to materialize them on an image. Whether moving with a video medium, or fixed with photo manipulation, illustration, scultpure. I try things, so I can feel better. It is a way of shaping at my little level, history of interesting bands, individuals too, when it comes to collaboration I do with bands. I'm interested in shaping worlds.
As for influences, they are so vast, it is hard for me to define my style or influences. Somewhere between primal arts and spiritualities (lately I'm documenting a lot on Voodoo culture from Benin for example), a curiosity cabinet from a different sphere, the living experience of carrying burdens. Something physical in the end.
I can imagine it must be really exciting to combine different artistic exposures like music and visuals and that's precisely what you've done on "The Sensation Of Being One Of them" (2015). This EP featured one single cut, which is also the opening track and title of the new album "The Sense Of Dust And Sheer". Tell us a bit more about this particular track and the concept behind?
I have tended to go to a much 'bigger' vision when it comes to releases for a few years. I never felt visual, music, words can be disconnected. They are all a part of the expression that should make their own sense, in a story. Being able to release that book and disc was a first step in that direction. I feel lucky that it saw the daylight. It was very motivated by this feeling and questioning on how you can't feel neither prey neither predator. The subtitle was "We are no wolves, we have no predators". Thinking of the world in a binary term, you're an alpha or you get crushed. I felt more and more uncomfortable with it, because I could not relate to it. I had a strong feeling of unfairness, in many points. This was about being at the edge of falling, cracks above the feet, but facing the danger.
The album features several songs that were originally released on split-albums next to a track featured on a compilation and a kind of soundtrack. How did you come to bring these specific songs together?
It is a way of gathering different times, different shapes and tries. There are tracks that were released on splits, used to live alone or on a short time context. The idea was to give them another life by orientating them in a full length condition. There're some years in between some tracks, but the story remains the same, the core of it is the same nature, but with an evolution I hope. That's a bit of a testimony, gathering these sole children to a safer context.
Most of the time Treha Sektori is defined as 'dark-ambient' while I think it's much more than that, but the dark atmosphere recovering your music is for sure the basis of the music. How would you describe your work to people who never heard of Treha Sektori before and the way you compose your music?
Maybe something that never fits: there are rhythms, but they cut. There are melodies, but they fade. A sound for breathing non constantly, and I hope something that gives the listener images in their mind that can drive them to create something. That's my best reward. Composition process vary so much that I can't really explain. I like to collect instruments, to build some. I seek substance in everything I cross. For example, I had the chance to travel to Japan at the end of last year. I recorded a rite, some field recordings among bells, some taikos... I found a second of a man shouting at someone not to enter some sacred space. Gave me an engine to get on something, without using this material, because I didn't want to outrage this man, months after, kilometers of distance.
You've been involved with several music projects so what makes Treha Sektori maybe different from the rest and how did you see this project evolving throughout the years and the multiple productions?
Treha Sektori is inseparable from my life. I felt I grew with it. Finding the guts to get that sound on stage was a huge move in my life and personality. I watch in front of me, regarding evolution. I have a feeling of constant dissatisfaction, so I'll get back to work to make it better.
You clearly have something with Belgian artists; you did some split releases with Amenra, Barst, Innerwoud… while some productions have been released on Consouling Sounds. How do you look back at these experiences and what does fascinate you in working with others?
Most of the most intense, brilliant people I have met come from Belgium, true. I met some brothers there. People that changed me into a better person I think. That made me grow. Every collaboration I had with people and bands was unique. I had to face some strong visions that opened many more possibilities. That's what is fascinating. I mostly work alone, it has always been something very important to sometimes just watch people work. To get their energy, I like to collaborate with people that are the opposite of what I do, envision things. We find connections in the worlds we want to shape, but in a different path. That's what makes it exciting. Unpredictable, and see how it goes. I hope it's only the beginning.
Stef COLDHEART
22/05/2019
---