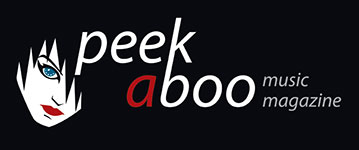 like this interview
---
DANIELLE DE PICCIOTTO
'I feel connected to other people because they understand the result of my thoughts.'
17/06/2019, Danil VOLOHOV
photos: © Sylvia Steinhäuser
---
After moving to Berlin, Danielle De Picciotto quickly gained a reputation. Firstly, with Space Cowboys which became an interesting and unusual project in those days. Nowadays, Danielle looks back on it with a certain nostalgia. After many years of living in Berlin her creativity didn't stop. Her recent album - "Deliverance" is something spiritual and authentic and also, something very personal. The record combines ambient and abstract beats with the principal instrument of Danielle De Picciotto - her beautiful voice. A few days after the release of "Deliverance", Peek-A-Boo got the chance to speak with Danielle De Picciotto. In the interview she told us about Berlin in the 80s, her musical background, about Space Cowboys and "Deliverance", about filmmaking and the next hackedepicciotto album.
In one of your interviews you speak about your first impressions of Berlin and the artists you met at the very beginning of your life in this city. The list of them includes Throbbing Gristle, Psychic TV, Crime & The City Solution. In what way did these bands and the atmosphere in Berlin affect your creativity ?
I came from America. From New York City. And there was a really interesting music scene there, which I liked but it was very dangerous, and so expensive. So when I came to Berlin, I was pretty amazed by the fact that the city was very rough and poor but it was not dangerous. And that's basically what influenced me most of all because, it's unusual for a city to be poor and rough but not dangerous. Usually, danger is always included. So Berlin was an exception. I could go anywhere I wanted. Day or night. As a woman. And not be worried. That for me was very important because in America you always live in fear. You always think you could get killed, shot, mugged or raped. And in Germany, in the Berlin of the 80s not at all… even now you just aren't scared. But of course, the city was surrounded by the wall. That was second thing I really like about it. That you could actually see politics. Usually, it's always an abstract thing you read or learn about but in Berlin you could actually see the Wall. And you could see the violence of what it means for a country to be separated in this way. So for me, these bands, the bands of the 80s - Throbbing Gristle, which is from the 70s or Psychic TV or Neubauten or The Bad Seeds or Diamanda Galas, they reflected this feeling. They were speaking about the violence we were surrounded with but usually it is not really tangible. Something you can't really touch or see. This for me, it was the most honest music I´d ever heard and I felt liberated. I always feel uncomfortable if I have the feeling that people are lying and this music for me was completely honest. That is why it changed my life. I realised that through art you can be completely honest. And you can speak about violence and hard things in an artistic way, which makes it bearable …but still, makes you think.
It's interesting to speak to you about this because, taking the example of two bands from this list: Throbbing Gristle and Psychic TV we can sort out a certain philosophy they provided. "Everyone can be a musician". So at that point of your creativity, did you think about being a musician ?
I started doing music when I was five years old. I played piano and I sang in a choir and because my father was in the U.S. Army I moved every year. So my creativity was basically my home. It was my only constant. So for me, creativity, music and art have always been the place where I feel most comfortable and the happiest. I usually feel like an alien outside of music and art.
During that period you were working as the singer of the Space Cowboys band. What do you think about that part of your career nowadays ?
Well, for me it was the first time I had a band. I had done concerts before in school with the piano and violin but it was the first time that I was actually performing with a band and writing my own music. Which was important because before that I would play classical music. So when I started Space Cowboys, I started composing and writing lyrics. That was very liberating. Space Cowboys were the first crossover hip-hop-rock-band in Berlin. For me that was interesting. Before you were either a rock-band or you were a 70s band or whatever but they proved that you could mix different elements of music anyway you liked. I became very interested in trip-hop because it was a little bit more surrealist. That's how I started to understand what composing your own music actually means.
On 15th May you released your new album "Deliverance". Could you please tell me a little bit about this record. When did you start working on it and how long did it take?
I write a diary. I always write in my diary and I note down lyrics all the time. So when I start writing an album or working on an album I usually look at my diary and I pick up different things I wrote. I started composing music last Summer in Berlin. It was actually the first time in a long time that I was composing in Berlin. I work very simply. I use my computer and work with the Abelton Live program and my instruments. So I don't do it in a huge studio. I think I worked on it for four months. So composing the music is something that goes quite quickly with me. I work very intensly. I usually work 24 hours a day. As much as I can. The lyrics are the result of my diary.
There are a number of artists who don't associate themselves with their artistic personality. For example Masami Akita, whom you may know as Merzbow. So let me ask you, what helped you to find the connection with your artistic personality, to understand yourself as musician ?
Well, like I said, it's always been my home. To work with music, to work with art, to paint, to draw to write. I'm actually more of an introvert, although I do enjoy performing very much. But I'm happiest when I'm in my studio working on my music because, for me it's kind of a way to be able to digest our world. There are so many things are going on that are completely incomprehensible to me. Environmentally, politically, socially. Also, on a personal level, how people ignore what's going on. So there are so many things I just don't understand and the only way I can somehow try to understand them is to digest them into my art and see what happens if I try to express them in paint, or in music or lyrically. And usually this process helps me to understand and to find ways in how to deal with things. And I notice that if I come to a certain conclusion it is something that other people can relate to as well. So this way, I feel connected to other people because they understand the result of my thoughts.
Listening to this record I found it just incredible, especially your lyrics. They're very abstract, very dark and very beautiful. Especially the line: "Where is the heart if you don't have a home ?". So the general themes of your creativity are usually built on your personal experiences ?
My lyrics are always very personal.
As artists Alexander and you usually put your main emphasis on the experimental side of things. On "Deliverance" you use your voice as the principal instrument, except with tracks like "My Secret Garden". But when you write, what helps you to form the vision of the final result ? Or is it all about doing your best until you think "This is it!".
It's all instinctive. I basically don't know what I'm going to end up with. It's like a stream of consciousness. There are some things I always like – unusual sounds, strange sounds, rough and annoying sounds and then beautiful melodies for instance or abstract thoughts. So basically I do what I like best and see what happens. Very often I do things with the looper. So I just loop and loop and loop…. and then whatever turns out is good or it's not good. And then I work with that.
As a visual artists you are also focused on the visual side of things. So I can't help but ask you about the visual side of the record. Do all these drawings have a connection with the songs on the record, conceptually?
Yes. My basic main theme in everything I do is the soul and the spirit of humans and the odd things that happened within their minds. So I'm always interested in unusual characters and outsiders and people that do not feel comfortable. Which is kind of myself (laughs), so that is what I draw. What I love about art is the texture, the colours, the canvas…I love ink because I can be very exact. I love being detailed in everything I do, detailed with words, detailed with sounds in music and the lines of drawings. I like making tiny little sketches and I also love colour. So on one hand it's the technical part about painting that I really enjoy because, while I'm doing this – I can think about lyrics and I can think about songs. I can think about sound. For me painting is very peaceful and a time to meditate but I also concentrate on depicting the inside of a person by painting their face and my lyrics are about the same thing. What the soul and spirit are about. The struggle and the difficulties. In that way my art and my music and my lyrics are all one. They are just different medias trying to express the same thing.
With Alexander you release an album practically every year. So one can say that you work quite productively! What allows you to work at such a tempo ?
Well on one hand it's necessity because if I'm not working on music & art I'm unhappy. And also if I don't work I don't earn money ( laughs ). So those two things combined push me all the time. I mean, I enjoy nature, I like meeting friends but I always feel like I should be creating. I have an incredible urgency pushing me to do that all the time. It's in my nature. So I'm always constantly working…and Alexander is pretty much the same. We're happiest when we can compose together because it's interacting on a subconscious level. You can tell each other things without having to speak about them. So it's a mixture of happiness in doing what we do and of course, we have to survive as artists.
I think it would be impolite not to ask you about your director's career. What does film mean for you ?
For me film is a combination of every art form. There is a picture, there are the visuals, there is the language, there is the sound…so of course, it's kind of the most wonderful possibility of putting it all together. It is also a wonderful way of being able to present interesting people. What I like about filming is doing documentaries or doing art films. One of the two. The documentary part is a lot of fun but I can't do it often because there is usually no budget. I do films about artists that not many people know about because I want to support them and I usually have to do it without money so that's why it takes a lot of time. My art films I do because I try to combine my music, my art and my lyrics and just for the fun and the joy of doing it. I'm trying to do more in that direction. I'd like to do a collection of poetry-art-films. That's one of the projects I'll be working on in the next couple of years.
Can you say that your experience in film-industry influenced your musical career ?
No, not at all because, I'm not actually in the film-industry per say. My music is the most important thing for me. My music, my lyrics, my writing. Then comes my painting and then comes filming. So I wouldn't really consider myself a film director. I would consider myself as an artist that does films once in a while and tries to combine her art and her music together in poetic, short films that could also be considered music videos. It's definitely not number one on my list. Number one is my music and my writing.
The last question I'd would like to ask you is about your next release. You have proven that you work very quickly and I hope to hear your next album soon. What will it be like ?
Well next I'm going to record an album together with Alexander Hacke – our next hackedepicciotto album. We will be recording in August, in England, in Blackpool which is a very interesting and strange city. It is quite dark but on the seaside. We thought it would be an interesting influence for our new compositions. I have also been thinking about my next solo album, which I would like to write in German. I usually write in English as it's my first language but I've been living in Germany for such a long time that I would actually enjoy working with the German language. But I'm not sure yet. First we will be doing the next hackedepicciotto album which I am excited about.
Danil VOLOHOV
17/06/2019
---