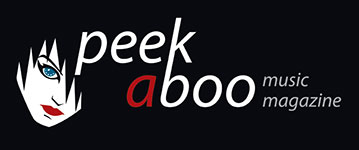 like this interview

---
ADULT.
'We have worked and risked so much to make this tour happen, so pleeeeeease come get wild!!!'
10/03/2022, Fred GADGET
---
Two years after their initial European tour should have happened to support their album PERCEPTION IS/AS/OF DECEPTION, ADULT. finally made it back to Europe! During the global Covid pandemic the couple haven't been hibernating but are presenting us yet another brand new album BECOMING UNDONE! Those lucky ones who were present at their fantastic concert at Magasin 4 in 2018 know this event is not to be missed! More than enough reasons to have a little chat with the band!
Let's start with your name, why did you chose the name ADULT. as a band name?
We wanted something generic in nature, something that the music would fuse into the name, not that the name would somehow try to describe the sound. We also thought band names like Sonic Youth were problematic as a band aged. Then we were playing one of our favourite records - Soft Cell's Non Stop Ecstatic Dancing - and the image on the back gave us the idea. (Click to see image)
Were you aware of the confusing and distracting google results this name choice would lead too? Or maybe that was your the intention, to create confusion and thus gain attention?
We choose our band name in early 1998 with our first 12" going into production in early summer of 1998. Google launched 4th Sept 1998. So we are before Google.
Your previous album was called PERCEPTION IS/AS/OF DECEPTION while your brand new album title is BECOMING UNDONE... can you elaborate a bit on those titles/albums for our readers?
We are happy to talk about either album, though this tour is for both albums since we weren't able to tour on Perception. PERCEPTION IS/AS/OF DECEPTION came out 10 April 2020. And to elaborate on the title and album PERCEPTION IS/AS/OF DECEPTION - that album is largely based on seeing and not seeing. How we as individuals and society chose what we want to see and not see. The problematic aspects of social media on culture. The cultural vandalism we are left with at the end of the day from corporations and politicians.
Our new album BECOMING UNDONE just came out last week...
Throughout your releases your "musical style" sometimes shifted from a very minimal old school electro approach, over to an almost the genuine "new wave" sound of, for instance, the D.U.M.E EP and Gimmie Trouble album, to the more clubby sounding This Behavior... Is it your way to let's say "confuse the cat" or have a bit of fun with the narrow-minded electro heads? Any explanation of how these seemingly musical changes sometimes occur?
We do enjoy messing with the genre algorithms but that's not why our sound changes so much. We just do exactly what we want. We are not worried about audience expectation and feel very lucky that our fans have followed through so many changes. Yet, we do feel at the end of the day everything we put out has an ADULT. stamp on it.
You have already had a lot of collaborations with various artists but who is still on your bucket list?
Yes, the 2017 collaborative album Detroit House Guests on Mute was an amazing experience. Working with Douglas J McCarthy from Nitzer Ebb, Michael Gira from Swans, Shannon Funchess from Light Asylum, Robert Aiki Aubrey Lowe aka Lichens, Austrian thereminist Dorit Chrysler and multidisciplinary artist Lun*na Menoh was an incredible experience! We are currently working with Justin Pearson from the Locust and Luke Henshaw. There are so many people we would love to work with - too hard to answer…
How do you both generally go about creating a new track?
We go in the studio and we try to get 2 layered lines that interact together well. Something the sounds unique. If we go in the studio with intention we almost make a song that is opposite. We call that process the slippery fish. We work to make the process always different. Sometimes it's 10 demos in 10 days, sometimes it is working on the same song for days.
Which are you favourite all time instruments and which is your most recent treasure?
Favourites:
Korg Mono/Poly
Sequential Circuits Pro One
Roland CR78
New:
We just got our Moog Minimoog serviced and it seriously sounds like a brand new synth!
Nowadays it seems to be rather cool to be an analogue or even modular synth wizard and user and since you both clearly like to use lots of (analogue) hardware, including in your live set-up, I wonder how far you stay away from software plug-ins and other digital technology? Are you both sort of analogue purists? :-)
We are not purists. We use a few plug ins in Logic like compression, spreaders, etc. We have some digital pedals. We're really impressed with the Roland boutiques. We have the actual Juno 106 and JU06 and like them both for their unique qualities.
How did you "survive" the C-19 pandemic so far? Did it have an influence on your creative outlet or motivation?
It was a hard time for everyone I think. It was very hard for us. We had a new album and a huge tour planned but after about 8 months we finally started to feel creative again (especially after the presidential election) and decided to write a new album. I think you can hear the struggle of C-19 in the album, while at the same time the album is not about Covid in any way.
Today it seems like Europe is slowly going back to normal but personally I have the feeling, and fear a bit, "we" lost quite a number of people due to being now glued to their comfy Saturday night soap / Netflix couch...
What would you like to say to them in order to kick their lazy **s out of that sofa and to get them to attend your current live show?
Having a shared experience is so important for the body and mind. Coming together as a community of weirdos and outsiders helps you have a little bit of hope in culture and humankind. That you're not alone, there's others out there like you. You don't get this full immersion at home alone. And we have worked and risked so much to make this tour happen, so pleeeeeease come get wild!!!

ADULT. will peform on Saturday 12 March @ Magasin 4 - Brussels (B). Together with tour support band Plack Blague and local support The Juggernauts.

TICKET & INFO
FACEBOOK EVENT
Fred GADGET
10/03/2022
---