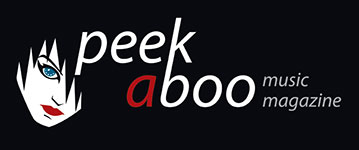 like this interview
---
ECHO ROAD
'There was no easy way or any shortcut to be taken in terms of producing something truly representative of the human experience. We simply had to 'just do it'.'
13/04/2022, Britta Tabrit
photos: © Echo Road
---
Peek-a-Boo Magazine had the chance to talk to the New-Jersey-based Rock band 'Echo Road'. 'Echo Road' are Michael Febles, Mario Giordano, Luke Becker and Gabe Vega.

How are you guys doing?
Hey Britta! Hope all is well in Germany, we've been doing great and are excited to speak with you again!

You've recently changed your band name from Hidden Figures to Echo Road. What happened? Why Echo Road?
As far as the name goes, we have been considering a change for some time, but the final nail in the coffin was finding another group with the same name. The process of generating a new name was a long one but we eventually chose Echo Road, after the street name where our vacation cabin is located. The air there is quiet and the trees outline a quaint and fantastical setting. It's a pleasant and calming escape to nature, so naturally it felt fitting as a new group title. Our name may be different, but the lineup is as it was: Mario and Michael on guitars and vocals, Gabe on bass, Luke on drums.

You've recently released a new Single. It's called 'She is My Songbird'. Tell us more about it!
'She is My Songbird' has been with us since fall of 2019, and its release is a long time coming for us. It is one of our favorites and has been played at just about every gig from its inception. The song concept began as a meditation on romance, but sort of evolved into something resembling a spiritual awakening as a result of gratification in companionate love. In the beginning of the song, the lyrics paint a dark, misty biome with rocky hills and caverns, which was definitely Tolkien-inspired. Even the image of the bird is taken from elements of Kate Chopin's The Awakening, which also connects heavily with another track on our album, 'A City in the Sea'. It's much more contained, though, and isn't as radically existentialist as 'A City in the Sea'. 'She is My Songbird' is more focused on the element of love and gratification as a means to genuine existence. On the musical side, the track embodies more of our folk and 60's pop influence with acoustic guitars, organ, and layered harmonies. There was definitely consideration of artists like George Harrison and Fleet Foxes. With 'Red Girl', the idea was to embody as much of our live sound into a studio recording as we possibly could. There really aren't overdubs in that song, even on the vocals, which adds to the rawness of it. The lyrics are much more straightforward in a bluesier style as we wanted to focus on the instrumental elements more and give each member a time to shine. There are quite a few blistering fills on the bass, plus two guitar solos and a gigantic drum solo in the middle section. Luke truly came into his element in this one.

You're planning an album release this March. What can you tell us about the release date and where can we listen to your music?
'Out in the Open' releases on Friday, April 15, 2022. It can be listened to anywhere and everywhere; although it is recommended to be heard with others at a more than sufficient volume.

Can you describe the process of making a record from the first ideas to recording it?
Our initial thoughts about creating the album were considered in its title. There was no easy way or any shortcut to be taken in terms of producing something truly representative of the human experience. We simply had to 'just do it', even if it took the three years that it did. From the ground up we built our studio, Bentley Sound, and just figured out how to run it. At the start, days would go by and we wouldn't even have a clean mic sound. There were plenty of all nighters, corrupted file mishaps, and you know, a global pandemic, but we each kept each other moving. Most of the songs were written throughout 2019, the exception being 'Eternity', which was written as far back as 2018. Out in the Open has been a long time coming, and we're most excited to share it with our fans. And of course, we are extremely grateful and fortunate to have such supportive friends like Aidan Jude Polemeni ('Jude and the Strangers', Evandria Recording) who offered his Evandria Studios for mixing and mastering, Ralph Cheuveret and Daniel Tineo who donated recording equipment and instruments, and Sumaiyah Siddiqui and Sarah Greiner who both sang background vocals on three tracks.

Do you write all the songs yourself? Who's in charge? Or do you all equally participate in the various stages of creating new music?
All of the songs were entirely self-written except for 'Eternity' and 'She is My Songbird'. The first one we wrote back in 2018 with Aidan Polemeni, as he was in the band at the time. With 'She is My Songbird', Mario was stuck on how to write the pre-chorus and then brought the tune into his music teacher who ended up contributing to that section. It's quite a critical part for the build-up to the chorus. Each song has its own story of creation, but Mario and Luke generally write the lyrics with the music being composed by each at different times.

You've recently played some gigs. Any future plans for more shows? Maybe also a tour? Music videos?
We have a ton of shows planned through July as part of the upcoming Only in Dreams Tour presented by Sovereign Stage Productions, and we have some fantastic supporting acts lined up like Jude and the Strangers, The Wednesday's, Crooked Ways, Nick and the Leg Heavy Boys, and many others. Our album release show is at the Maywood Knights of Columbus on April 22, 2022 with 'Jude and the Strangers' opening. Tickets are $15 and include complimentary food and beverage. Definitely keep an eye out on our YouTube this spring as we will be discussing and breaking down a few of our tracks in entirety.

Funniest moment you ever had at a gig?
The funniest moment we have had on stage was at a recent gig where Mario decided to improvise the 'Fresh Prince of Bel-Air' theme song over the beginning of Stevie Wonder's Superstition.
Name each other's biggest flaws… ;)
For Mario, Michael, Gabe, and Luke, their respective weaknesses are perfectionism, dying on hills, volume (he's the bassist), and vegetables.

Other plans, wishes, dreams?
Our focus is the album at the moment, but the year is still young. There are some tentative plans for some other music projects in the upcoming seasons. We have also been toying with the idea of short films of late.

Some last words to our readers?
Dusk is Born to Die
Echo Road online:
Facebook: Echo Road - Startseite | Facebook
Instagram: Echo Road (@echoroadband) • Instagram-Fotos und -Videos
YouTube: Echo Road - YouTube
Britta Tabrit
13/04/2022
---