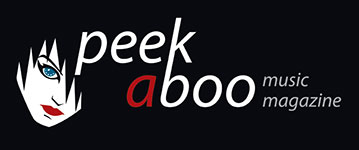 like this interview
---
MOVMENT
Finding Truth Through Dakness
05/12/2021, Chris WHEATLEY
---
Irish darkwave/post-punk duo Movment, aka Kevin Kelly and Martin Kelly, is a rare beast, concerned more with art and invention than fame and fortune. Their music is both cerebral and abrasive, but everything they do is fuelled by a contrasting faith in humanity, albeit coupled with an awareness of the challenges ahead. As the duo's offical bio states: "They mean what they say."
Peek-a-Boo sat down to talk to them about life, music and the future.
Can you tell me a bit about where you were born and grew up?
Martin Kelly: We are from Mullingar, a town in the middle of Ireland, 50 miles east of Dublin. Being close to the city, we frequently go to gigs in Dublin. I started playing drums in my teens, and Kevin got a bass guitar. So, we formed a band in our garage with friends. We went through various line ups and recorded some demos.
Kevin Kelly: Yeah, initially we played some covers, but from the beginning we were writing our own songs, with a 4-track tape recorder. We recorded some demos in the early days but, with members leaving, I moved to playing guitar, and Martin started singing. We are both big music fans and listen to lots of bands across multiple genres.
What sort of music were you being exposed to at the time?
KK: In our teens we were exposed to all sorts. Myself, I started with Madness, Simple Minds, but then I heard Joy Division, and that was a big influence. I bought Still on vinyl, and the first track, "Exercise One," was amazing. From there I listened to lots of post punk and indie, and some metal and electronic bands: The Pixies, At The Drive-In, Sonic Youth, and lots more.
MK: We both listen to similar music, and I was listening to a lot of metal with friends, and especially early Iron Maiden. Our music tastes have converged in recent years, but we still have our own unique taste. I am a big fan of Nine Inch Nails and New Model Army.
How did you first get into playing?
MK: I got a drum kit in my teens and played with some bands, until Kevin got a bass. We started a band but eventually I took over as singer and Kevin on guitar. We were always fans of music but the bands that influenced us always made us feel we could write music ourselves.
KK: And we were very much into DIY - our own label, our own recordings. Fugazi would be a big influence too. Our attitude was, and still is, write and record your own music, and release it ourselves, on CD, cassette, vinyl, and now digitally.
When did you make the decision to release music professionally?
KK: We had recorded some demos, before we recorded our first real album, Disturbed, as Raw Novembre. It was a punk album and got a relatively good response. We were full DIY then, releasing it on our own label and connecting with fanzines and fans in the UK, throughout Europe and in the USA.
MK: Yeah, we did some gigs in the UK, the USA, and Europe. We released two more albums as Raw Novembre, before eventually starting the Movment projects, as a means to release songs written and recorded by the two of us.
KK: We never considered it a professional move. We just knew this was something we wanted to do – record and release music ourselves. Writing songs and making them available was our main goal. It was never a career decision. We were artists first and foremost. We were focused on writing songs and making them available to anyone that wanted to hear them.
You obviously care about the state of the world, politically and socially – how does this impact on your music?
KK: Yes, we put our ideas in our songs but are not preaching to anyone. We trust everyone to make their own minds up. It used to be easy to do this by reading other people's opinions and checking out their ideas but now everything is so loaded and biased one way or the other, it is hard to know who to believe or what is influencing their words. I still believe there are honest people out there, that just speak the truth and mean well, but there are too many people who push their agenda on you, whether it is correct or not. They tend to be extreme. And there is no room to have different opinions than some people. A lot of this is on Twitter and some of it is anonymous.
MK: We like to make our own minds up on things. Sometimes it is hard to have a conversation about anything but maybe that is the goal of some people: to shut all conversation down
KK: We are working-class, so we have that viewpoint in us. But we are neither left nor right. At least not on the extreme ends of either. We would prefer the world to be fairer but some ideas can make things worse than they already are. So I would say we are not overtly political. We just write and comment on what we see around us, on life and living.
Your sound could be described as 'darkwave' – was there a conscious decision to feature that 'dark' edge or did that occur naturally?
KK: Dark is a good word to describe what we do, or maybe 'real'. Not fake or false. What you hear is who we are, and our lyrics reflect this - our thoughts on the world we live in. Hopefully that resonates with people. So, we are drawn to people who are straight down the middle. Or who have something to say that connects with us.
MK: Yeah, there is a goth influence there. We are into horror and sci-fi. It does not always have to be negative, just dark. I suppose we are not shiny happy people. But we are not glum either. We are attracted to the dark.
Who would you describe as your personal music influences?
MK: I listen to a lot of music and get inspiration and ideas from lots of them. Lots of bands from back in my youth continue to influence, but there are also new bands. I like Iron Maiden, and early Marillion, and The Jesus Lizard, but new bands like Amyl and the Sniffers, and new tracks like Gary Numan's "Intruder" are on my playlists.
KK: Yeah, I listen to lots of new bands. I'll give most things a try. I like Vox Low, Life, A Giant Dog and lots more bands. There is so much music out there, you just cannot listen to it all.
I like to seek out and find new bands but I will also listen to popular bands too. The only limit is whether I like it or not..
Do you think that socially conscious music can make a difference?
KK: Music can always make a difference to people if it speaks the truth but it ultimately depends on the listener. We are happy if people listen and think a bit more about things and think about the world we live in. We are not creating something that tells people what to do. There are enough experts out there who understand things better than us. We are happy if it impacts on people in a good way and makes them question things. You should question everything. You should really listen to both sides of arguments and make your own mind up.
MK: We should always be aware of how we affect other people by our actions. People can make up their own minds on most things but some topics require digging deep and need lots of reading to fully understand what is going on.
You also seem quite optimistic about the possibility of change?
KK: Anything is possible, although in current times it might not look as if it is. I do believe that ultimately, if people sit down together and discuss things, than they can accommodate each other, even if they have a different opinion. It just seems that there is less dialogue these days and that is not good. But it is possible that it can change.
MK: I think people are entrenched in their own views much more. It is their opinion only that matters. That can lead to conflict. An important way out of all of this is good leadership. I don't see too much of that about.
What are Movment's plans for 2022?
MK: At the moment we are beginning to write songs for the next album. That process will take at least six months. When we have enough songs written we will record them, get them mixed and mastered and then they are ready for release. It is difficult to put a time-frame on that but it could be soon enough.
KK: Yeah, we are writing new songs again. We are also working on other projects, which might be finalised in 2022 and released. So we are planning to release new material in 2022. It might not be as Movment. As far as gigs go, we will see what opportunities arise but it is likely to be at least Summer before we play live.
Chris WHEATLEY
05/12/2021
---