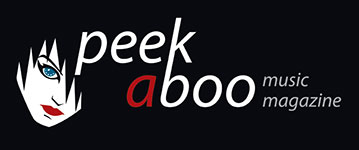 like this interview
---
THE ULTIMATE DREAMERS
Dimitri from Wool-E Discs had learned that I was part of a band in the 80s and asked me to listen.
30/09/2021, Xavier KRUTH
photos: © Marquis(pi)X
---
The 80s haven't released all their secrets yet. Take The Ultimate Dreamers. They played on the stages of Lessines and surroundings from 1986 to 1990, but they never released a record. Until now. After a dive into his archives, singer Frédéric Cotton - also known for the Fantastique.Nights concerts and the Club New Wave parties in Brussels - found enough songs to release a record, and it is published by Wool-E Discs and Dans Les Profondeurs. In addition, the group is being reformed and will play several concerts in the coming months, starting with the release concert at the CaliClub in Drogenbos on October 2nd.

Hi Frédéric. The Ultimate Dreamers come from Lessines, the city of surrealists René Magritte and Louis Scutenaire. Can you describe the atmosphere that reigned in Lessines in the mid-1980s, and in particular the access you had to music and especially new wave?
Hi Xavier! Lessines was a small provincial town where there wasn't much going on. Musically, it was pretty deserted, and we were just a small group of friends interested in underground music. There was only one record store and although the owner did what he could, we preferred to go to Brussels or Ghent to buy records or see concerts. Inevitably, dressed in black and with a weird look, we were seen as unapproachable by some small local minds. A classic story, I guess.

It is in this context that The Ultimate Dreamers was born. How did the group come together?
We were still in high school when we created the No Position project, with Joël on drums, Laurent on bass and myself on synth and vocals. Two other guys were also playing synths. We only played two concerts and then Joël, Laurent and I, who had darker tastes, left to create The Ultimate Dreamers.

If I understood correctly, the band started out as a more synth-focused trio and then evolved to include more guitars. Can you give us more details on this evolution?
Indeed. At the beginning, we used a rhythm machine, synths but also a very present bass. It was a formula that offered a lot of possibilities. Then Laurent, who was a multi-instrumentalist, took over the drums and we entrusted the bass to a newcomer: Bertrand. A little later, I started playing guitar, which made us evolve towards a harder sound, a little more rock.

I heard that you have organized your own underground festival in Lessines. How did it fare?
That's right. As nothing was happening in Lessines, we decided to organize our little festival ourselves. We obviously made the mistakes of beginners and had the foreseeable problems with SABAM (with m as mafia), the police, the municipality, etc. There have been 3 editions of this Summer End Festival, with bands such as Designed To Die, Heaven's Above, Courtisan Holy or Nijinsky, if I remember correctly. A few people still approach me about it sometimes.

The Ultimate Dreamers ended in 1990. What led to the end of the band?
Like many other bands, we didn't split up. We should rather speak of a long pause than of an end. Laurent first left us to devote himself to other projects he was leading in parallel, notably with a noisy pop group (it was the beginning of the 90's) called Mosaic Eyes, which had some success. In the process, Bertrand decided to quit for family reasons. After testing a few substitutes without success, I got a little discouraged and focused on my studies. Joël continued with many very varied projects: bands, a label and even a wrestling career!

Now you are releasing a compilation of The Ultimate Dreamers: 'Live Happily While Waiting For Death'. If I understand correctly, you took the time during the lockdown to browse your archives for the last remnants of the group. Is it correct?
It's almost that. In 1990, I made a little "best of" cassette that had been lying around among my CD's, near my Hi-Fi system. A few years ago, Dimitri (from Wool-E Discs) had learned that I was part of a band and asked me to listen, but I did not follow it up. During the corona crisis, so much happened that I finally decided to digitize the tape. I posted a few snippets on facebook, with amused and interested reactions as a result, and sent them to Dimitri. He quickly suggested that I should release an album, much to my surprise. I then searched to find the original recordings...

How many songs did you find during your research and how did you select which songs were suitable for release on the disc?
I found 25 tapes that I quickly digitized and listened to. It was like a trip down memory lane. I didn't count the number of songs but there must have been between 50 and 100. I did a first sorting and then Dimitri and I made a finer selection with the intervention of Bertrand and Joël. Finally, we had the cassettes digitized in a studio, then restored and mastered the selected pieces.

In addition, you resuscitated the group. Two of the former band members join you with a newcomer to promote the record live. How did you manage to bring these people together?
Bertrand and I still saw each other regularly and I still had contact with Joël and Laurent. Initially, we discussed the record. Then the idea for a release concert came up. Finally, we quickly found the pleasure of playing together. After a few weeks, I contacted Sarah, whose keyboards I had really enjoyed in the Brussels post-punk band The Panties. She agreed to participate. We rehearsed together and the chemistry was there. The Ultimate Dreamers were back.

The sound of the record is very 80's. Did you update some songs to give them a more modern sound live?
Our current repertoire is made up of our old compositions. Some are present on the record, others not, because the sound was not good enough. By recreating these pieces, they naturally evolved with a more modern sound, without it being a real purpose. But it's the reality and it's pretty good.
Today, you are mostly known as the organizer of Fantastique.Nights concerts and Club New Wave parties. Was it a natural evolution to go from musician to concert organizer?
May be. Like I said before, I started organising concerts early on. I continued when I was a student in Mons and then in Brussels. After a few calmer years, I resumed around 2000 when I joined the team of the fanzine Khimaira and the webzine LeFantastique.net (hence the name Fantastique.Nights) as a columnist and then as music manager. Concerts have always fascinated me. The parties mainly have a financial interest, which makes it possible to continue to organize concerts.

During the pandemic, you also became a public figure as a professor and director of the ULB's medical chemistry laboratory. How did you experience this?
We have all lived through an incredible period that has rocked the entire planet in many ways. As a health professional in academia, it has been very stressful at times but also very intense. At one point, faced with the repeated mistakes of certain ministers, I felt the need to react. I wrote an opinion piece in the newspaper Le Soir which made a lot of noise, especially on the French-speaking side, and I found myself projected onto the media scene. This is a situation that brings a lot of problems, ultimately. It's not just Van Ranst who has attracted dangerous lunatics. Finding The Ultimate Dreamers allowed me to escape the stupidity of conspirators of all kinds (unfortunately quite numerous in the dark scene).

If we combine your experience as an organizer and your medical expertise, you must have an opinion on the resumption of concerts and nightlife while the virus is still active. Tell us about it!
As an organizer, I was very careful because the successive waves were predictable. Cancellations are demotivating and costly. Now, I am more confident because the general population has good protection thanks to the vaccination. But the crisis is not over. Too many people still refuse useful measures with often stupid arguments. We may still see small waves but nothing comparable to what we experienced in 2020. Temporarily, the Covid Safe Ticket or the COVID Certificate can still be very useful.
Band pictures by Xavier Marquis
Upcoming concerts:
Xavier KRUTH
30/09/2021
---
Les années 80 n'ont pas encore dévoilés tous leurs secrets. Prenez The Ultimate Dreamers par exemple. Ils ont joué sur les scènes de Lessines et ses environs de 1986 à 1990, mais cela n'a jamais conduit à un disque. Jusqu'à maintenant. Après une plongée dans ses archives, le chanteur Frédéric Cotton - également connu pour les concerts Fantastique.Nights et les soirées Club New Wave à Bruxelles - a trouvé suffisamment de chansons pour sortir un disque, sorti sur Wool-E Discs et Dans Les Profondeurs. De plus, le groupe se reforme pour l'occasion et donnera plusieurs concerts dans les prochains mois, à commencer par la première au CaliClub de Drogenbos le 2 octobre.
Bonjour Frédéric. The Ultimate Dreamers sont issus de Lessines, la ville des surréalistes René Magritte et Louis Scutenaire. Peux-tu me décrire l'ambiance qui régnait à Lessines au milieu des années 80, et en particulier l'accès que vous aviez à la musique et surtout la new wave ?
Bonjour Xavier ! Lessines était une petite ville de province où il ne se passait pas grand-chose. Musicalement, c'était assez désertique et nous n'étions qu'un petit groupe d'amis à nous intéresser à la musique underground. Il n'y avait qu'un disquaire et bien qu'il fît ce qu'il pouvait, nous préférions aller à Bruxelles ou à Gand pour acheter des disques ou voir des concerts. Inévitablement, habillés en noir et avec un look bizarre, nous étions considérés comme des gens peu fréquentables par certains petits esprits locaux. Une histoire classique, je suppose.
C'est donc dans ce contexte que The Ultimate Dreamers a vu le jour. Comment le groupe s'est formé ?
Nous étions encore à l'école secondaire quand nous avons créé le projet No Position, avec Joël à la batterie, Laurent à la basse et moi-même au synthé et au chant. Deux autres types jouaient également du synthé. Nous n'avons joué que deux concerts puis Joël, Laurent et moi, qui avions des goûts plus dark, avons pris la tangente pour créer The Ultimate Dreamers.
Si j'ai bien compris, le groupe a commencé en tant que trio plutôt axé sur les synthétiseurs, puis a évolué en incluant plus de guitares. Peux-tu nous donner plus de détails sur cette évolution ?
En effet. Au départ, nous utilisions une boîte à rythme, des synthés mais aussi une basse très présente. C'était une formule qui offrait beaucoup de possibilités. Puis Laurent, qui était multiinstrumentiste, a repris la batterie et nous avons confié la basse à un nouveau venu: Bertrand. Un peu plus tard, je me suis mis à la guitare, ce qui nous a fait évoluer vers un son plus dur, un peu plus rock.
J'ai entendu que vous avez organisé votre propre festival underground à Lessines. Comment ça s'est passé ?
En effet. Comme il ne se passait rien à Lessines, nous avons décidé d'organiser nous-mêmes notre petit festival. Nous avons évidemment fait les erreurs de débutants et avons eu les ennuis prévisibles avec la SABAM (avec m comme mafia), la police, la commune, etc. Il y a eu 3 éditions de ce Summer End Festival, avec des groupes tels que Designed To Die, Heaven's Above, Courtisan Holy ou Nijinsky, si je me souviens bien. Quelques personnes m'en parlent encore parfois.
The Ultimate Dreamers s'est arrêté en 1990. Qu'est-ce qui a mené à la fin du groupe ?
Comme d'autres groupes, nous n'avons pas splitté. Il faut plutôt parler de longue pause que de fin. Laurent nous a d'abord quittés pour se consacrer à d'autres projets qu'il menait en parallèle, notamment avec un groupe noisy pop (c'était le début des 90's) appelé Mosaic Eyes et qui a eu un certain succès. Dans la foulée, Bertrand a décidé d'arrêter pour des raisons familiales. Après avoir testé quelques remplaçants sans succès, je me suis un peu découragé et je me suis concentré sur mes études. Joël a continué de son côté avec de nombreux projets très variés : des groupes, un label et même une carrière de catcheur !
Maintenant, vous sortez une compilation de The Ultimate Dreamers : 'Live Happily While Waiting For Death'. Si j'ai bien compris, tu as pris le temps pendant le confinement pour parcourir tes archives à la recherche des derniers restants du groupe. Est-ce correct ?
C'est presque ça. En 1990, je m'étais fait une petite cassette « best of » qui traînait depuis parmi mes CD's, près de ma chaîne Hi-Fi. Il y a quelques années, Dimitri (de Wool-E Discs) avait appris que j'avais fait partie d'un groupe et m'avait demandé à écouter mais je n'avais pas donné suite. Pendant la crise sanitaire, il s'est passé tellement de choses que je me suis enfin décidé à digitaliser la cassette. J'ai mis quelques extraits sur Facebook, avec des réactions amusées et intéressées, et les ai envoyés à Dimitri. Il m'a très vite proposé de sortir un album, à ma grande surprise. J'ai alors fait des fouilles pour retrouver les enregistrements originaux…
Combien de morceaux as-tu trouvés pendant tes recherches et comment as-tu sélectionné les morceaux qui étaient aptes à sortir sur le disque ?
J'ai retrouvé 25 cassettes que j'ai rapidement digitalisées et écoutées. C'était comme un voyage dans le passé. Je n'ai pas compté le nombre de morceaux mais il doit y en avoir entre 50 et 100. J'ai fait un premier tri puis Dimitri et moi avons fait une sélection plus fine avec l'intervention de Bertrand et Joël. Enfin, on a fait digitaliser les cassettes dans un studio, puis restaurer et masteriser les morceaux retenus.
De plus, tu as ressuscité le groupe. Deux des anciens membres du groupe te rejoignent avec une nouvelle-venue pour promouvoir le disque en live. Comment as-tu réussi à réunir ces personnes ?
Bertrand et moi nous voyions encore régulièrement et j'avais encore des contacts avec Joël et Laurent. Initialement, on a discuté du disque. Puis l'idée d'un concert de présentation est venue. Finalement, on a vite retrouvé le plaisir de jouer ensemble. Après quelques semaines, j'ai contacté Sarah dont j'avais beaucoup aimé le jeu aux claviers dans le groupe de post-punk bruxellois Les Panties. Elle a accroché. On a répété ensemble et l'alchimie était là. The Ultimate Dreamers étaient de retour.
Le son du disque est très années 80. Est-ce que vous avez remis à jour certains morceaux pour leur donner un son plus moderne en live ?
Notre répertoire actuel est composé de nos anciennes compositions, certaines présentes sur le disque, d'autres pas, car le son n'était pas suffisamment bon. En recréant ces morceaux, ils ont naturellement évolué avec un son plus moderne, sans que ce soit une réelle volonté. Mais c'est la réalité et c'est plutôt bien.
Aujourd'hui, on te connait surtout en tant qu'organisateur des concerts Fantastique.Nights et des soirées Club New Wave. Était-ce une évolution naturelle de passer de musicien à organisateur de concert ?
Peut-être. Comme je l'ai dit précédemment, j'ai en fait commencé à organiser des concerts dès le début. J'ai continué quand j'étais étudiant à Mons puis à Bruxelles. Après quelques années calmes, j'ai repris vers 2000 quand j'ai intégré l'équipe du fanzine Khimaira et du webzine LeFantastique.net (d'où le nom de Fantastique.Nights) comme chroniqueur puis comme responsable musique. Les concerts m'ont toujours passionné. Les soirées ont surtout un intérêt financier qui permet de continuer à monter des concerts.
Pendant la pandémie, tu es aussi devenu un personnage public en tant que professeur et directeur du laboratoire de chimie médicale de l'ULB. Comment as-tu vécu cela ?
Nous avons tous vécu une période incroyable qui a secoué toute la planète à bien des points de vue. En tant que professionnel de la santé en milieu universitaire, ça a été très stressant par moments mais aussi très intense. A un moment, face aux erreurs répétées de certains ministres, j'ai ressenti le besoin de réagir. J'ai écrit une carte blanche dans le journal Le Soir qui a fait beaucoup de bruit, surtout côté francophone et je me suis retrouvé projeté sur la scène médiatique. C'est une situation qui apporte beaucoup de problèmes, finalement. Il n'y a pas que Van Ranst qui a attiré des fous dangereux. Retrouver The Ultimate Dreamers m'a permis d'échapper à la bêtise des complotistes en tous genres (malheureusement assez nombreux dans la scène dark).
Si on combine ton expérience en tant qu'organisateur et ton expertise en médecine, tu dois bien avoir un avis sur la reprise des concerts et de la vie nocturne alors que le virus est toujours actif. Raconte !
En tant qu'organisateur, je me suis montré très prudent car les vagues successives étaient prévisibles. Les annulations sont démotivantes et coûteuses. A présent, je suis plus confiant car la population a globalement une bonne protection grâce à la vaccination. Mais la crise n'est pas terminée. Trop de gens refusent encore les mesures utiles avec des arguments souvent stupides. On risque encore de voir de petites vagues mais rien de comparable à ce qu'on a connu en 2020. Temporairement, le covid safe ticket ou le covid pass peuvent encore
être très utiles.
Photos du groupe par Xavier Marquis
Concerts futur:
Xavier KRUTH
30/09/2021
---
Nederlandse versie op Dark Entries
Xavier KRUTH
30/09/2021
---