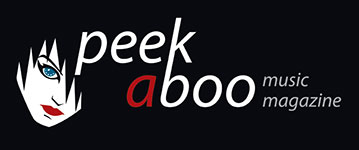 like this interview
---
TERMINAL SERIOUS
I ask myself time after time: can love still save us?
20/04/2021, Jurgen BRAECKEVELT
---
We knocked on the front door in Florence Italy. To have a chat on the project Terminal Serious, the solo project of Luigi Buonaiuto. Bringing us deep sounding postpunk and darkwave sounds. The debut album Love Was Lies is released late March 2021. Time to meet the man behind this project.

Hi Luigi, can you introduce yourself and your project Terminal Serious. Where did you get the name of the project?
When I started playing these songs at concerts, people told me that I seemed very serious, maybe too serious. Or maybe I am really very serious? I do not know! (Smile). I guess not. Anyway, the name Terminal Serious crossed my path due to what I just told. And actually: I fell in love with that name. So here I am !

Postpunk wasn't the first style of music you did make… Your first musical ways went in the direction of electro-rock?

Yes indeed. I started 10 years ago, with an electro-rock project called Strip In Midi Side. At that time we were very influenced by the 80s. I made two albums with Strip In Midi Side. And at that time I started writing for my solo project and I love introspective lyrics and minor chords, so only Dark-wave could save me. I wanted a simple sound: vocals, guitar, bass and a little bit of electronics. This is my post-punk way.

You told that the themes on the album consider love, loneliness and the love of loneliness. What do they mean to you? Why are they so important that you wrote songs about them?
I can't explain my lyrics, but I can say that I have a question: can love still save us? After great passions and disappointments, after suffering from loneliness and after having loved loneliness, can love still save us? Here, I don't know the answer yet, I reflect on this in my album! So yeah, it has become a rather darker album, not at all sunshine and flowers…

Any other projects of musical ideas/future plans?
I have already started writing new songs, but I am very slow because I write all the parts of the song, then I really like working on all the smallest details until I am satisfied. This takes a long time.

What bands are you influenced by ? What are your favorite bands and why?
I love post-punk revival: I like Daniel Kessler's way of writing and playing guitar, Tom Smith's way of writing vocal melodies and the way of building She Wants Revenge songs... but I could say a thousand other names. Have you got time for this? (Smile)

Covid-19 still rules the world. And you've chosen to release the album in March 2021? Isn't that difficult, knowing you cannot take off to perform live? Any plans in that direction?
As I told you before, it took me 4 years to write "Love was lies", in autumn 2020 it was finally ready, I thought about releasing it in March 2021 (maybe I was too optimistic) but I had already waited too long. I hope to participate in some streaming festivals in the near future (these concerts have made me a lot of company in the lockdown), then I hope to be able to play on stage next year.

Italy has some great bands. How do you look at 'the scene' in Italy?
The Italian Dark-wave scene is great. Beautiful records have been written in Italy, both in recent years and in the past. I follow a lot the Neapolitan scene (my homeland) and the Tuscan scene (the land where I live now). Many artists are also my friends and during this time they have helped me with valuable advice.

Any personal message you want to tell the world?
I can't do this, and I can't send messages to the world. But first of all I am a listener, so I can ask all musicians to keep writing beautiful music, so life is so much better.

Thanks a lot Luigi and hopefully we can meet again, have another chat and enjoy the music you bring to us!
Jurgen BRAECKEVELT
20/04/2021
---