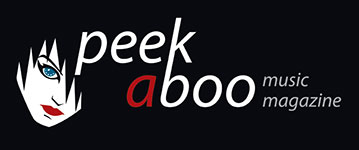 like this interview
---
MAMAN KUSTERS
'Let's Keep It Intriguing
07/01/2021, Stef COLDHEART
---
MAMAN KÜSTERS is a French duo set up by Cyril Pansal and Gaël Loison. They signed to the French Unknown Pleasures Records and released their debut album "Sous La Peau De Maman Küsters" in 2016. The work revealed a minimal Electronic approach, which has been featured again in their new album "L'Extase Et La Terreur". This work will appeal to all lovers of EBM as well, the band being clearly inspired by good-old analogue driven 'body-music'! I talked about the album and the project with Cyril and Gaël.
You guys have been into music for quite a long time and are both involved with different projects/bands, so what does MAMAN KÜSTERS stand for and bring you from your artistic creation?
Cyril: MAMAN KÜSTERS stands for friendship, making music that we love and having fun. MAMAN KÜSTERS is an important part of music because we made some albums but we love all our projects.
Gaël: It makes me use analog gear in some other directions, not only Ambient and Experimental.
No doubt about it, your band name is taken from Rainer Werner Fassbinder's movie "Mutter Küsters' Fahrt Zum Himmel". That's rather interesting as Fassbinder was a rather controversial film director and this movie is a critical perception about society. Tell us a bit more about it and what does it say about yourself?
Cyril: It's just a coincidence, we were looking for a name and the night before on TV was "Mutter Küsters' Fahrt Zum Himmel". The name had a good sound, end of the story!
It could have been another film director, another movie... It could have been worst or better in fact… "The Pink Panther", "Fantomas" or "Zoolander" haha!
Music is just music. Words are just words and often, you just can't trust words, but taken as sounds, they can sometimes become more interesting, and also very funny.
You can trust music more easily I suppose… the energy of it. As for critical perceptions and controversy it's not my cup of tea, not at all.
Your new work "L'Extase Et La Terreur" is an intriguing title, which I think is inspired by a quote from French poet Paul Verlaine (cf. 'J'ai l'extase et j'ai la terreur d'être choisi'). Why this title and what did you try to express by the sound of this work?
Cyril: If you find it 'intriguing' let's keep it intriguing… Well, in fact, some years ago, Marc Collin from NOUVELLE VAGUE asked me If I could write songs for Zula (Crazy Horse dancing girl). She wanted to make an album, but finally it didn't happen. "L'extase Et La Terreur" was the first text I wrote for Zula (she has that tattoo "l'extase et la terreur"). So, years after, to me it was like a wink to Zula, Marc and myself. Some friendly 'Clin d'oeil' (wink) as we say in French.
Gaël: Cyril submitted the idea of that title and I liked it a lot, it was making a lot of sense with the new tracks.
Tell us a bit more about your way of working and how the new songs took shape? What makes the chemistry between you both?
Cyril: The intriguing chemistry… let's keep it top secret! But for the music, Gaël will tell you much more…
Gaël: I generally play some unfinished tracks to Cyril, then when he finds something that clicks with the lyrics he brought in terms of tempo and bass line, we record the voices, then I work from that and remove the original music and compose a new one based on the lyrics and original track feel.
The new work features interesting collaborations with artists such as FRANCK KARTELL and JULIA BONDAR (vocals) while among the remixes there are such famous names as THE HACKER and Marc Collin from NOUVELLE VAGUE. Tell us a bit more the input of FRANCK KARTELL and JULIA BONDAR? What can you say about the remixes and especially the totally unexpected remix from Marc Collin?
Cyril: Marc Collin from NOUVELLE VAGUE is the first one to have listened and talked about our music… he's someone I do really appreciate very much, so I'm very touched and pleased he did that remix for us! FRANCK KARTELL is a very good musician, he always has good ideas and JULIA BONDAR has a pretty voice; I love our duo…. but Gaël knows them better than I so he can talk better than me about them.
Gaël: I mastered and mixed some of Julia's work and it was very natural to ask her to sing for that song, she tried in Ukrainian first, but she decided to go for French which adds a nice intriguing touch to the song.
Franck is a long time MAMAN KÜSTERS-side musician and I love his ice cold beats; he chose to remix the song that he liked the most from our LP's.
You're often compared with DAF so what does the tragic loss of Gabi Delgado evoke in you? What comes next for MAMAN KÜSTERS?
Cyril: We live and then we die, same destiny for all the people on earth… What can I say? DAF was a very fun band; great energy and great new music at that time…. Still one of my favourites.
Gaël: DAF sounds simple, minimalist and is a great inspiration source for me since ages!
Stef COLDHEART
07/01/2021
---