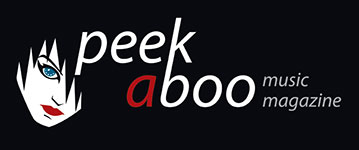 like this interview
---
RAYMOND WATTS (PIG)
'It's not a re-discovery. It's finding the way in to let the stuff out...'
10/02/2021, Danil VOLOHOV
photos: © Gabriel Edvy
---
The recently released "Pain Is GOD" is a purification of everything Raymond Watts used to be and still is today. Whether it's the song of the same title as the album, "Cursed", "Rock N Roll Refugee" or "Badland" - each of them have a different sound. Probably one of the best features of Watts' compositions is that he keeps on doing his own thing, but differently, with every new release. "Pain Is GOD" is no exception - and probably the best release of PIG so far.
In this interview, Raymond Watts speaks about the conscious and unconscious, his personal demons and collaborative aspect of his work, writing "Pain Is GOD" and digitalization, chaos and re-discoveries.

Once you described your working process as a search – lyrically, but of course, there's always a search musically as well. How did it all start for "Pain Is GOD"?
Well, I stopped doing PIG for a few years – in about 2003. And then, I got clean. Gave up all my drugs and alcohol in 2015. I didn't know that I was gonna start making music again. So, it was quite interesting. I didn't know what was coming, and I don't really know where it comes from. The first album I did when I came back was "The Gospel". Then, there was "Risen", a couple of years ago. I did a covers-album called "Candy". I was wondering what would happen with "Pain is God". But I really wanted to make it not like old PIG – like PIG from the 90s or PIG from the 80s. I just wanted to do something that was a little bit more. I wrote a lot on my own, there were less collaborations on this record. So, in a way I just wanted to hold the steering wheel myself and see what would happen. It was always like I was waiting – I just wanted to see what happened. See where the words came from, see what the words were about, see what the musical direction was about. Some of them seem to touch on musical themes and genres I did before. The response from people says that it's quite PIG-like in terms of touching areas I used to touch before. But maybe going a little bit beyond.
From the very beginning of your career you've been creating a big sound working with the arrangements and almost orchestral type of atmosphere. What drove you to explore these sounds?
I've never really seen myself as a songwriter! I really admire great songwriters, and what they do. Bacharach, David Bowie, so many great and brilliant songwriters. I've never had the idea that I would be the same. I write songs, but I don't pick up an acoustic guitar and start strumming out some chords. I work in a different way. I kind of know in my head what I want it to sound like, and I just go. I like to have some orchestral sounds with some metal-guitar sounds, and a sound of huge metal cars being thrown around. Or the sound of violins with angular synthesizers and ambient tracks. So I work more oriented towards soundscaping than actual songwriting, and kind of building it up from the ground. I don't think about myself as a songwriter or a musician, really. Or as a singer (laughs).
When you work on a song, are there any elements that need to be present for it to work for you? Or do you let the song itself choose the elements?
That's an interesting question. I don't know if I can answer it. Sometimes it's quite playful when I approach it. At other times I'm surprised myself. I'm looking for things that are familiar but in an unfamiliar place. Does that make sense ? I want guitars, synthesizers and those things. But I try and put them in a slightly unfamiliar place. I do like referencing to very typical genres we are all familiar with. There's a song on this record called "Rock N' Roll Refugee". To me it's referencing something I grew up with – when I was young, in the early 70s. But without using the instruments they used back then. Adding a sort of techno-feel. So, I wanted glam - but also techno - together. Synthetic glam- not guitar-glam. Although, I put guitars in this one. I like to reference to things we can all recognize, that are quite common. Almost cheesy.
It's almost a postmodern approach. Like when you're creating a picture based on the images you have.
I see what you mean! It's an interesting thing, actually! There are 12 notes, 6 strings on the guitar. But there are a million ways you can change their meaning. It's always gonna sound different, depending on what comes before, or after them. It's like art. The Internet has changed the way people respond to art, because it has changed the way it is presented to them. It's the same, music is the same. But how we respond to it, the lack of space in between the artist, the viewer and the listener, that has changed.
While growing up in the 70s you used to observe the punk-rock revolution in the UK. At a certain point, all this rage and anger became something unconscious. And you, as an artist, always had this kind of anger presented in your music. At the same time, it's very direct, thoughtful. What gave you an understanding of what components you should use within what you're making?
People often say that there's quite a lot of humor in PIG. To me the subject can be as serious as a hand grenade, but it could still come in a chocolate box. The anger was definitely there. I discussed humanity, myself, my celebration of humanity. All packaged in the same PIG box. But I've never been a great fan of pointing a finger. There are a lot of religious things with PIG, I'm really fascinated by religion! I think there's fantastic devotional music, there's fantastic devotional art, a lot of beauty. We know there's a lot of terror and hideousness in religion as well. When I see others pointing their fingers, they do it with an "I tell you the truth, I'm right!" attitude. It's something I'm against. But also something I want to mock by doing it in my music. I believe things and I don't, but I'm not 100% sure. I don't think I believe in God, but there are other things. When people are 100% sure of something: religion, belief, whatever, it usually involves being against something else. As soon as you have that: "We're on the right path, they're on the wrong path!" – you've got outcasts. And that can destroy humanity.
There's lots of humor in your lyrics. But quite often it's combined with very contradictory things. Can you say that you like to put these together, giving the listener a different perspective?
Artists often think that they are holding something back from themselves when they present a song or a painting. Actually, you give a hell of a lot more away then you think you do, when you're writing or making music. Bands have a song, artists have a general look. Apart from amazing artists like David Hockney, for example, whose paintings in the 60s look so different from works he's done in the 80s, 90s, 2000s. And I think that's great if you can be the same but try making it sound a little bit different every time. We can come back to the same things, but I like trying something new. There are some bands I know where its basically same f*cking track everytime (laughs). That's okay, people want the same, they want familiarity. I go to certain shops because I get the same products each week. We like the same directors and the same TV-stations. And the same f*cking. But, at the same time, within that, I want to try and push it a bit. For PIG, in terms of exposure, I'm quite happily and willfully obscure. But it is quite difficult for people to get it, because in terms of genre, it changes quite a lot. From track to track, from album to album. There's jazz-stuff, there's ambient, there's techno, there's a classic form of industrial, there's a bit of metal, there's blues sh*t. So it's sometimes difficult for people to get it, particularly, magazines and shit. I don't give a f*ck about that. I just do what I do.
And I think, "Badland" which featured tube-parts being used to create sound, would be a good example of what you're trying to say. How does it feel to explore something new, after all those years of experience?
I worked with Enrico Tomasso, who plays some of the trumpets on "Badland". I also worked with him back in 1993, for "The Swinning" on a latin and more bluesy track called "One Meatball". He just plays absolutely beautiful and he gets the exact jazzy vibe I want! I love that slightly 60s theme. That kind of stuff. Like a 60s spy TV. As a little kid I watched programs like "Mission Impossible" – and that kind of stuff. It's nice to reference it. As a homage. But with "Badlands" it's more like, to me it references what happens with this kind of exposure of really dangerous political things going on around the planet. Crazy conspiracy stuff I find really quite frightening. It kind of represents that, to me.
You said that the record was basically written by yourself. But there's still a collaborative aspect of your work presented. Like with many previous albums of yours, when you used to collaborate with J.G. Thirlwell and Alexander Hacke. And then artists like En Esch and Sasha Grey. How can you describe your approach to the work and the collaborative part of it? And how much has changed since the beginning of your career?
I'm a lot more relaxed about collaborating with people than I used to be back in the days, for some reason. When I was making records like "Wrecked", "Sinsation" and "The Swinning" – I had people collaborating! En Esch, Günter Schulz from KMFDM played on some... But I was little more controlling back then. Now, I'm slightly more open, and I find it more fun now. I'm a bit older, I'm a bit more relaxed now. Sometimes when you have several people working on something, it as a whole is gonna be greater than its parts. And people would bring things I'd never thought of. En Esch has ideas, Steve White – they all bring things I didn't quite see. I think, that increases the power of it.
You used to work as an engineer for Psychic TV, and collaborated with KMFDM a lot. At a certain point you were playing in five bands. What defines the components you, as a collaborator bring to all these projects and releases?
When I was recording with Psychic TV, a long time ago, it was the early 80s, it was much more an analog-era. And they were quite extreme - they wanted to push boundaries. I was quite young, I was starting – spending a lot of time recording drums in a very unconventional way.Doing things in a different way than a maybe more established sound-engineer would do. We were doing quite a lot of unusual things at that time to create sounds. So, my specific role was to record. Like if you're giving birth to somebody else's baby – that was Psychic TV. I worked with one of the guys, John Gosling, on a project called Zos Kia and I became a member of that band, well, more of a contributor, and wrote a lot of music for them. But with Psychic TV, I was just recording. Quite a lot of extraordinary live concerts in the early 80s. Same when I worked with Jim Thirlwell on Steroid Maximus. I just said things like: "What about this ? What about this song?" – that was more collaboration. But with KMFDM, I first got a little sampler and said: "Look, there's the way we can start sampling things…" – we were equal participants in that. But then I found the constraints of that. I wanted to try more experimental things. More extreme things. That's where PIG was really useful to me. I could just do what I wanted. When Alexander Hacke of Einstürzende Neubauten came to play on the first album, he was listening to what the PIG-vision was. We were collaborating. But he was trying to give birth to what I wanted the vision of PIG guitar-sound to be like. It's interesting, you fall into a different role when you're collaborating with people. Sometimes, you're more listening and trying to give birth to what they want. And other times – you just throw things.
Before digitalization in the music industry, collaborating with somebody meant you were in the same room as them. How much has your perception of a collaborative part changed in the digital times?
I ended up with a large recording studio, with lots of echo-samplers, digital synths. But it was in the 90's it became more of a normal thing. When EVERYBODY could get a recording studio on their computer. Suddenly, everybody would buy one of these. I'm not gonna lie, first I thought: "F*ck! Anybody could do it!" – cause, it used to be quite difficult getting into recording studios. When I started, in the 80s, you had to know someone, you had to have money. Even a roll of tape was expensive! So, when laptop technology came along, a lot of this stuff became easy to have. But then I realized, that that's actually brilliant. It's fantastic! Anybody could do it! Yes, it's a lot more crowded, but if you want to do something that people are gonna listen to – you better have something to say. I think it's great that anybody can do sh*t now. Because, you can really see if they have something interesting to say.
Even though your approach and stylistics is always with you, the degree of intensity of the music itself may be different. For instance, I've always found that "Genuine American Monster" is one of your darkest records, and comparing it to "Pain Is God" – there are still the same rhythms, guitar parts, layers of sounds. All the basic elements are the same. But when it comes to your work, what defines the individuality of a song or a record? What creates this authenticity?
You think that "Genuine American Monster" was a very dark album? All through the 90s I felt that in order to take the music to the next level, I had to take myself to the next level. So, I was going into more and more dark spaces. Drink, drugs, depravity – really toxic relationships. Crazy sh*t. I just felt... If I hadn't been there, I could not write about it. Which is of course, absolute bullshit. And that's why I kind of ended up staying in the same place, without knowing where to go. In such a deeply f*cking twisted and quite weird place – which wasn't very healthy. Going back to what inhabits the characters of a song – I do still make albums in quite an old-fashioned way. I think of it as an umbrella. Where I want each song to have its own space, under the umbrella. I like to mix up the genres. I want the rhythm of the songs to roll into each other. But I do want the whole thing to fit together. Like when you get dressed, you might have shoes or a jacket. And I want to put ten pairs of shoes on the album. I want some pants; I want some jackets. I want a hat. That's what I see. I want the whole thing to be fully formed – if that makes sense.
But at the same time, when you work with somebody, there's still a certain uncertainty. Can you say that you like working in such a way?
Yes. It's really interesting, when you get together to work with somebody. Talking honestly, sometimes in collaborations, I'm doing that co-writing. When you're co-writing with somebody – I wrote a lot of "The Gospel" album with Mark Thwaite - and it was quite interesting, because the stuff he presented to me, I wouldn't have done that. If I would've done that myself - and no disrespect to Mark or anybody else - I would've never put those chords together! I would just shut them down immediately. But, coming from him I'd be like: "Oh, wow! I got to do something with this!". It's different. Slightly uncomfortable. Which is good, being slightly uncomfortable! Because, it presents new challenges. That's the great thing about collaborating – you go to places you wouldn't go on your own. And it's that simple! You end up with something you couldn't have created on your own. But the process of creating that, co-writing thing – it's healthily challenging and healthily uncomfortable.
Isn't it difficult being both provocative and at the same time, speaking about universal problems we all face?
That's an interesting one... Like I said – lyrically, I don't really know where it comes from. And I don't want to know. It's just sort of comes out. I don't actually spend that much time making music. I spend a lot of time just thinking, and then giving birth to it. I like to keep a certain element of mystery to myself. I don't really know where I'm going. And that's fine for me.
Some of your songs may be regarded as shocking, even though you still speak about universal things. Is it important for you to take the listener out of their comfort zone?
I don't know if "out of the comfort zone" is the right thing. It's not really my job to take people out of a comfort zone. I think, if by listening to stuff, they go out of their comfort zone – fine. As you said, some of the songs are quite provocative lyrically, sonically. Since I started touring around the states in 2016, '17, '19, I've realized it's really great meeting people who buy the records and listen to them. And that's the thing I really like about this – we're not in a bubble, we're not in a backstage! We play small-clubs. People could meet me. They can talk to me. And I'm quite surprised actually how certain songs resonated with them and got them through really really difficult times. Dealing with whatever. Lost, questions about who you are, sexuality... I find it really amazing that people get some sort of comfort from them. I'm astonished by the number of people who tell me how listening to PIG stuff has given them a voice and understanding of things, to understand some of the issues they're going through. And that's a real honor.
In one of your recent interviews you mentioned that with PIG you're sort of touching upon the themes between beauty and horror. But is it always a lyrical expression? Like if you have a theme, a concept, a certain amount of images, does it also reflect in the music?
Like I said, some of the most amazing music I've heard is devotional music. I don't really believe in God – even today. But some of the most fantastic music is devotional music. Which is transcendental to me. And I don't always need that lyrical thing. There's a track on the "Genuine American Monster" album called "Inside" and it's 14 minutes long. It's an instrumental track. There are quite a few instrumental tracks – back then. Like "Transceration", "The Murder Car"... I think "Analgesia" was an instrumental track. Sometimes the less I say and let the music speak can actually say more than my stupid voice can say anyway.
Your lyrics have always been quite provocative in the sense of different topics you've been touching upon – with songs like "The Revelation" or "The Cult Of Chaos". It's almost impossible to imagine you writing typical boy-meets-girl lovesongs – what drives you exploring these particular themes?
Like I said – that's a mystery to me! It just comes out of me! I can't say any more than that. And that's fine! I don't want to know or examine or overthink it. I just want this shit to happen. And I'm lucky! If I don't think about it, hopefully it will keep coming out (laughs).
I'd say that with "Pain Is GOD" you started expressing your ideas in a more metaphorical way, there are many more images than with any of your previous records. What brought about these changes?
It's a difficult one for me to answer. The whole thing is not completely subconscious, but I like the idea of automatic writing. I think, the things that I was lyrically writing in the 90's where just as interesting. Maybe driven by different demons. But to me, it's just as interested as the songs on "Pain Is God" go lyrically. I'm just as interested as the next man, or just as surprised as the next man is as they go. Maybe with the next album I'd start writing about boy meets girl and they fall in love (laughs).
In what way have you rediscovered yourself with "Pain Is GOD"?
In a way it's not a re-discovery. But it's just like an opening, stuff coming out. I think it's finding the way in. If there's any discovery – it's finding the way in to let the stuff out. The stuff is in there. To me, that's an interesting thing – how do I get in there to let it out. Like I said: the best thing for me to do is to not think about it too much. But I think "Pain Is GOD" refers to what everybody can relate to - pain. And it's a dominating thing in so many people's lives. Emotional and physical pain in particular. It's beyond religion and everything else. It's beyond language in a way. It's beyond everything. It's a thread that seems to tie everybody together. And to me, to weave it from myself and have another person relating to it is just as magical and transcendent and f*cking terrifying as gods and devils.
Danil VOLOHOV
10/02/2021
---