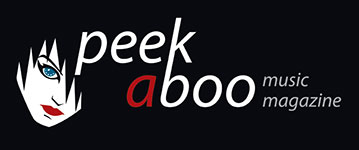 like this interview
---
CEVIN KEY (SKINNY PUPPY, DOWNLOAD)
'It really has been like the formation of a new band in a lot of ways...'
05/12/2020, Danil VOLOHOV
---
cEvin Key is a workaholic. Starting with his participation in Images In Vogue, Key has been working releasing records constantly. Of course, his style and musical accents have changed. Key basically became one of the reformers of industrial music combining dance-rhythms with dark sound-layers that formed the sound of Skinny Puppy. Of course, like all the artists cEvin Key keeps on evolving and progressing. There are lots of homages to his past within the upcoming "Xwayxway". Whether these are incredible Download-types-of-sound-landscapes or hard drum-beats.
In the interview for Peek-a-Boo magazine, cEvin Key told us about the Vancouver scene and the technicality of a writing process, about analogue and digital sounding and the collaborative aspect of his work, about "The Process" and writing "Xwayxway".
Being a member of Skinny Puppy, you've always had this personal factor playing an important role in your creativity. Starting with your long-term cooperation with Dave "Rave" Ogilvie and finishing with Billy Leeb's impact in your music, early on. What drove you to the direction of a solo-work within "Music For Cats" and going on – all through the solo-records of yours ?
Well, I'm not sure if what you said has any bearing on what I feel. I certainly don't look at it the same way. I'm not going to go into details on that (laughter), but the question about what drives you to make solo work, is really so dependent on the times around. I don't think I've sat down and said: "Ok! Solo album!". I think if you write without making a course for the outcome then you can find that a bum may come on its own after some time. I actually wrote and wrote and then reviewed and so far that has turned out to be Download [album] "Unknown Room", "Xwayxway", and we'll see what else!
What motivates you moving to each next release ?
Usually it's an interest or goal created with energy shared with someone. Each project seems to logically fall into place sometimes. If I don't have a project I'll just jam and see what comes. Sometimes that determines a direction.
With "Xwayxway", there's still a collaborative aspect involved. Whether this is Edward Ka-Spel or Chris Corner who brought a bit of their personal style to the recording. What drove you working with all these artists and what, according to you, did they bring to your music ?
Well, actually with Edward and Chris it's about friends first usually. Then there may be a song that sounds like something they may be interested in. With "Anger Is an Acid" , it was a song I had written and thought: "Wow! It's kind of in Chris's key, I'll shoot it to him and see what happens!". In this case Chris kind of surprised me with it some 18 months later, as I was working on my album. All of a sudden, I realized that sometimes magic timings seem to occur. Edward's so prolific that if I send him a song that I feel he'd like - he often has it finished within a few days. I've had this relationship with Edward for some 35 years, but with the internet it really helps with the exchange of ideas. Funny they are both born on the same day, and we seem to connect in a unique manner, so ideally, I'd feel that the mutual energy between us all is really exciting, and makes me excited for more.
How can you describe the writing process of "Xwayxway" ? Especially, what drove you writing your next solo-album ?
As I said earlier, I kind of just set out writing somewhere around 2015. I made a album with Edward for Tear Garden that we enjoyed immensely, so I just kept writing to see what comes, and didn't stop really until Phil Western came down for 2 months and we used 10 or so of the ideas for the album. That left quite a nice pile of tracks that I wasn't sure what or where they should go. Naturally I spoke with friends and shared demo ideas with my Patreon-crew. This has been super inspiring, as I was able to meet a couple of guys who ended up collaborating on a few tracks. So it really has been like the formation of a new band in a lot of ways, and the excitement that comes with that. Also to start working again with Greg Reely as a mix engineer has been super inspiring. We always have had similar likes and Greg being a drummer is really important for the feel of everything.
As composer, you've always been making everything following no-rules-is-the-only-rule-formula. You keep doing it with each release, each song. But having a certain idea, how would you transform your feelings into a compositional structure / melody-linepart of a song ?
Well, each day you follow a natural suggestion. Could be from anything or any thought. Don't try to steer it as much and find a way to make it conductive to some energy that makes you want to return to it. I'd say over the course of a couple of years I'd write 140 ideas, of which maybe I will really like…twenty (laughs). But there may be elements of an idea later to use from the practices. I'm not the type of person who goes and writes an idea that is formally direction-ed. Though maybe I should. I actually find what is attractive about music is the irregular stuff. Stuff that you wonder: "Hmm…I wonder why I like that sound!"
By the time you formed Skinny Puppy, you started using analog equipment. How much the way you write and compose music changed over the years ? Through the 80's, 90's up to now, where computer became your main instrument.
To be honest it has not changed that much. I still luckily own all the original equipment, so I can still use that formula if I wish, or can improvise with using elements of that formula. We were using a computer to sequence our stuff as early as "VIVI SECT VI" so in this case it's quite the same even though technology has advanced greatly. I'm amazed at Vst's and DAW's these days…
Back in those days, you were basically focused on the sounds you hadn't heard before having a limited amount of technical abilities. What helped you to shape your methodology and approach having this desire to expend the boarders of musical forms ?
Luckily, I was trained well by being in a band with five other guys and each had their own world that somehow, I was eager to learn. It's this training that I received in writing making albums, recording, touring etc…that I was able to grasp the experience to come and produce my own ideas. Even though I had no idea what they would be. At the time Skinny Puppy was formed the scene in Vancouver was so vibrant that literally our first goal was to have a song be played at the local disco. So, I think, we all start with small goals and they grow exponentially.
At the same time, combining these Throbbing Gristle-tonalities within something you brought from dance music, you've always managed to find the balance in between these two. While "The Process" itself became a different record – probably the most extreme record of yours. How difficult was it to unite this extremely hard sounding within background sounds and layers you've been exploring at that point ?
In reality "The Process" should have been an album we made our regular way. In Vancouver, at Mushroom studios with Rave [Dave Ogilvie]. We had a strong vision musically but the combination of being messed with by Rick Rubin and our new label was a new challenge altogether. It was a fight over the music. In the end it became a three-or-four-year long ordeal that even took the life of Dwayne [Goettel]. Rave and I finished the album post-mortem, and so in reality there is just layers of life, mistakes and learning from them. It's an album I respect. It's just different from the others.
I can't but notice that with such records as "VIVI SECT VI" your sound and production aspect improved a lot. During that period of time, Rave also joined the band after years of being your producer and collaborator. How can you characterize your approach and attitude during that era of your career ?
We were a team. And you have to include the studio as well. Mushroom was our environment. Sometimes you don't notice the things you take for granted until they are gone. I certainly have a feeling that I have enjoyed gaining my perspective and feel that it is sad where and what the band went through. Unfortunately to this day there is still bad energy that exists from Rave for some reason. Even though it's been 23 years since we last spoke. I have zero negative feelings about our past, and just try to remember the good parts, of which there were many. I do wish that some of the others would share this feeling.
While playing in Images in Vogue – your first band, you learnt to construct songs, to play gigs, to put out records etc. But at the same time, being a new-wave band you also started driving away from rock-band-type-of-format doing something different with synthesizers. What or who dictated these changes ?
I had the knowledge though working with Images In Vogue, it was like University. I just didn't know what I wanted to apply to, until one night I was at a party straight while everybody was ruined on MDA, and I just set up some gear and started jamming. I actually composed the song K9 from our first cassette, and one party-goer showed interest in it, so I suggested he writes lyrics and I'd record him. That was how Skinny Puppy was formed! Shortly thereafter Bill Leeb started to show interest in getting a synthesizer. So, we went and got his Mini Moog. I showed him how to use that and a porta-studio and he made Front Line Assembly! At first though we would get together and jam, and a lot of those are on BRAP and FORTH vol 8.
Just like Throbbing Gristle or Cabaret Voltaire you stepped from primary musical forms, mostly experimenting. But how to find the way of doing things, of writing and approaching having tabula rasa each time ?
I always thought that the drum production on Cabaret Voltaire and Throbbing Gristle was quite minimal, so our first concept was huge drums and tons of fx on vocal. This was really what helped us to break into the dance club scene, and then that took us on its own. I really had no idea that the live show was going to turn into what it did. Kind of thankful for the huge imagination of Dave Jackson who labored to build our original sets and fx. Ogre also had surprises that none expected, so really it was kind of a lot of luck all at once.
At that point not only you but the whole scene in Vancouver started gravitating towards darker and darker music – what defined the direction you as musician and a part of this scene were going, exploring these things ?
Dance clubs and after-hours bars in Vancouver were popular at the time, and the city was always known to be quite unique with its punk-scene and the base around some fabulous clubs like Luv a Fair. Bill Leeb and Debbie Jones were close friends and they were really the ambassadors for the introduction of Industrial music to us. It was also presented at times where we could theorize what we could do and just set out to do it.
You passed through the period of perception being criticized due to your presentation, lyrical or musical content, live shows…Did you feel yourself like a rebel at that point ? Like a person who used to observe industrial and punk-revolutions and then carried on doing the same in a different context...
Well, there certainly wasn't anything I had seen like what I had seen in some of our shows (laughs). I mean, we were channeling our love for horror and sci-fi into music with a show that really couldn't be said was derivative. It just felt like we were following our exact feelings, so in that sense it was never hard to be honest. That's why each album changes and grows so much, because we changed and grew.
We were definitely criticized by many journalists about our shows. Though it was funny.
At the same time, these types of darkness would be different depending on the release and projects of yours. Whether these are Skinny Puppy or Download or any of your solo-works. Are you still keen on exploring those emotional venues ?
I'm still here. I wish we had the people still. I miss Dwayne and now Phil [Western] ,Al Nelson daily. It's just sad that these people are gone. It is the biggest challenge to still keep going.
And how important was this exploration in the context of "Xwayxway" ?
Well it's probably one of my most personal albums I've ever made. Again it comes on the heels of loosing my partner and friend Phil. So a lot of music emotion has being flying around. There are times where I can't even go in my studio. It never used to be like that. So really this album was an emotional challenge. I did feel however, close to my inspirations of the album. The spirits of "Xwayxway" was something I really felt a connection to the story when I learned it. Being sensitive to energies there is no doubt it answered many questions I had about the feelings I had had in the park. It's a heavy place.
You've always been talking about Download as about a certain point of your career when you started exploring music and production on a deeper level. Whether these are industrialized sound passages on "Furnace" or "The Eyes of Stanley Pain". What dictated these changes ?
Really it was the advent of home digital recording capabilities and the ability to edit jams that were once more difficult to do. So in that sense creating a new form of improvisational electronics that maybe was not so predictable. "Furnace" and "The Eyes of Stanley Pain" were really made using that concept. I do carry on this concept with recording, but tend to keep ideas under five minutes. We used to jam some 20 minutes. And editing and going through everything is a laborious task at that point.
With such songs as "Thunderbird" you're using different drum-patterns uniting them with sound-layers in a phenomenal way. Having a carcass of a future song what helps you to build it from there, choose these or that methods discovering not only a compositional structure but technical abilities as well ?
Thunderbird is an emotional journey. There really isn't any difference to Thunderbird and…let's say "Nature's Revenge" in how I wrote them. Feelings dictating direction. There're times where I've looked back at "Thunderbird" and thought this song has taken on its own life. I've sometimes wondered if magic happens when I'm sleeping. I'll come back sometimes and hear nuances that I don't know how they happened. That's really what I love the most. A series of happy accidents that can end up touching an emotion.
Danil VOLOHOV
05/12/2020
---