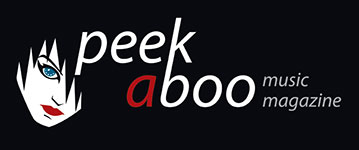 like this interview
---
THIS ETERNAL DECAY
In The Early Days We Spent More Time Drinking And Partying Rather Than Playing
26/09/2020, Stef COLDHEART
---
The Italian formation THIS ETERNAL DECAY was conceived in 2018 by Riccardo Sabetti (Spiral69), Pasquale Vico (Date At Midnight) and Andrea Freda (Spiritual Front). The debut album "I Choose An Eternity Of This" got released at the end of 2018 by Rehab Records. I missed this album while the this year released successor "Silence" caught my attention. The work got released by Trisol and reveals a solid 80's dark/cold-wave influence the trio mixed with industrial elements. The opus features nine songs with guest contributions by Alex Svenson (Then Comes Silence) and Sonya Scarlet (Theatres Des Vampires). Time to discover THIS ETERNAL DECAY.(Credits first picture Daria Tessa)
What does THE ETERNAL DECAY bring to each of you, which you maybe don't find in your other bands/projects?
Riccardo: First of all certainly a different approach in song writing and in the attitude with which we play live. In the world of THIS ETERNAL DECAY it all comes from experimenting in a completely opposite way to how we work with our other projects; this way of working made everything very stimulating, transforming THIS ETERNAL DECAY from a side-project into a real band in which we all have a strong trust.
What makes the chemistry between you all and is there any particular way of working in the writing- and production process of the songs?
Pasquale: The chemistry between us happened spontaneously, in the early days we spent more time drinking and partying rather than playing! This paradoxically united us a lot as people and created a very perceptible bond in our sound, especially live, where we give the best of ourselves.
In the production of the songs there instead is a very strong understanding, fortunately, when we started the band, we only had some songs written and arranged by Riccardo, so the risk of not knowing how to work on new material together was high... but luckily, everything went perfectly well.
Your music clearly sounds as good-old 80's dark/cold-wave, but do you have some specific criteria- and references when composing an album?
Andrea: Not exactly, when we work on a song, we see where a sound suggestion leads us...
I think it is very perceptible, in addition to the strong wave and goth 80's influences, there's also a strong reference to the industrial and electronic music of the 90's. The mix is something that works very well!
Let's talk about the new album; what can you say about the writing and content of "Silence"? What kind of album did you want to accomplish and were there some specific aspects in the production you would focus on?
Riccardo: When we started working on "Silence" we didn't now where we wanted to go, we spent the first months after the German tour with Samsas Traum in 2019, writing tons of songs with completely different stylistic approaches.
The concept of "Silence" happened progressively especially by discarding the traces that did not convince us; in this way the album is self-constructed in a certain sense.
On the production I tried to work on a sense of sound amarcord, but filtered with a modern attitude, the references to the classic 80's sounds are all there, but seen with a modern approach and technology.
I don't like what many people do these days, which is making a modern record sound 'bad' like a record from 40 years ago.
This is certainly one of the points on which I wanted to insist.
Both debut songs "Future Anthem" and "I Want" really blew me away. What can you say about these songs and how did you finally choose the tracklist?
Pasquale: "Future Anthem" is the first song we finished for "Silence"... in a sense it is a song that 'wrote itself'. We wrote and arranged it in a very short time (I think a few hours in all).
It immediately sounded like a great opener for the new album; direct, very raw and violent. Moreover, it also has stylistic references to our first album, and this ideally acts as a bridge between the two works.
Riccardo: "I Want" was my personal scream, it's really autobiographical and it's how I felt while writing it, a prayer to myself... and a refrain where I try to lie to myself just to be happy sometimes.
Musically there are strong wave and post-punk influences, which seemed to me the best dress for such lyrics.
In the finale there also is a micro homage to the first Depeche Mode in the construction of the synth layers.
Artists can't actually perform live because of the Covid-19 pandemic. How do you as band try to manage this situation? What are the further plans for This Eternal Decay?
Andrea: We are planning to release at least two more official videos and probably a live stream with some sort of live interview from the audience... all this always in the hope of returning to play live around the world as soon as possible!
Stef COLDHEART
26/09/2020
---